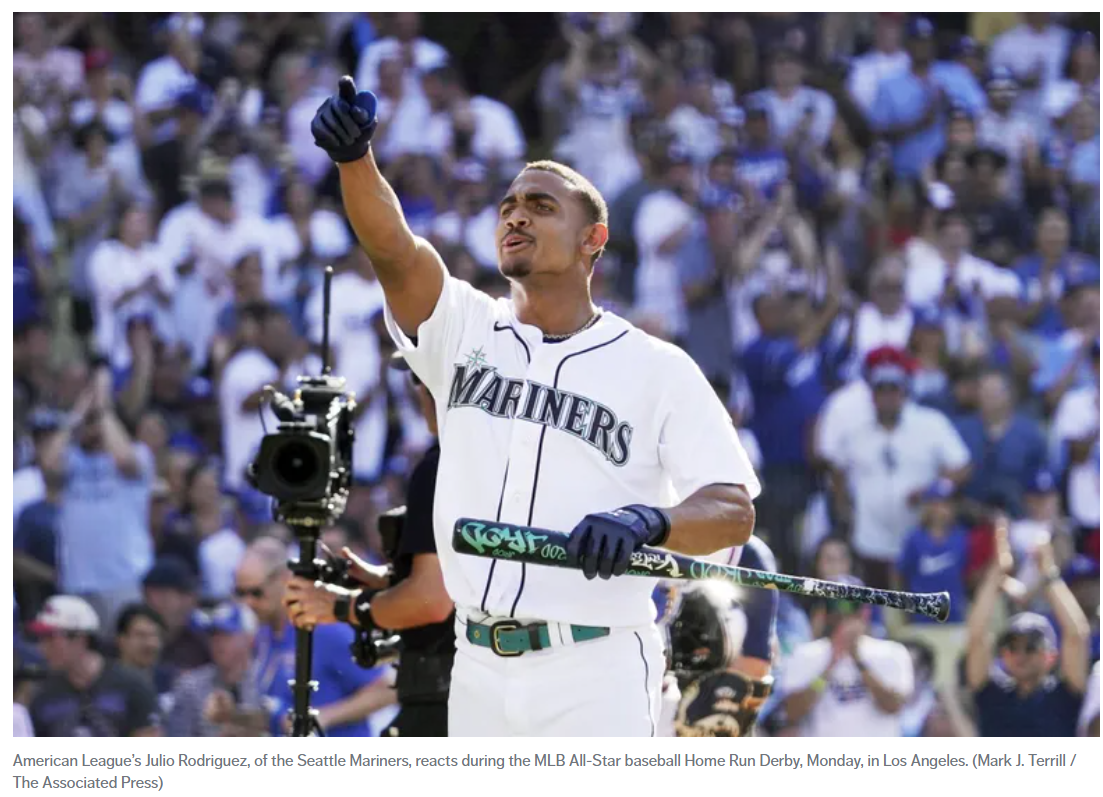 A couple days back, I commented about the Dodgers lack of elite prospects, naming only Diego Cartaya who may fit into that category.  Badger replied:
Elite prospect. We have 6 in the Top 100. Only Cartaya is elite?

We are going to reload with a goal of winning the Division again. Building a team for the playoffs is impossible. Resting a superior veteran team doesn't appear to work. So… what, if anything, do we do differently?
I have never considered a player simply listed as a Top 100 prospect as elite.  Some will turn out to be, some will turn out to be serviceable ML players, but many will be busts.  There are certainly far more busts than there are elite prospects.
I went back to look at the 2016 and 2017 MLB Pipeline Top 100.  The first one that hit my eye was 2017 #1, Andrew Benintendi.  Benny is a fine LF.  Good offense and excellent defense.  But he is a 1 time All Star, last year, and that was probably because he was with KC who needed an All Star.  But is he elite?  For me, a perennial All Star candidate is someone who would be considered elite.  Not an occasional star on a bad team.
I like Andrew Benintendi.  I hope the Dodgers consider him as a LH hitting free agent.  But he is not a game changer like Mookie, Freddie, Trea Turner. I believe Will Smith will move into the elite category.Last year on OKC, the Dodgers had three former Top 100 prospects: Carson Fulmer, Beau Burrows, and Jon Duplantier.  The first two have decided to move on and try another team.  Thus far, Duplantier remains in the LAD organization.  I doubt that anyone considers any of the three elite..  But at one time they were.
Another former Top 100 prospect with LAA was traded to Baltimore for Alex Cobb.  Baltimore released him on June 3, and the Dodgers signed him to a MiLB contract as a free agent.  He is former top 100 2B prospect Jahmai Jones.  Jones is 25, only 3 months older than Michael Busch.  While he was not very good, Jones does have MLB experience.  Is anyone ready to call 25 year old Michael Busch an elite prospect?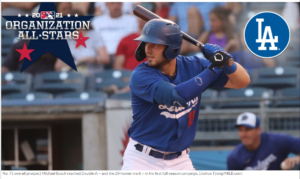 Another factor is that not all talent evaluators see the same player in the same way.  I think there is a consensus amongst talent evaluators who have no idea where Miggy Vargas will play defensively.  FanGraphs does not even rate Vargas as a Top 100 prospect.  They list him as a 3B, but even they acknowledge that he has a long way to go to be considered an average defensive 3B. They will not list him as a 1B, because he does not have the requisite power to be a 1B.  He had not played LF before the scouting grades came out.
Michael Busch is listed as a DH by FanGraphs.  Is a 25 year old DH who strikes out above 26% this year (25.7 MiLB career) an elite prospect?
I do not have a crystal ball, nor am I a professional scout.  But for me, there is a difference between an elite prospect and a good baseball prospect.  LAD is full of good baseball prospects.  They are short in the elite prospect group.
Badger also commented…"Feels like all the young elite players are playing somewhere else".
 Yes they are.
That is what happens when you continually draft near the bottom of each round.  There are fewer and fewer prospects that have that elite glean to them after pick #20.  They also have not done very well in the AF era with International Free Agents (IFA).  If Cartaya does come through, he will be the second.  Vargas will be the first.  The Dodgers way overspent in 2015 and lost two years with sufficient dollars in the bonus pool to pick up elite prospects.  The return on 2015 IFA was dismal.  The Dodgers were fortunate to nab Vargas in one of those years.  He signed in 2017 for $300K.
In 2018, the Dodgers jumped in big time for Diego Cartaya, Alex De Jesus, and Jerming Rosario.  Cartaya is the LAD #1 prospect.  De Jesus is now with Toronto, and Rosario is not a top prospect.
In 2019, they signed OF Luis Rodriguez for $2.67MM.  He is no longer considered a top prospect.  He is not even in the FanGraphs top 53 LAD prospects.
In 2020, the Dodgers signed SS Wilman Diaz for $2.69MM.  His prospect status continues to drop.  He is now considered on par with Rayne Doncon whose arrow is moving up while Diaz's is moving down.
Last year, the Dodgers signed projected 1B Samuel Muñoz, with one of the lowest international bonus pools in MLB.  Muñoz had a very good year in the DSL, batting .347/.429/.491/.920 in 173 AB and 210 PA.  He had 12 doubles, 5 triples, and 1 HR with 42 RBIs.  He had 34 strikeouts (16.2%) and 26 walks (12.4%).  We will see where he ends up on the top LAD prospect lists for 2023.
Last year the Dodgers may have had a solid draft with their 1st pick, C Dalton Rushing (#40 overall).  He had a fantastic 2022 inaugural professional season.  He is already a top 10 LAD prospect with MLB Pipeline (#9), and #15 with FanGraphs.  They did not pick again until pick #105 (Alex Freeland).  Freeland is #44 on FanGraphs mid-season list.
IMO, they missed in 2021.  They had a chance in 2021 to get a pitcher that dropped in Ty Madden (Detroit at pick 32) and later Jaden Hill (Rockies at 44).  Instead they took a wild shot at LHP Maddux Bruns who makes Craig Kimbrel look like a strike throwing machine.  Maybe Bruns works out.  I certainly hope so. But it is hard to develop when you only throw 44.1 innings for a full season.  67 strikeouts is good to outstanding.  But 45 walks?  That is more than 1 per inning pitched.  He was also an older High School pitcher when drafted.  He will be 21 next year, and will undoubtedly start again in low A (Rancho Cucamonga).  Compare that to elite Miami prospect 19 year old RHP Eury Pérez, who spent almost the entire season is AA.  Or San Francisco elite prospect LHP Kyle Harrison who is only 10 months older than Bruns and spent almost all of 2022 in AA, pitching very well.
BTW, this is not hindsight.  I said this the day of the draft before Bruns was selected.  I  wrote the pick should be Madden or Hill.
The Dodgers select projects and hope that their development team can turn them into stars.  How is that working for them?  Will Smith and Gavin Lux are the only two LAD draft picks in the AF era that are considered regulars.  Although neither has been an All Star, Will Smith certainly deserved that designation in 2022.  Both players were from the great 2016 draft as were Dustin May and Tony Gonsolin.  Outside of the first round pick in 2015 and the great draft in 2016, where has the draft been for the Dodgers.  Or their IFA signings?
This is not a knock on the Dodgers.  They draft where they do because of their success.  If they had won more than 1 WS, nobody would be complaining.
Pitching?  Walker Buehler, Tony Gonsolin, and Dustin May.  Buehler and Gonsolin have been named All Stars.  Buehler has had two TJ surgeries under their control, although one was necessary after his college Junior season.  Overworked in 2021?  Dustin May has had TJ surgery.  Gonsolin had forearm strain in 2022.  Overworked in 2022?  Is TJ surgery next, like with Buehler, a year after being overworked?
Is there a solution?  Yes.  Package multiple "good to very good" baseball prospects for the desired player and extend them (the Mookie Betts approach).  Buy free agents (the Freddie Freeman approach).  Or take the Houston approach and tank (NOT GOING TO HAPPEN).  But you better draft at least as well as they did.  Pittsburgh, Cincinnati, Oakland, have not drafted as well.  Although Pittsburgh has had a couple of very good drafts, with Henry Davis (C – 2021), Termarr Johnson (2B/SS – 2022), Quinn Priester (RHP – 2019), and Nick Gonzalez (2B – 2020).  Baltimore had some good drafts and are now on the verge of contending.  LAD does not draft that high to get this level of prospect talent.
Bottom line, there is no sure way to build an organization, to identify and draft the next Mike Trout, to identify and sign the next Wander Franco or Vlad Jr.  The team's chances diminish as their draft number continues to drop, and the international free agent bonus pool also diminishes.  You better have great MiLB and MLB talent scouts to identify those on the edge of stardom.
The FA signing of Trevor Bauer is a boat anchor for the Dodgers.  It is not just the $$ (payroll and tax), but the other losses.  Drop in 1st draft pick by 10 spaces (2022 and 2023), and the loss of picking up QO CBA draft picks between 1st and 2nd round vs between 4th and 5th.  If the best way to build a perennial contender is thru homegrown talent, these two penalties are hurting LAD greatly. The Dodgers have no idea which way the arbitration will go, so they are stuck in limbo waiting for a decision.  Hopefully the arbitration decision comes down shortly after the WS and Bauer will continue to be suspended from MLB through the 2023 season, and they can move on.  Let Bauer sue MLB…who cares.  Bauer and Manfred are a match made in Hell.