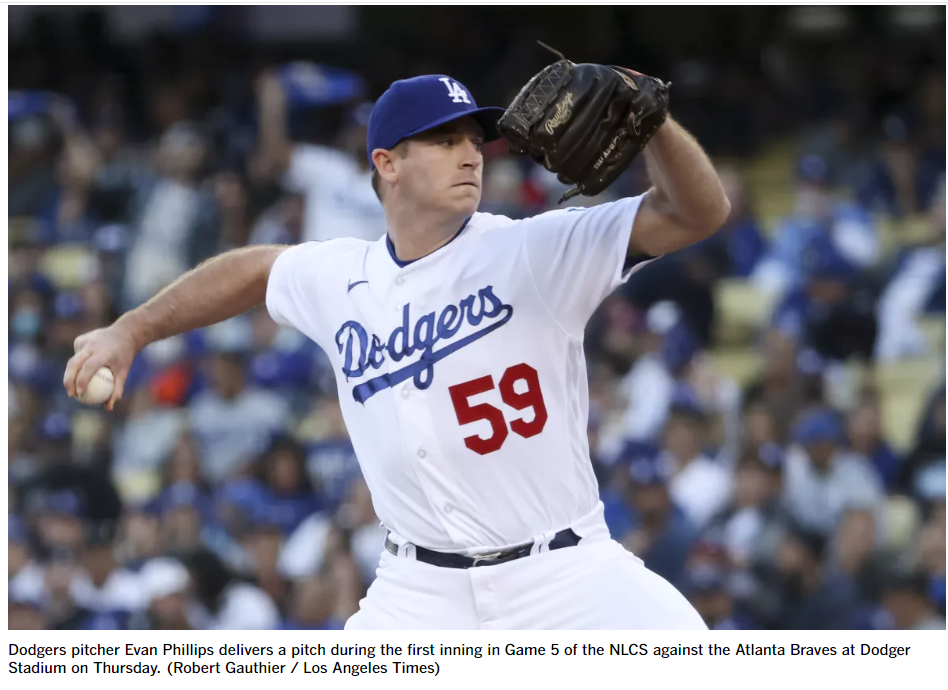 The relief corps was supposed to be a big strength for the Dodgers in 2022. But then…disaster.  The team lost their two best high leverage relievers in Blake Treinen and Daniel Hudson.  Treinen was sidelined with a shoulder injury while Hudson tore his ACL.
Hudson sustained the injury as he and catcher Will Smith tracked down a dribbler off the bat of Ronald Acuña Jr. Hudson's left knee bent awkwardly when he stepped off the mound. After spending a few minutes on the ground holding the knee, Hudson limped off the field with the training staff.  The worst fears were realized and Hudson was done for the year with season ending ACL surgery.
At least we fans knew that Hudson was done for the year. With Treinen, we learned that he first began to experience right shoulder trouble in April. The Dodgers believed a few days of rest would remedy the issue.  However we later learned that after first seeing Dr. (Neal) ElAttrache, Treinen had a partial tear in his capsule, and that surgery was recommended.   
After praying on the matter, the Treinen's believed that it was best to rehab the injury and to push the healing process along with a platelet rich plasma injection into the shoulder capsule.
Blake came back in early September with two 1.0 inning relief appearances before he was shut down again.  He returned again for the playoffs, and in Game 2 pitched one inning, giving up a solo HR to Jake Cronenworth, and two walks (one intentional).  He did not pitch again in the series.  Why?  I am not sure we will ever learn the true reason.
At the same time, the Dodgers had a season long problem with their "closer", Craig Kimbrel.  Kimbrel will go down as one of the best relievers in MLB history and will undoubtedly get HOF consideration.  Kimbrel replaced long time LAD Closer, Kenley Jansen.  Kimbrel is #7 in career saves with 394, while KJ is #8 with 391.  Both are very close and could pass #4 Francisco Rodriguez and his 437, with an outside chance of #3 Lee Smith and 478.  John Franco (424) and Billy Wagner (422) sit at #5 and #6.  Both Kimbrel and KJ will be 35 next season. 
K-Rod will be eligible for HOF in 2023.  I am hoping he gets it.
The Dodgers lost their top two high leverage relievers, their closer was non-existent, and yet somehow some way they had a very good bullpen in 2022.  In MLB, they were:
#2 in ERA – 2.87 (behind Houston's 2.80)

#1 in WHIP – 1.05

#1 in BAA – .205

#1 in least BBs – 178

#8 in Strikeouts – 629
Not all was great with relievers.  They were tied for #23 in HRs allowed with 53.
Their bullpen was not as shutdown as was San Diego's in the NLDS, but you cannot judge a bullpen on 4 games.  They did not lose the NLDS because of relief pitching.  You could say they were overworked and mismanaged.  But we have covered that enough.  I know, I know.  It is time to simply move on.  Sometimes I just cannot help it.
Both Treinen and Hudson had their team options exercised, and a 2024 team option added.  They will be Dodgers in 2023, and perhaps 2024.
SURPRISES:
Evan Phillips – On August 16, 2021, Evan Phillips was claimed off waivers from Tampa Bay.  For the remainder of 2021, Phillips appeared in 7 games and threw 1.01 innings.  He had 9 Ks and 5 BBs.  While the sample size says the numbers are meaningless, his ERA was 3.38 and his WHIP was 1.20.  He had 0 holds.  He inherited 2 runners and neither scored. 
Nothing he did in 2021 gave the Dodgers any expectations of what they were about to experience in 2022 with Phillips.  Phillips appeared in more games than any other LAD pitcher with 64.
From May thru the end of the season, Phillips was about as dominant as a reliever could be.  He allowed 1 run in his final 24 games (23.0 IP) from August thru the end of the year.
From May to end of year – 55 games, 54.0 IP, 6 R (3 Earned) 0.50 ERA

From June to end of year – 46 games, 44.0 IP, 3 R (2 Earned) 0.41 ERA

From July to end of year – 35 games, 33.0 IP, 2 runs (2 earned), 0.55 ERA

From August to end of year – 24 games, 23.0 IP, 1 run (earned), 0.39 ERA
Phillips did end up with 2 saves and 2 blown saves with 19 holds.  But his primary role was to replace Blake Treinen and Daniel Hudson as the go to high leverage reliever to face the heart of the order.  That is what makes his season so remarkable.  He did what he did facing the best the opposition had.
The Dodgers have 4 years of control over Phillips.  He is not arbitration eligible until 2024 (per Baseball Reference and Spotrac). However, he is a potential Super 2 player in which case he will be eligible for arbitration in 2023.  MLB Trade Rumors projects his 2023 arbitration salary at $1.4MM if granted Super 2 status.
With Treinen, Hudson, and Phillips all with LAD in 2023, the late inning high leverage situations should be in total control. 
Yency Almonte – Almonte was in a position to refuse outright assignment to MiLB with Colorado, elected FA, and the Dodgers signed him to a MiLB contract in March 2022.  The Dodgers got a little help (maybe a lot of help) from former LAD reliever and former Rockies teammate, Jake McGee.
"I recommend going out there," McGee told him. "They know their stuff. They're gonna teach you a lot of new things that you probably didn't get in Colorado."
McGee said this while a pitcher with SFG. 
Almonte got a ST invite and was assigned to OKC out of ST.  It did not take long for AF/BG to notice Almonte.  On May 12, Almonte's contract was selected by LAD.  He would go on to become one of the best relievers in the NL.
From May 12 thru August 3, Almonte appeared in 29 games (31.1 IP), and allowed 4 runs.  He had 7 inherited runners and 2 scored.  He had 8 holds, 1 save, and 1 blown save.
From July 4 thru August 3 he appeared in 12 games (11.0 IP) and did not allow a run.
Unfortunately for Yency, he came down with elbow soreness and was placed on the IL after August 3.  He returned on September 28, and in 4 games thru the end of the season, he pitched 4.0 innings, allowing only 1 HBP as the lone baserunner.
Yency took that mastery into the playoffs and in his first two games, he faced 5 batters and struck all of them out.  But when asked to pitch in back to back games for the first time since July 3 and 4 (with Treinen and May in the bullpen), Yency could not deliver.  Neither could Tommy Kahnle nor Alex Vesia who also were asked to pitch in back to back games. 
Chris Martin – RHRP Chris Martin and OF Joey Gallo were the only two players acquired by the Dodgers at the trade deadline.  Chris Martin turned out to be a BIG surprise.  From his acquisition thru the end of the season, Martin appeared in 26 games, 24.2 IP, 12 hits, 1 walk, and 34 Ks.  He allowed 1 HR.
He was extremely prolific from Sept 4 thru the end of the season.  In 13 games and 12.1 IP he did not allow a run.  He had 19 K and 1 BB and 1 HBP.  He was magnificent with runners on base.  He inherited 10 runners and only 1 scored. 
He did not allow a run in his 2.0 IP in the NLDS.
Martin was undoubtedly acquired because of his ability to throw strikes and to have that ability culminate into strikeouts.  For LAD he was 34/1 (K/BB) but for the year he was 74/5.  It is hard to imagine how a pitcher who is always around the plate was so expert at his swing and miss capabilities.
Because of a quirk in his contract with the Cubs, even though he has not accumulated the requisite years of service to be a free agent, CMart is granted free agency due to his Cubs contract. I hope that CMart will sign with LAD.  With CMart and Almonte in the 6th/7th innings and Phillips, Treinen, and Hudson in the late innings.  The Dodgers will be loaded in the bullpen.  But maybe CMart wants to close and get a more prominent role with another contender.  We will see.
Alex Vesia – The Dodgers acquired LHRP Alex Vesia and RHP prospect Kyle Hurt from Miami for RHRP Dylan Floro after the 2020 season.
Vesia appeared in 63 games (tied with Kimbrel for 2nd most behind Phillips).  In 54.1 IP, he had a 2.15 ERA and a 1.123 WHIP.  He struck out 79 batters and issued 24 walks.  He only allowed 2 HRs during the season.  He had 16 holds, 1 save, and 2 blown saves.
But Vesia was especially productive from July 23 thru the end of the season.  In 27 games, 25.1 IP, he allowed 1 run.  His K/BB ratio was 40 to 9.  He inherited 11 runners and only 1 scored.  His one run allowed and one blown save in these games came on September 18 against SFG when he uncharacteristically walked 3 batters.  It was the only game he walked 3 batters, and he walked two in only three other appearances.
Vesia was especially hard on LH batters.  With 79 PA, Vesia had a line of .130/.218/.130/.348 against LH batters.  That is no XBH against LH hitters.  He was not as prolific against RH batters, but he was not bad.  With 148 PA, his line was .217/.313/.310/.623.
Vesia is controlled for 4 years and is not eligible for arbitration until 2024.  He is not a Super 2 candidate.
PARTIAL YEAR RELIEVERS:
Tommy Kahnle – Kahnle was signed to a two year $4.75MM contract knowing that he would be sitting out 2021 after TJ surgery.  He was held out in April and pitched 4 games for LAD in the first two weeks of May.  After his 4th game he was placed back on the IL with a bone bruise on the right elbow.  He was held out from May 13 through September 14.  From September 14 through the end of the season, Kahnle pitched in 9 games, 8.2 IP.  He allowed 1 run on 2 hits, 1 walk, and 9 Ks.  His line for those 9 games was .077/.167/.077/.244.
He was also outstanding in his first two playoff appearances. In 2.0 IP he faced 6 batters with 4 Ks.  But he faltered when asked to go back to back games in NLDS Game 4.  He faced three batters, allowed 2 hits and 1 walk before being relieved by Yency Almonte.  Here was a pitcher throwing minimal innings during the year due to bone bruise on throwing elbow, and was summoned in a must win game with Treinen and May in the bullpen. 
Kahnle is a free agent, and while I would like to see him back, it is doubtful that he will be.  The Dodgers have a lot of good relievers under their control, and might want to bring up some of the "kids" as relief options.
Brusdar Graterol – Bazooka spent two stints on the IL this season.  After July 10, he spent 42 days on the IL.  After August 28, he spent another 24 days. 
For the season, he appeared in 46 games and 49.2 IP.  He had 43 K and 1 BB.  His ERA was 3.26 and his WHIP was 0.987.  What makes Graterol so frustrating is that he has a 100-102 MPH sinker.  His cutter is not a good out pitch.  He throws his sinker 42.7% of the time, and his cutter 27.4%.  His slider is a good pitch, but he does not throw it enough (19.3%).  His 4-seamer is also a pitch that was not kind to him.  He threw that 10.7%.
BAA Sinker – .188 (Whiff % – 15.4%)

BAA Cutter – .302 (Whiff % – 13.6%)

BAA Slider – .158 (Whiff % – 38.6%)

BAA 4-Seamer – .267 (Whiff % 26.2%) – But least put away pitch of his repertoire.  Very little spin rate, thus the command has to be there.
I am not a pitching coach, but it sure seems evident that Brusdar might want to abandon the cutter and work on better command of the slider and 4-seamer.  If he can get more sliders in the pitching mix, I would think that his sinker would be an even better pitch.
Graterol is controlled for 4 years, and is a Super 2 arbitration player.  Graterol is projected to earn $1.2MM in his first of four runs through arbitration.
Caleb Ferguson – Caleb started out on the IL.  He appeared in a game on May 16, and was optioned back to OKC for 17 days, and was not happy about it at all.  On June 20, Ferguson was placed back on the IL.  He was activated again on July 6. 
He started out as good as any reliever in the NL.  In his first 19 games, 18.2 IP, he did not allow a run.  He inherited 2 runners and neither one scored. 
Then in his next 18 games, the wheels seemed to come off a bit.   He threw 16.0 IP, with an ERA of 3.94.  He was 21/11 K/BB.  For whatever reason, he seemed to lose his command and control.  He was left off the NLDS roster.
Anyone who has followed me at all knows that Caleb Ferguson is one of my absolute favorite Dodgers, and has been since 2016. 
The Dodgers have two years of control over Caleb.  He is in his 2nd arbitration year, and is projected to earn $1.1MM.  I hope he is back with the Dodgers in 2023, but he could be a reliever thrown into a package trade.  With Victor Gonzalez due back in 2023, Ferguson might not be in their long-term plans.  I surely hope I am wrong.  But if he is traded, I hope it is to Pittsburgh, near his home town, West Jefferson, Ohio.  The Dodgers have their eye on a certain CF with the Pirates.  Can they make it work?
DISAPPOINTMENT
Phil Bickford – I reluctantly included Bickford in this category.  I say reluctantly because I genuinely like him.  But that does not make him a quality reliever.  We also know that relievers are very unpredictable.  In 2021, Bickford was outstanding in 51 games.   In 2022 he was very pedestrian in 60 games.  The big difference is that he allowed 12 HRs in 2022 instead of 6 he allowed in 2021.
I do not know if he is on the AF/BG radar for next year.  He does not have any options available.  So he will need to stay on the roster for the entire season or he will need to be designated for assignment. 
The good side is that Bickford is controlled for 5 years.  He is not eligible for arbitration until 2025.  Do they take a chance and see if he can repeat his 2021 season?  He is a two time 1st round pick, Toronto (#10) in 2013, and San Francisco (#18) in 2015.  He is a 2-pitch pitcher (4-seamer and slider).
He may have been a disappointment in 2022, but maybe not so much in 2023.
MAJOR DISAPPOINTMENT
Craig Kimbrel – The Dodgers were not ready to offer KJ a contract until they could shed some payroll (at least that is what they said), and KJ was not willing to wait.  Instead he signed with Atlanta. 
The Dodgers were without a closer, and decided to trade AJ Pollock to ChiSox for Craig Kimbrel.  KJ signed for $16MM and that is what Kimbrel was due to earn in his final year of his contract.
Kimbrel appeared in 63 games, 60 IP, with a 3.75 ERA and 1.317 WHIP. He had 22 saves in 27 save opportunities, a not very good 81.5% success rate.  He was so erratic that he was left off the NLDS roster.
There is virtually no chance that Kimbrel will be with LAD in 2023.
 Current 2023 roster of relievers:
Blake Treinen (RHP)

Daniel Hudson (RHP)

Evan Phillips (RHP)

Yency Almonte (RHP)

Alex Vesia (LHP)

Caleb Ferguson (LHP)

Brusdar Graterol (RHP)

Phil Bickford (RHP)
Others to consider on the 40 man:
Others that can have club option exercised or re-signed.
This does not take into consideration any potential free agent signing, including Chris Martin and Tommy Kahnle.