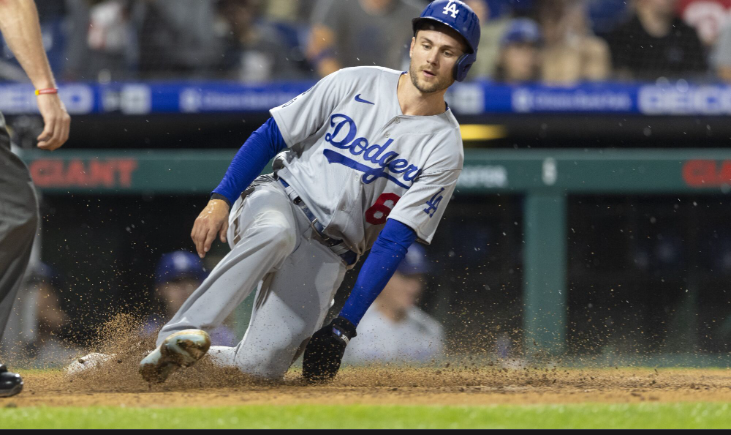 Next on the agenda is a 2022 review of the LAD infielders.  The Dodgers will have a slew of questions regarding moving forward in 2023.
The only guaranteed position that will not change will be 1B where Freddie Freeman will continue to play.
2B looks to be Gavin Lux's spot unless the Dodgers prefer him to be the 2023 SS.
SS is a wide open unknown.  Trea Turner is a FA and his return to LAD is very iffy.  The Dodgers will make a genuine attempt to re-sign Trea, but the chances are totally unknown.  There are reports that he wants to stay back east.  There are reports that he is looking for Corey Seager money.  The Giants have made it clear they want one of the elite FA SS, and some have reported they are targeting Trea.  One of the teams back east, Atlanta, may not be able to afford their own FA, Dansby Swanson.  Thus it would appear that Turner is a huge longshot.
Philadelphia is another eastern team that could be interested and has money.  However, they have a bright young SS prospect of their own, Bryson Stott.  But he could move to 2B.  They will have other needs…like pitching, but I think Philadelphia will check in and stay in the negotiations a while.
Oh well, we will find out in due time.
3B – A lot will depend on what LAD does with JT's team option.  Max Muncy has been extended already and will undoubtedly be the primary 3B with regards to the existing roster configuration.
First Base –
Freddie Freeman (1B) – Will be 33 in 2023:
159 G, 708 PA (#1 in NL), 612 AB – .325/.407/.511/.918 (OBP #1 in NL), 117 Runs (#1 in NL), 102 K and 84 BB, OPS+ 152, bWAR 5.9, fWAR 7.1 (Value $56.4MM), Outs Above Average (OAA) 3.0, Defensive Runs Saved (DRS) -2.0. 
Freddie Freeman was almost the exclusive 1B throughout the season.  He played 159 games, all at 1B.  He is a 6 X All Star, 1 X GG, 3 X Silver Slugger, MVP (2020).  This year should be his 7th top 10 MVP vote.  He will probably be #2 behind St. Louis 1B Paul Goldschmidt.
Freddie's 199 hits was one short of his goal of 200, but it topped MLB.  His 47 doubles were 2 shy of Shawn Green's LAD record of 49, but it also was tops in MLB.  He had 100 RBI's, that tied him with Trea Turner for the team lead.  His .325 BA was 2nd in the NL to NYM's Jeff McNeil's .326.
This was not Freddie's best season defensively.  He had 5 errors to go along with his negative DRS.
Last year because of a number of unforeseen occurrences, Freddie became a LAD FA signee.  He signed a 6 year $162MM contract.  His $27MM AAV was 20th in the MLB.  $57MM is deferred from 2028-2040. The deferral decreases the value of Freddie's contract to $148,195,494 (per Spotrac).
Other 1B in 2022:
Miguel Vargas – (8 Games 1B and 18 Games in total) – Will be 23 in 2023.  See OF for 2022 analysis.
 50 PA, 47 AB – .170/.200/.255/.455, 4 Runs, 13 K and 2 BB, OPS+ 25, bWAR -0.4, fWAR -0.5.
Max Muncy – (3 Games at 1B and 136 Games in total) – Will be 32 in 2023.  See 3B for stats.
Edwin Ríos – (4 Games at 1B and 28 Games in total) – Will be 29 in 2023.
 92 PA, 86 AB – .244/.293/.500/.793, 12 Runs, 36 K and 5 BB,OPS+ 25, bWAR 0.1, fWAR 0.1, 7 HR.
Ríos was out for most of 2021 due to injury due to shoulder surgery.  In 2022, he was just about back to his power hitting when a groin injury took him out of action from June 2 to July 28 when he started his rehab assignment.  By that time, the Dodgers had already traded for Trayce Thompson and were about to trade for Joey Gallo.  Suddenly there was no room on the roster for Edwin Rios, and he was optioned to AAA for the remainder of the year.  If Ríos had remained healthy all year, there would probably not have been a need for Trayce, and certainly not Gallo.  But that is the knock on Ríos.  His power is legit, but he cannot stay healthy.
2023 will be Ríos' 1st year for arbitration, and is projected to get $1.4MM.  Rios could remain with LAD as a LH bench role player (DH/3B/1B).  He could also be a pivotal trade token for a potential trade.  Miami would be a good landing for Ríos.  Would Miami be willing to move one of their SP.
Second Base –
Gavin Lux  – (102 Games at 2B and 129 Games in Total) – Will be 24 in 2023.
 471 PA, 421 AB – .276/.346/.399/.745, 66 Runs, 95 K and 47 BB, OPS+ 105, bWAR 2.5, fWAR 3.0, Outs Above Average (OAA) 3.0, Defensive Runs Saved (DRS) -3.0. 
 Gavin Lux had a breakout year in 2022 for the Dodgers.  He had a respectable April thru May, but in June and July, he was one of the top hitters in MLB.  He regressed to the April – May line in August.  But September/October he regressed to his prior years bad metrics.  What happened.  In June and July, Gavin was a true pupil of Freddie Freeman.  He was hitting a lot of opposite field hits.  He was a tremendous 2 strike hitter.  But at the end, he was back to pulling everything and usually on the ground, and chasing, something he did not do early in the year.
Gavin still has a lot of growth and maturity to develop, but if he continues to pattern after Freddie, he will become an All Star (IMO).  There are those who says Gavin has the yips.  He made some outstanding plays at 2B, and he made some bonehead plays.  He had 9 errors (5 throwing).  Certainly not the yips.  Trea Turner had 16 errors and 9 throwing.  Brendan Rodgers is a GG 2B finalist and had 10 errors (5 throwing).
His range is going to be even more important now that the shift is going away.  He may never be a GG 2B, but he is more than respectable.
Hanser Alberto- (37 Games at 2B and 73 Games in Total) – Will be 30 in 2023.
 159 PA, 156 AB – .244/.258/.365/.623, 13 Runs, 25 K and 3 BB,OPS+ 70, bWAR 0.0, fWAR -0.5.
 Hanser's value was as a dugout presence.  He kept things light and fun.  You cannot quantify that value.  It does not show up in WAR calculations, but it is important.
Otherwise Hanser played all over the field this year.  2B (37), 3B (20), SS (5), DH (5), 1B (3), RF (1).  Also, in positional players throw away pitcher games, Hanser took the bump 10 games and threw 11.0 innings.
Hanser has a $2.0MM club option with a $250K buyout.  This is hard because Hanser just does not get enough OBP due to his lack of BB.  However his personality is necessary.  I am going to have to project that the Dodgers need to get younger, and if CT3 moves back to the Swiss Army Knife role, Hanser's role will be duplicative.  I will miss Hanser, and the fun is going to have to come from a different personality in 2023.
Max Muncy – (31 Games at 2B and 136 Games in total) – Will be 32 in 2023.  See 3B for stats.
 Chris Taylor (22 Games LF and 118 Games in total) – Will be 32 in 2023.  See OF for 2022 analysis.
 454 PA, 402 AB – .221/.304/.373/.677, 45 Runs, 167 K and 63 BB, OPS+ 86, bWAR 0.5, fWAR 1.9. 
 Shortstop
Trea Turner – (160 Games at SS and 160 Games in total) – Will be 30 in 2023.
 708 PA (#1 MLB), 652 AB (#1 NL) – .298/.343/.466/.809, 101 Runs, 131 K and 45 BB,OPS+ 121, bWAR 4.9, fWAR 6.3 (Value $50.8MM), Outs Above Average (OAA) 0.0, Defensive Runs Saved (DRS) -1.0. 
Like Freddie at 1B, Trea was the exclusive SS in 2022.  Gavin Lux (9), Hanser (5), CT3 (1), and Eddy Alvarez (1) were the others that played SS.  He is a 2 X All Star and Batting Champion (2021).
Trea got back to his natural SS position after playing 2B with the Dodgers in 2021.  It was not his best defensive season, and he faltered a couple of times in the playoffs.  He had 16 errors in 2022 (9 throwing).  Will that hurt his FA offers?  Probably not.  It certainly did not hurt Corey Seager.
Trea was the #2 hitter in the lineup behind Mookie and ahead of Freddie.  That is what made 101 runs and 100 RBIs possible.  The 2022 NLDS was his best offensive playoff series.  He hit safely in all 4 games, going 6-18, with 2 doubles and 2 HRs, and 4 runs.
Trea had the longest hitting streak in MLB with a 26 game run.  He had 3 of the top 5 hitting streaks in the NL…26 (#1), 20 (#3), 18 (#5).
As we all know, Trea is a FA for 2023.  Trea had a rough end of the season, but I think most LAD fans want him back for 2023 and beyond.  Will the Dodgers offer him a deal that will make him sit down and strongly consider?  Will he go back east for less $$$?  Will some team come out of the blue and offer him stupid money like Texas did with Seager?  I am comfortable that AF or BG has been in his ear to get a feel where his head is at.
If not Trea, then who?
Third Base
Max Muncy  – (84 Games at 3B and 136 Games in Total) – Will be 32 in 2023.
 565 PA, 464 AB – .196/.329/.384/.713, 69 Runs, 141 K and 90 BB, OPS+ 96, bWAR 2.7, fWAR 2.4 ($19.0MM value), Outs Above Average (OAA) -2.0, Defensive Runs Saved (DRS) 7.0. 
 In a transaction wire that almost everyone ignored, Max was released by Oakland on March 30, 2017, and signed by LAD on April 28, 2017.  He spent 2017 season with OKC and broke out in a big way in 2018.  In 3 of his first 4 years with LAD he hit 35 HRs (.582 SLG and .973 OPS) in 2018, 35 HRs (.515 SLG and .889 OPS) in 2019, and 36 HRs (.527 SLG and .895 OPS) in 2021.  In 2022, he got off to a horrendous start.
At a low point in late May, mired in a 1-for-19 spell as his OPS dipped below .600, Muncy was placed on the injured list due to left elbow inflammation. The reset was both physical and mental.
Was the slump due to his season ending elbow injury in 2021?  Many say yes, but Max says no.  He felt the same as he had in prior years, but the results just were not there.
So he worked to get his bat path and body in better position. The most obvious tweak to his setup has been the step back move with his back foot to start his load.
"The problem I've been having all year, because of my elbow, I was just working so uphill because that's what felt comfortable. It's what felt like it was the easy thing to do," Muncy said. "The step back is allowing me to immediately get my shoulders downhill. That allows my elbow to get to the proper slot."
After Max started to build up his 2022 season, the Dodgers approached him to pick up his 2023 club option ($13.5MM) and gave him a 2024 option ($10.0MM + $4.0MM in incentives), which Max accepted.  I see no reason why Muncy cannot get back to pre-injury 2021.  At least I am going with that.  Will he be 3B, 2B, DH?  Stay tuned.
Justin Turner  – (66 Games at 3B and 128 Games in Total) – Will be 38 in 2023.
 532 PA, 468 AB – .278/.350/.438/.788, 61 Runs, 89 K and 50 BB, OPS+ 116, bWAR 1.9, fWAR 2.4 ($19.2MM value), Outs Above Average (OAA) -2.0, Defensive Runs Saved (DRS) 1.0. 
 JT was non tendered by NYM in 2013 and was signed by LAD February 2014. He has spent the next 9 years with the Dodgers, the first 8 as the primary 3B.  With Freddie Freeman signing, Max Muncy moved over from 1B to share 3B/DH with JT.
JT was seemingly showing his age in early 2022 as he was batting .198 as late as May 20.  From July to the end of the season, in 243 PA, JT batted .340/.412/.514/.926, but with only 7 HRs.  He had 23 BB against only 39 K.  He was one of the best hitters in MLB over that 3 month stretch.  But he suffered a shin injury late in the season and while resting, he seemingly lost his mojo.  That slump carried over to the playoffs.
One of the best clutch hitters for several years for LAD, JT hit .339/.429/.579/1.007 WRISP.
The issue with JT is that he will be 38 next season and has a $16MM club option with a $2MM buyout.  The consideration has to be…where does Max Muncy play?  What happens with Miguel Vargas?  What happens with Edwin Rios?  What I hope is that JT will accept the buyout and then agree to a 2 year deal with AF/BG with the second year $1MM.  The AAV will be cut way down.  This is exactly what LAD did with Chase Utley.  JT deserves to retire as a Dodger.
Other 3B –
Hanser Alberto (20) – See Above
Edwin Ríos (4) – See Above
Chris Taylor (3) – See OF
Miguel Vargas (1) – See OF