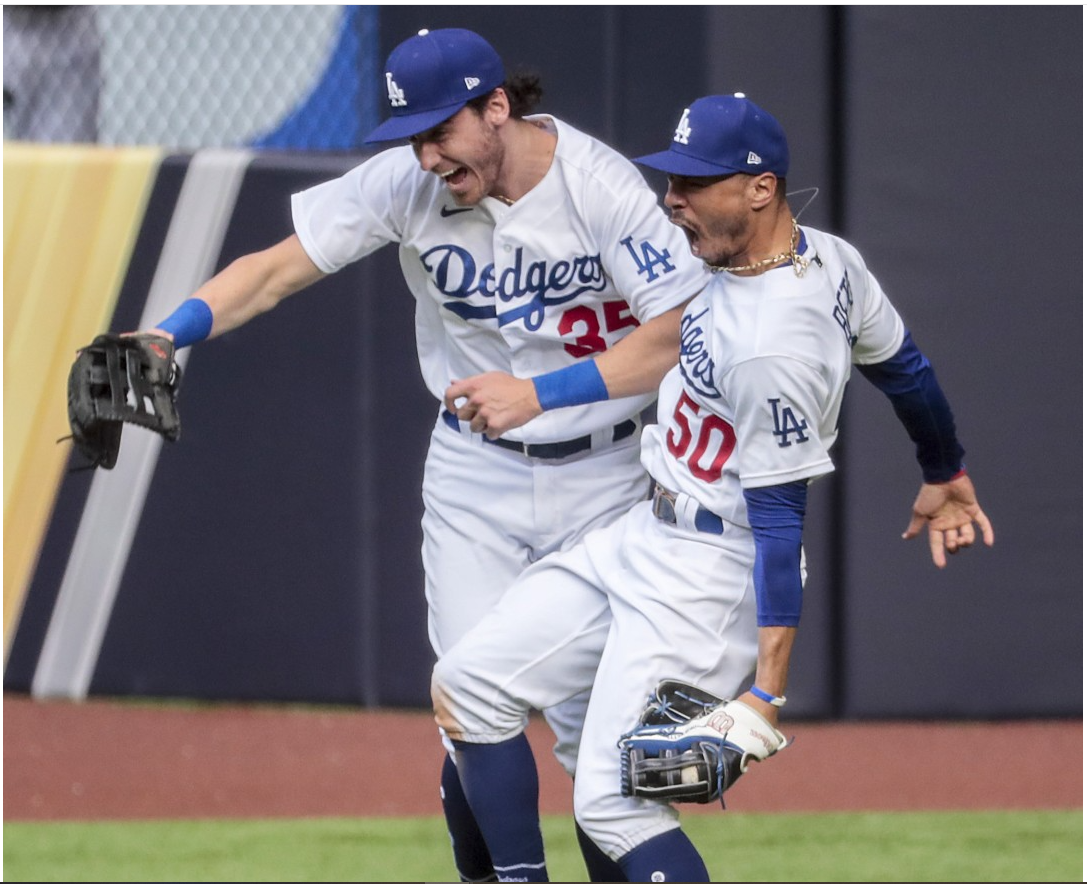 My first attempt at looking at position results for 2022 and what it may mean for 2023, will be the outfield.  Last year there was consistency in CF and RF, but there was a revolving door in LF.
Cody Bellinger was the primary CF and Mookie Betts was the primary RF.  LF consisted of Chris Taylor, Trayce Thompson, Joey Gallo, Jake Lamb, Kevin Pillar, Miguel Vargas and James Outman.  We will go from RF to LF.
Mookie Betts (RF) – Will be 30 in 2023:
142 G, 639 PA, 572 AB – .269/.340/.533/.873, 117 Runs (#1 in NL), 104 K and 55 BB, OPS+ 136, bWAR 6.4, fWAR 6.6, Outs Above Average (OAA) 5.0, Defensive Runs Saved (DRS) 15.0.
He led the team with 35 HRs.
His OAA was 2nd in the NL to Daulton Varsho and 4th in MLB.  He was best in MLB in DRS.
Mookie is a 6 X All Star, 5 X Gold Glove, 4 X Silver Slugger, MVP (2018).
It was his second lowest BABIP in his career.  For comparison, his BABIP in his 2018 MVP season it was .368.  His career BABIP is .304.  The majority of his balls in play were through the middle.
Mookie had 8 assists in RF.  He had 2 errors in 308 chances.
Mookie has 10 years remaining on his contract with an AAV of $29.0MM.
Mookie is an elite baseball player.  He does everything well.  Mookie figures to be a mainstay in the LAD lineup for many years.  Will he hold up until he is 39?  Doubtful, but he should earn his salary over the course of his career.  For the three years he has been a LAD, his salary has been $55.0MM while his fWAR value has been $104.4MM.  It will certainly go the other direction in the latter years of his deal, which is why the Dodgers should not waste his talent as they seemingly have done with Kershaw.
Cody Bellinger (CF) – Will be 27 in 2023:
144 G, 550 PA, 504 AB – .210/.265/.389/.654, 70 Runs, 150 K and 38 BB, OPS+ 78, bWAR 1.2, fWAR 1.7, OAA 6.0, DRS 0.
He is a 2X All Star, 1 X Silver Slugger, 1 X Gold Glove, ROY (2017), MVP (2019).
Among 172 hitters with 800+ plate appearances over the past two seasons, Bellinger ranked dead last with a .256 on-base percentage. His .355 slugging mark is in the bottom ten. Bellinger's 7.7% walk rate and 27.1% strikeout percentage are each worse than average, and his hard contact rate is down notably from its 2019 peak. He was left out of Game 4 starting lineup with RHSP Joe Musgrove on the bump, and he was not at all happy about it.
His defense pursuant to his OAA and DRS is nothing special.  I am not convinced that Belli makes the catch that Trayce Thompson did in Game 4.  Belli has been playing a whole host of batted balls into singles.  However, he goes back on a ball as well as anyone playing.
In his last 3 years combined he is 23/5 in SB/CS.  That is just not enough to sway the decision makers that his base speed is elite.
His BABIP was .255 which is well above his batting average.
His defense is good, but not really elite anymore.  He had 3 errors and 2 assists in 2022.  Is he still injured?  There are plenty of Belli supporters who believe this to be true.
Belli's arbitration projection is $18.1MM.  I think the Dodgers make a calculated business and baseball decision, and non-tender him.  He may go on to have an MVP season, but he would go on to FA after 2023 regardless..  So can the Dodgers find a CF with better production in 2023 than what Bellinger has done over the last three years?  I believe they can, and for far less $$$.  I doubt that it will be a FA CF.  It could come via trade.  I wouldn't at all mind a look at any of the Arizona CF.  Maybe Bryan Reynolds.  Maybe a lesser expensive non-tender.  Or it may come internally; James Outman.  Outman is a huge strikeout risk, but he has the defensive chops and the power to be a ML OF.
Left Fielders (in order of games played):
Chris Taylor (80 Games LF and 118 Games in total) – Will be 32 in 2023.
454 PA, 402 AB – .221/.304/.373/.677, 45 Runs, 167 K and 63 BB, OPS+ 86, bWAR 0.5, fWAR 1.9, OAA 1.0, DRS -2.0.
CT3 was a 1 X All Star
CT3 does not possess the defensive skills or have the power to be an everyday LF.  What he is, is an exceptional Swiss Army Knife.  He played all 3 OF positions, 2B, 3B, SS, and DH.
His strikeout percentage was 35.2% while his BB rate was 9.7%.  That strikeout rate is really unacceptable, especially for an everyday player.
CT3 has 3 years remaining at $45MM ($15MM AAV).  While that may seem high, his fWAR value equates to slightly better than his AAV.  He has always been a strikeout hitter, but this year was by far his worst baseball year since becoming a LAD.
As long as he remains a Swiss Army Knife, his value to the Dodgers is very good.  However, I have read that because of the dearth of decent ML CF, CT3 may be in demand as a CF as was Kike' Hernandez.
Trayce Thompson – (35 Games LF and 71 Games in total) – Will be 32 in 2023.
454 PA, 402 AB – .221/.304/.373/.677, 45 Runs, 167 K and 63 BB, OPS+ 86, bWAR 0.5, fWAR 1.9, OAA 3.0, DRS 2.0.
Trayce had 1 assist and zero errors in the OF.    He was prolific against RHP – .308/.409/.602/1.010, while not very good with LHP – .174/.260/.361/.621.
Trayce was a fantastic story when he returned to LAD.  He slumped at the end of the season, and that carried into a subpar playoffs.
Trayce is expected to receive $1.7MM in his 1st year of arbitration.  The Dodgers have 3 years control.  Trayce would be a very competent #4 OF as he can play all 3 OF positions.  He can and did play above average defense in all three OF positions.
Joey Gallo – (32 Games LF and 71 Games in total) – Will be 29 in 2023.
137 PA, 117 AB – .162/.277/.393/.671, 16 Runs, 57 K and 16 BB, OPS+ 83, bWAR 0.2, fWAR 0.6, OAA -3.0, DRS 4.0.
Joey Gallo was a deadline pickup and was acquired principally because of what his light tower power could do for the Dodgers down the stretch and into the playoffs. Unfortunately his strikeouts were just too much.  His OBP historically has been good, but it was depressingly down in 2022.  He may have been acquired for the playoffs, but he did not get an AB in the NLDS.  He did get 1.0 inning defensively in LF.
Joey is a free agent, and I do not expect AF/BG to make a serious offer (if any at all).  He could end up back in Texas.  He has been mentioned as a potential by any number of teams.  He is an intriguing player, but not one the Dodgers will bring back.
Miguel Vargas – (18 Games LF and 7 Games in total) – Will be 23 in 2023.
50 PA, 47 AB – .170/.200/.255/.455, 4 Runs, 13 K and 2 BB, OPS+ 25, bWAR -0.4, fWAR -0.5.
Miguel Vargas was listed as a 1B in the MLB stats.  He primarily played 3B at AAA, but only paid 1 game at 3B with LAD.  As he was tapped for the NLDS roster over others (principally Hanser Alberto), Miggy was labeled as a "hitman" by Doc Roberts.  Although he was not allotted a single PA in the NLDS, even though CT3 struck out 5 of 7 PA.
Miggy obviously will not be the LAD 1B.  Just like this year, he will probably be a back up 3B.   Does he have the requisite power to be a corner OF?  Vargas has excellent bat to ball skills.  In 113 AAA games and 520 PA at OKC, Vargas hit .304/.404/.511/.915.  His K/BB ratio was 76/71.
He has nothing left to prove at AAA, so he should be considered as a favorite to make the 26 man.  At what position, we will have to wait it out.  LF is not considered a plus defensive position, but it is also not necessarily for a big bat to ball skills player.  Kyle Schwarber is the new prototype LF.
While many may not want to consider it, Vargas could be a good trade target by some teams.
James Outman – (3 Games LF and 4 Games in total) – Will be 26 in 2023.
Since his 14 MLB PA is way too small a sample size, I will report his MiLB stats.
559 PA, 473 AB – .294/.393/.586/.978, 31 HRs, 31 Doubles, 7 Triples, 106 RBIs, 152 K and 70 BB.  K  ratio is 27.1%. BB ratio 12.5%.  He hit for the cycle twice at OKC in 2022, and in 4 games.
Outman is an exceptional athlete and a superb defensive CF, RF, or LF.  He does strike out a lot, and I do not expect those ratios to decrease at the MLB level.  He is going to get a long look as the LAD CF in 2023.  If the Dodgers can trade for a suitable CF, he has the requisite power to make an exceptional LF.
Other players who played LF for LAD in 2022.
I like Mookie, James Outman, Trayce Thompson, as the LAD OF with CT3 and Miggy Vargas as INF/OF/DH.  They could use a big bat OF (or 2) to compliment/replace Thompson and/or Outman.  For the right return, Vargas and Outman may also be desirable from other teams.  AF will spend considerable thought as to how to increase the offensive production from LAD LF and CF while keeping the defensive metrics at a plus level.