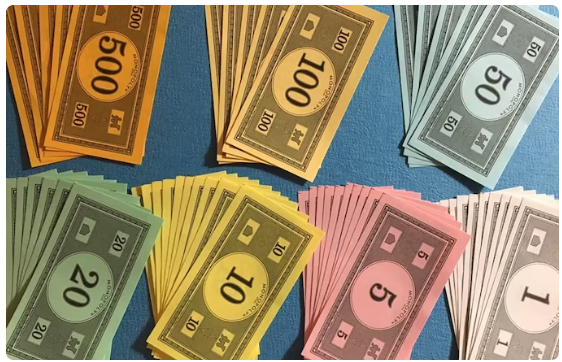 Okay, we are into the League Championship Series, and the Dodgers are not in them.  It is time to move on.  I have ranted enough on things that were not done, and strategies that did not work.  It is time for us to look forward to 2023.
What do we know about the roster for sure?  The below contract amounts are AAV.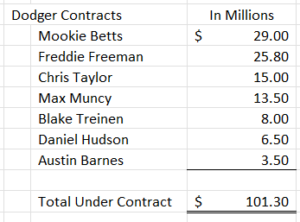 The below arbitration projected salaries were forecast by Matt Swartz of MLBTradeRumors.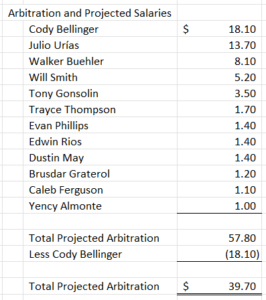 For a long time, I did not think there was a chance that Cody Bellinger would be non-tendered.  But at $18.10MM projected salary, it really seems unlikely that the Dodgers would agree to that.  He is one year away from free agency.  His agent is Scott Boras.  He was upset that he was not in the lineup against RHSP Joe Musgrove.  And he has not been productive since 2019.
2020 fWAR – 1.6 – Value =  $13.2MM
2021 fWAR – (1.0) – Value =  ($7.9) MM
2022 fWAR – 1.7 – Value =  $13.4MM
That is three years of 2.3 fWAR – Value = $18.7MM, or an average of $6.23MM per year.
Would he accept a 3 year $36MM deal?  Less than doubtful.  IMO it is time to move on from waiting on Belli to produce again.
Belli is an excellent defensive CF and has excellent speed.  But his bat just cannot carry him.  The Dodgers can use that $18.1MM elsewhere, and find another CF.  Outside of Aaron Judge and Brandon Nimmo, there are not any worthwhile FA CF.  So the potential Belli replacement will either be internal or via trade.  Sorry Bums, it is not going to be Byron Buxton.
The Dodgers have four remaining players with 2023 club options:  Justin Turner, Danny Duffy, Hanser Alberto, and Jimmie Nelson.  The chart below does not include Danny Duffy as his club option is for $7MM with $0 buyout.  One can never say never, but it is truly unlikely that the club option will be exercised at $7.0MM.  AF/BG may want to consider Duffy for 2023, but not at $7.0MM.  He could be a consideration for the David Price multi inning role.  I considered him a free agent.
Jimmie Nelson is another possibility for the David Price role.  After missing the last two months of 2021 and all of 2022 recovering from TJ surgery and flexor tendon repair, maybe 2023 will be the year. As productive as he was through July 2021, I can see AF/BG gambling on Nelson.
As much as I enjoyed Hanser Alberto in the dugout, I think it is time for the farm system to produce.  Jake Amaya?  Michael Busch?
Is it time for the Dodgers to bid adieu to JT?  He turns 38 next month.  He started out slowly in 2022, caught fire from June to the end of the regular season, and was extinguished in the playoffs.  From June thru Game 162, JT hit .309/.384/.468/.853 with 9 HRs, 35 BB, and 55 K (15.9%).  Can LAD expect a repeat of June – October 5, or a repeat of the beginning of the season and the playoffs. That will be what AF/BG will have to determine before exercising or buying out their option.  JT loves the Dodgers, maybe they can work out a 2 year deal for less AAV, similar to what Chase Utley signed.
I have no idea what to predict here.  JT is invaluable for this team as a leader, both in the clubhouse and in the community.  Is he worth an additional $14.0MM?
The Dodgers have 10 free agents (including Danny Duffy).
Of the above, Trea Turner is guaranteed to receive a QO.  There are two other potentials.  Clayton Kershaw did not get the QO last year due to an agreement between Clayton and LAD.  Will they stay the course?  Or will they place a QO on Kershaw this year?  Kershaw says that he is leaning to playing next year, but he may change his mind once he gets home.  I am sure that this subject was broached in any season end interview.  He is almost certainly going to decide between LAD and Texas.  Texas is not going to care if there is a QO attached.  If Kershaw wants to go to Texas, they will sign him.  The Dodgers need Kershaw.  Will they re-sign him?
One person not included in the above is Chris Martin.  Some sites say he is still arbitration eligible…Cots, Baseball Reference, and Spotrac individual page.  Some sites say he is a free agent…Spotrac 2023 Dodgers Free Agent list, and MLBTradeRumors free agent list.  He has 4.133 ML service, so he really is not eligible to be a free agent.  I am going with 3rd year arbitration.  What he will get was not speculated by MLBTradeRumors as they believe he is a free agent.  He made $2.5MM in 2022, so I am going with $4.0MM.
In Summary: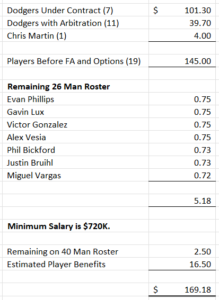 The remaining 26 man roster can be altered by substituting any of the below players.
Ryan Pepiot
Michael Grove
Andre Jackson
James Outman
Jake Amaya
Eddys Leonard
Jorbit Vivas
I have ignored Beau Burrows for this exercise as I do not believe he will be retained.
The elephant in the room is Trevor Bauer.  His AAV is $34MM.  That will take the contract amount up to $203.18MM, and will move one from the remaining 26 man.  The arbitration hearing results should be reported shortly after the WS.  Bauer can opt out of his $32MM remaining with a $15MM buyout.  Doubtful, but maybe he will want a clean break and try to get as close to $17MM from another team.  Perhaps wishful thinking?
The CBT threshold is $232MM.  Without Trevor Bauer consideration, the available amount for options and free agents will be $62.82MM.  With Bauer it will be $28.82MM.
Next we will start to look at the positions, and who may be on the move, and who are potential replacements.