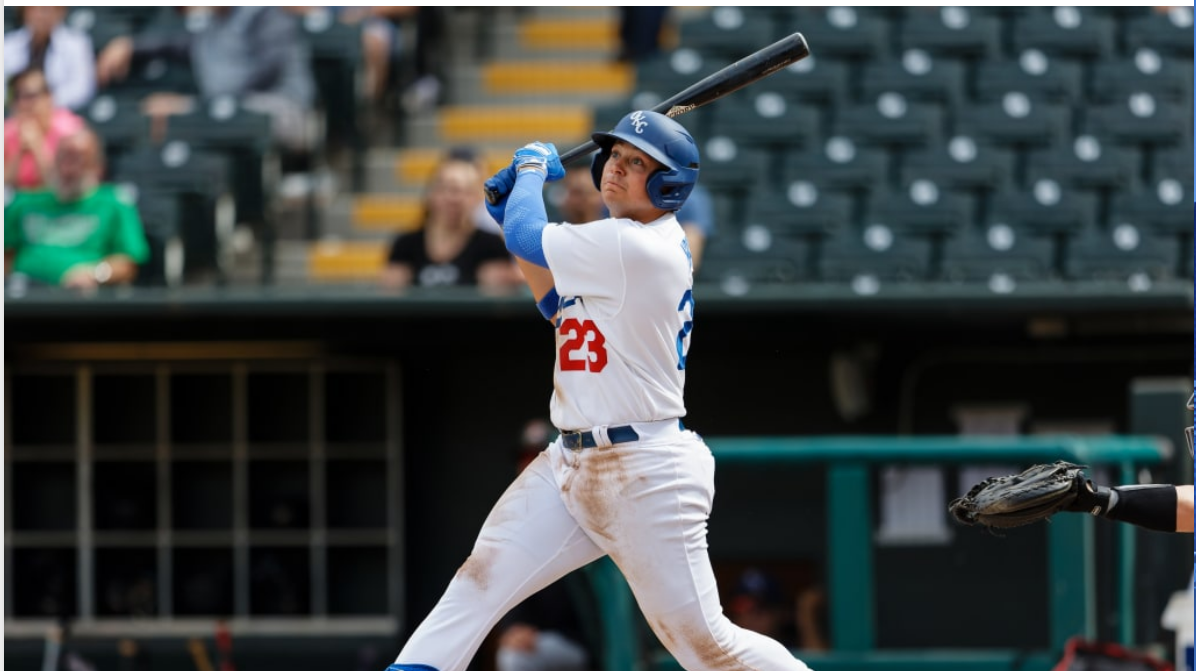 I was hoping to visit Sutter Health Park, home of the Sacramento River Cats, and see a couple of big OKC victories, or at least a great effort.  Unfortunately, the offense was lacking, the pitching was not stellar, and with the exception of Eddy Alvarez and Tomás Telis, the defense was not very good.
Pitching – Game 1:
Robbie Erlin was the first pitcher for OKC, and he was in trouble in the first inning.  2 walks and a single to load the bases, and then an Austin Dean (batting .146) singled in two. But the real issue was walking Wyatt Mathisen, a .133 hitter was the big problem in the inning.  Erlin was not much cleaner the next three innings. Overall he allowed 5 runs (all earned) on 7 hits and 2 walks.  He did allow a Heliot Ramos HR.  This was Erlin's 4th start, and he was not effective in any of the four, and not very good at all in two.
Erlin also does not seem invested in holding on to runners.  Luke Williams and Alex Blandino had huuuuugggge jumps on Erlin, but Telis made the plays close, with throws right on the base, and good tags by Andy Burns.  Both bases were stolen on Erlin.
Jose Adames had a clean 1st inning (5th inning).  He did allow a Luke Williams single, but he was erased on an attempted steal.  Adames did not hold Williams on any better, but because of his fastball in the upper 90s, Telis was able to get the throw-off in time (or at least what the umpire said was in time).  Adames' 2nd inning was even better, as nobody reached base.   But in the 3rd, Jose could not find the strike zone, and when he did it was hit hard.  He allowed a booming double to Luke Williams and walked Heliot Ramos before Daniel Zamora came on in relief.  A single, double, sac fly and HR turned a 5-1 lead, into a 10-1 disaster.  The first two runs were charged to Adames, but Zamora could not get the outs to keep the score close.
In the bottom of the 8th, reserve utility infielder Ty Kelly took the mound, and he gave up 2 runs.
Offense Game 1 – There was none.  The lone score was from a Tomás Telis single, a Drew Avans HBP, an Eddy Alvarez sac bunt, and a Miguel Vargas ground out.  Ryan Noda hit a booming double.  Noda was the one-hitter this weekend that left an impression.  He hit the ball well in both games. He had hits taken away twice on balls hit to the 2B playing rover, playing short to mid-RF. I hate the shift.
The two hardest-hit balls were from Telis and Noda, but nothing else.
Defense Game 1 – General observations:
Eddy Alvarez made an unbelievable leap and catch on a line drive heading into LF. He also made a great relay throw to the plate to nail a runner trying to score.

Tomás Telis made three great throws to 2nd base, getting one out, but making two others close, that should not have been.
If anything were to happen to Will Smith or Austin Barnes, Telis should be able to fill in just fine.  If Trea Turner was to get hurt, I would feel comfortable with Alvarez at SS.  I would guess that Gavin Lux would get the first shot, but Alvarez would not hurt the team.
It is clear to me that Miguel Vargas and Ryan Noda are knocking on the door because of their bats.  Their defense left me wanting more.  It was more evident in Game 2, but there were a couple of plays in Game 1 that show that some things just do not come naturally.  On a fly out in the corner to RF, Jason Martin, the runner on first had taken off and might have been doubled off 1st.  However, Noda was playing off the base when the relay throw went to Burns who turned to make the throw but saw Noda off the bag and took a bite out of the ball.  You could see the look in Burns' face, and Noda knew.
Miguel Vargas made a good play on a ball hit to his backhand, but when he got up, his throw pulled Noda off the bag.  The throw was off-line, but I would like to see the film to see if Noda properly stretched to the ball.  On another play, there was a hit to LF and a play at 3B.  Vargas was playing in front of 3rd.  The throw to 3rd was on the line but because of where Miguel was playing he had to turn and swipe a tag.  If he was on the base, there is a very good chance the throw beats the runner.  Again, there were some non-verbal gestures that told the story.
I know I am old school, but with the bases loaded, the infield was playing up, but Miguel was a little behind the bag and off the line.  I have always been taught that you play closer to the line to try and stop a double late in the game. I can only assume that he was playing where he was told.  A ground ball went down the line for a double that nearly cleared the bases except for the throw to the plate by Alvarez.
It is not just the errors, but also those plays that might have been made.
Game 2 – Pitching and Offense – Not much more that can be said that was not already written in today's MiLB Summary.
General Offense Observations:
Ryan Noda can hit. He hits the ball hard, and he would have had a couple of more hits this weekend had there not been the shift, with an infielder playing rover.  Noda is playing every day and leading the team in batting average and OPS.  The concern is that Ryan is already 26.

Kevin Pillar can still hit ML pitching (IMO).
I have no reservations with any of the AAAA players moving up in an emergency. None of them are going to replace any LAD on the current roster.  If Muncy were to go on the IL, I would not be that upset if Noda was called up.  I know Jake Lamb is a former NL All-Star, but I would strongly consider calling up Noda.

Miguel Vargas – I saw him square up the last ball he saw this weekend, and hit to the deepest part of the field, a couple of steps in front of the CF fence. I think he is a very talented hitter, but the 22-year-old hitter that I came away most impressed with was Giants OF prospect, Heliot Ramos.  Ramos did not play on Sunday, but on Saturday, he went 3-4 with a booming HR.  For his only out, he put RF Jason Martin against the RF wall.  Vargas is two months younger than Ramos.
Defensively on Sunday
Eddy Alvarez made another dazzling play at SS.
Miguel Vargas played 2B, but I am sorry, he looked lost at times.  On an attempted steal of 2B, Miguel was playing in front of the base, and could not make the tag in time. My wife commented on the play asking why Miguel was playing in front of the base.   When Alvarez had the same play, he was at the bag to just drop his glove.  The runner was called out, but the look on the runner's and Eddy's faces looked as if Eddy stole an out on that play.  But the difference was he was in position.
On a second play, the defensive issues with both Ryan Noda and Miguel Vargas came into play.  There was a ball hit to the glove side hand of the LH Noda, that went off of his glove.  I was not fielding the ball so I cannot say for sure, but it did look playable.  But with Vargas backing up the play, he got there but tossed the ball over the pitcher's head.  The scorer called it a single, but it is a play that both Noda and Vargas could (should) have made.
In the 4th inning, Jhonny Pereda hit a line drive off the pitcher, Mike Wright, Jr. Miguel Vargas never moved to get the ball. Wright had to go behind the mound (several steps) picked up the ball and ate it.  I have no idea if Vargas could have got to the ball and made the throw, but he did not make an attempt, or at least I did not see one.  I may have missed it, but again my wife commented and asked why the 2B did not make an attempt to get to the ball.  So she saw what I saw.
Every scouting subscription analyst says that Miguel Vargas can hit, but he needs to find a position. FanGraphs says that there is no way Vargas plays 3B, and they are not convinced he has the power to play 1B.
Right now, both Noda and Vargas are DHs. They both can handle the bat.  Just like Matt Beaty's response to what his best position is, for Noda and Vargas, that is the batter's box.   Will they get to the level of at least adequate defensively?  We are going to need to wait and see.  Maybe this weekend was an aberration and both players will play adequate defense.  But nothing I saw this weekend tells me they are good defensive players, RIGHT NOW.
Outside of Miguel Vargas, Ryan Noda, Drew Avans, and Ryan Pepiot, OKC is a team of depth for an emergency.  I only wish I could get back to OKC to be able to see them again.  They do play in Reno in the middle of June, so I will try to make it there to see them again.  They are a fun group, and I would like to see the continued maturation of  Ryan Pepiot, Miguel Vargas and Ryan Noda.  Which of the former MLB players who signed a MiLB contract will still be with OKC at that time?