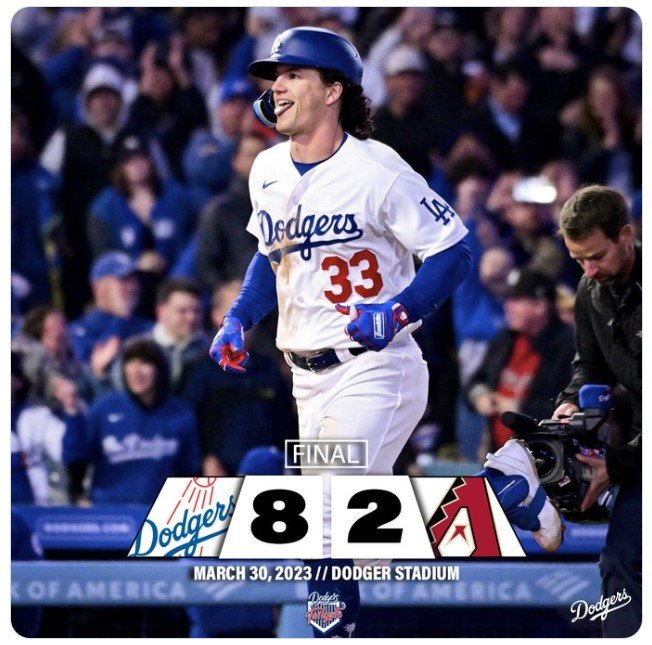 On a night that the Dodgers honored former LAD CY Award winners, Orel Hershiser, Eric Gagné, and Fernando Valenzuela, we were about to be thrilled with a great Dodger victory.
This game had everything, and most of it GOOD.  This was the first Opening Day (Night) game for 27 year old, Julio Urías, an honor he richly deserved.  It started out like a lot of Julio Urías' games, with a shaky 1st inning.  I can't say that it was the specter of Opening Night, as he struck out Kyle Lewis.  But he hit Ketel Marte and that was followed by a pair of singles, with the RBI coming from Dodger Killer, Christian Walker.  Evan Longoria helped out Julio with a 5-4-3 DP.
In the bottom of the 1st, Mookie and Freddie strike out before Will Smith hits a double down the right field line for his first of what will become 3 hits on the night.  Max then started what will be the most forgettable game of his career with a called strike three…and contrary to what Nomar and others have said, it was a strike.
Nick Ahmed doubles and will come around to score on a sac fly for an Arizona 2-0 lead after 1 ½.
Julio then went on to face the minimum over the 3rd thru the 6th inning.  Miguel Rojas made an error in the 3rd but that was ended with the 2nd 5-4-3 DP, this one by Lourdes Gurriel, Jr.
Marte reached 1st for the third time with a single to RF in the 6th.  He decided to test Mookie's arm, and lost.  Mookie bare hands the ball and fires a 2 bouncer to Rojas waiting for Marte at 2B.
He got the final three in the 6th, and his night was over.  He threw 79 pitches, 57 for strikes.  He faced 21 batters and got 13 first pitch strikes.
The offense took over in the third.  James Outman drew a walk to lead off which was followed by a Rojas double to RF.  Runners on 2nd & 3rd with nobody out and Mookie, Freddie, and Will Smith coming up.  You have to feel good about your chances, right?  Mookie struck out and Freddie hit a soft line drive to Ahmed at SS.  Zac Gallen looks to get out of the inning and gets two strikes on Smith before Fresh Prince stroked an opposite field 2 out single to tie the score.
That was followed in the 5th with a few clutch 2 out singles from new Dodgers.  With one out, Mookie walked and that was followed by a Freddie Freeman single to right, moving Mookie to 3rd.  Smith follows that with a bloop single into RF on a pitch way off the plate.  He stayed back and went with the pitch.  After Max struck out, JD Martinez stroked a 2 strike, 2 out single.  That was followed by David Peralta's first hit as a LAD against his former team.  Unfortunately, JDM thought he was Trea Turner on the bases and got thrown out by a bunch trying to go from 1st to 3rd on a single into LF.
In the 6th, Miguel Vargas drew his 2nd 4 pitch walk.  That was followed with a 2-run James Outman HR, his first of what will undoubtedly be many at Dodger Stadium.  It was an oppo 390 foot, 105MPH exit velo, 25 degree launch angle HR.Outman was at the fore of the Dodgers 8th and final run.  He led off the inning with a sharp line drive single that was bobbled by Jake McCarthy, and Outman took advantage and steamed into 2nd.  Rojas got his second hit of the game that should have been his second double, except it hit the 3B umpire.  After a Mookie K, Freddie walked to load the bases.  Smith followed with a sac fly and his 4th RBI of the night.
The first of many at Dodger Stadium for James Outman! pic.twitter.com/sktqSYz5dr

— Los Angeles Dodgers (@Dodgers) March 31, 2023
After Julio Urías' good start, the bullpen took over.  Last year's bullpen piñata, Phil Bickford pitched a 1-2-3 7th inning with a K.  He threw 12 pitches, 7 for strikes.  Bickford was followed by Shelby Miller, and he matched Bickford's perfect inning with a K.  Shelby threw 13 pitches, 10 for strikes.  Yency Almonte finished the game with a perfect 9th.  Yency threw 10 pitches, 7 for strikes.
Dodger pitchers did not allow a walk, and dominated what I think will be a good Snake team.
Outman not only hit the first LAD HR of 2023 and singled on a 2-3 night, but he also drew a walk on a great take.  For the night, James scored 3 runs.
Will Smith went 3-4, with all three hits into RF.  He also had a sac fly to finish with a 4 RBI night.
Miguel Rojas made an error, but brought his bat to make up for the E-6.
Mookie went 0-4 with 3 Ks, but a great assist in RF.
David Peralta had a 2-hit night (both oppo), and JDM had a run scoring single (oppo).
As hinted above, Max Muncy had a very forgettable night with 5 strike outs.  But he did start a pair of 5-4-3 double plays to help Urías.
The Dodgers struck out 12 times, 5 by Muncy and 3 by Mookie.
They also went 5-11 WRISP.
After Outman's HR, Kirsten Watson interviewed him, which he was not comfortable with.  NO INTERVIEWS DURING THE GAME DURING THE REGULAR SEASON.
This was a fantastic game that demonstrated that contact and going with the pitch was critical.  As was the case last year, the Dodgers were very good at scoring with 2 outs.  They also did well with 2 strikes.
The game took 2 hours and 35 minutes, which I am grateful for.  Attendance was 52,075.
You can't win them all unless you win the first one.
I guess there is nothing left to say except: