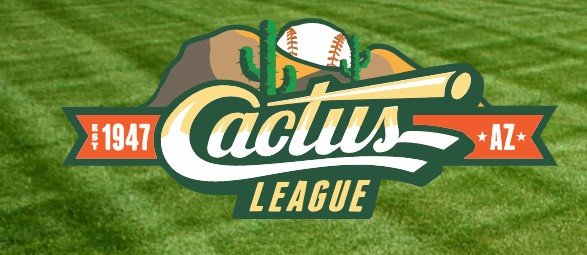 A few observations after the first 9 ST games.  Counting a pair of split squad games, the Dodgers have 23 games remaining.  We are getting closer to the MiLB players heading back to MiLB camp, and many will have positive experiences to build on for 2023.
Specifically, Eddys Leonard and Andy Pages have had good springs thus far.  Both players have 3 hits, but Pages has 2 BBs to supplement the hits.  He is also 4th on the team in RBIs with 3.  Leonard has 2 which came from a booming double against the Royals.  Pages played RF and CF without incident.  Leonard played SS, and for the most part did okay.  No miscues that I can remember.  Limited range.
Standouts for the MiLB crowd include Hunter Feduccia.  In his limited PA (5), Feduccia is second on the team with 5 RBIs behind Freddie Freeman (7).  Devin Mann is 4-11 with a pair of doubles and a pair of RBIs.  Ryan Ward has 3 hits and 2 BBs in his 7 ABs.  He has a .556 OBP.  Yes, extremely limited sample size, but something positive to work on.
It is hard to be critical of the batters when they only get 2-3 PA every other day.  It is difficult to get the timing down on live competitive pitching.
The WBC is going to be an obstacle for the players/teams to navigate.  The Dodgers have six players going to the WBC on four different teams.  Fortunately all four teams will be playing their first round in Arizona.  The tournament can run from March 11 thru March 21 with two of the four teams expected to be playing in the second round (03/19 or 03/20).  The four countries:
USA – Mookie Betts and Will Smith
Mexico – Julio Urías and Austin Barnes
Canada – Freddie Freeman
Great Britain – Trayce Thompson
Columbia is the fifth country in that pool.
Clayton Kershaw and Miguel Rojas have opted out of the Tournament.  Kershaw had problems with insurance and Rojas wanted to concentrate on working with the Dodgers as the new everyday SS.
James Outman has been the brightest star for the team thus far, and by a wide margin.  He leads the team with 6 hits including a long HR and a run scoring triple.  In 17 PA, Outman has only struck out three times, one on a very questionable call.  He showed great discipline but got rung up a pitch that looked very much like a ball.  Maybe I am a little biased.
James has the team's lone sacrifice fly, and has two 2-out RBI hits.  Outman has played in 7 games and started in 5.  He has all of his hits as a starter, indicating that he is hitting ML pitchers.  He has played all three OF positions and has made multiple good plays. He picks up the ball very well off the bat. He appears to be able to go back on balls well, and has the speed to get the balls in the gap.  While playing LF on Sunday he had a good jump on a ball hit in front of him to make a good catch, calling off CT3 at the last moment.  James has done everything he can to get his name on the 26 man roster coming out of ST.
Freddie has three HRs, while Mookie and Jason Heyward have two HRs, and none of them were cheapies.  It sure looks like the Driveline swing review has been successful for Mookie, as he went there to work on bat speed, and it sure looks like his hands are getting through the ball very quickly.
JDM, David Peralta, and Max Muncy are all struggling at the beginning of ST, with a combined 4 hits in 41 ABs.  But all three are veterans and figure to get their timing once they get consistent playing time.  Peralta only has 1 hit, but has also struck out only once in 17 PA.
In his brief start, Jason Heyward is showing that he has made some positive adjustments to his swing.  Will it last?  He has 4 hits in 10 ABs with zero Ks.  If he continues, he figures to get one of those OF spots.
I do not know if Trayce Thompson is off to a bad start, of if he is returning to who he was before he got hot last year.
Surprise of the Spring for me is Yonny Hernandez.  He is 5-12 with a pair of walks.  Miggy Rojas is 4-10 with zero Ks and zero BBs.  His bat to ball skills have not regressed.
Pitching wise, Julio Urías has two starts and 6.2 IP and 5Ks.  In Sunday's game he pitched four efficient innings, showing a great breaking ball.  It looked as if he could throw his breaking ball for a strike any time he wanted to.  He threw 49 pitches in 4.0 scoreless IP on Sunday.
Three OKC starters have pitched well in their pair of games each.  Michael Grove and Ryan Pepiot have started twice, while Andre Jackson has relieved twice.  Pepiot and Jackson have 5 Ks.  Pepiot has not walked a batter, and Jackson walked one.  Tony Gonsolin, Noah Syndergaard, and Dustin May have one start each, with only May allowing a run.  Gonsolin did what he seemingly does best, and that is to pitch out of trouble.
Clayton Kershaw was reported to have pitched 3.0 innings in a B game on Sunday, but has not yet appeared in an A game.  Will he be sufficiently ramped up for the start of the season?
There has been some good relief pitching.  Yency Almonte has not pitched yet, not sure why.  Maybe somebody has heard and can share.
Evan Phillips, Caleb Ferguson, and Alex Vesia have been excellent.  Brusdar Graterol has pitched in traffic, but has kept runs off the board.  He has 4 Ks against 0 walks.  Shelby Miller and Jimmy Nelson need to pitch more.
Rubby De La Rosa pitched in his third game on Sunday.  He came in with runners on 2nd and 3rd with 1 out, and left them stranded with a strikeout and a fielder's choice.
Other NRI's who have stood out for me are:
Mark Washington – 3 G, 1.2 IP. 0 runs, 0 hits, 0 BB, 2 K
Nick Robertson – 2 G, 2.0 IP, 0 runs, 1 hit, 0 BB, 3 K
Tayler Scott – 2 G, 2.0 IP, 0 runs, 0 hits, 0 BB, 3 K
Wander Suero – 2 G, 2.0 IP, 0 runs, 1 hit, 0 BB, 3 K
These are simply initial observations with a lot of games still to be played.    There are no conclusions that can be made after just 9 ST games.  But those that have shined thus far will get longer looks.  The regulars should start to get more ABs.  ML pitchers should get more innings, but some of the MiLB relievers will stick around for a while.  Can Andre Jackson move to serious consideration for one of those 8 relief spots out of Spring Camp?
The biggest obstacle for James Outman is that he has options remaining while those he is in supposed competition (Peralta, Thompson, Heyward) do not.  The Dodgers will need an injury or for someone to get released for Outman to make the team out of ST.  But if he continues to play as well as he has thus far, how does he get left off?