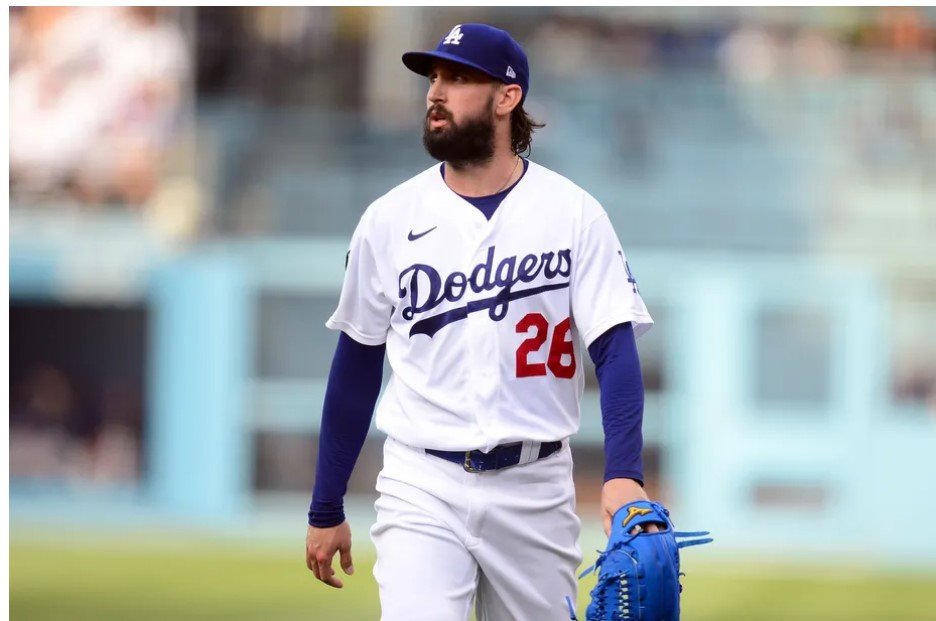 Coming into the game, Eric Lauer was 6-0 with a 2.56 ERA and a 1.101 WHIP.  49K/16BB – .211/.270/.367/.637
After first two batters walked, Lauer then retired 9 straight before Freddie Freeman got the first hit of the game in the 4th inning.  Next batter, JT, hit a hard ground ball up the middle that Kolten Wong made an excellent defensive pick and flip to Willy Adames who turned the DP with a bounce throw to 1B. That was a fantastic DP.  You hate to see it against the Dodgers, but you have to applaud the play.
After the 25 pitch 1st inning, Lauer then settled down for a 33 pitch 2nd – 4th innings.
After a Hanser Alberto single in the 5th, Lauer got help with another DP.  This one was a strike em out throw em out DP with Trayce Thompson at the plate and Hanser eliminated on an attempted steal.
Solo HRs by Austin Barnes and Max Muncy in the 6th and 7th put the Dodgers up 2-0.
The Dodgers could not get anything against the Milwaukee bullpen.
This was the first win by the Dodgers ever against Eric Lauer.  Lauer was mostly productive except for 2 pitches.  Lauer's problem this year has been the big fly.  When he does not allow a HR, Lauer is unbeaten.  But on this night when Lauer was mostly superb after the first two batters, he made two mistakes.  Austin Barnes and Max Muncy hit those mistakes over the wall for solo HRs and a 2-0 lead for Tony Gonsolin.  This was Barnes' first game in 12 days.  He goes 2-3 with a HR, and called and received a great game.
On the other side, Tony Gonsolin was outstanding.  7.0 shutout innings, with only 2 hits.  He only walked one batter and recorded 8 K's.  After an arguably horrible July with a 4.40 ERA in five starts, he has found his second wind in August.  In his third August start, Gonsolin has pitched 18.2 innings.  In those 18.2 IP, he has allowed 7 hits, 5 walks, and 17 strikeouts.  His season ERA is now down to 2.12 in 123.1 innings.  With 46 games remaining, he probably has another 8 or 9 starts.  Hopefully the offense will provide a few more runs so that Tony can save some innings in September/October (before playoffs).
Caleb Ferguson relieved Gonsolin in the 8th.  He has been almost untouchable all season.   He gets two quick Ks, but then 2 walks the 8th and 9th hitters. Christian Yelich then hits an oppo single and a run scored on a close play at the plate.  A strong throw by Chris Taylor was slightly on the 1st base side of the plate, and Barnes could not get over to make the tag until the base runner's hand was on the plate.  This was the first run scored all season against Ferguson (earned or unearned).  Ferguson then induced a lineout by Adames right at Trea Turner to close out the inning.
Then the drama.  Enter Craig Kimbrel. For the season, Kimbrel was 0-4 when trying to save a one run game.  Kimbrel got the first two batters on ground balls, but Keston Hiura hit a ball off the end of the bat against the shift into right-center for a base hit. On a 2-2 pitch, Hiura stole 2nd.  Kimbrel walked Mike Brosseau to put the potential winning run on base, with Luis Urías coming to the plate.  On an 0-1 pitch, Urías hit a one hop ground ball to Max Muncy at 3B.  Max steps on third and Kimbrel gets the save.  It was not a clean inning, but it was still a scoreless inning and a save, and the Dodgers will take it.
Next up is Andrew Heaney vs reigning CYA winner Corbin Burnes.  Burnes seems a little more vulnerable this year, but he can still dominate.  He has not nearly been as effective against LAD as have the previous three Brewers starters,