It was 40 years ago today when HOF Boston Red Sox OF, Jim Rice, perhaps (probably) saved a life at Fenway Park.
Four year old Jonathan Keane was with his father and two year old brother in dream seats right behind the Red Sox home dugout on the first base side.  Down 3-0 in the bottom of the 4th, many lives were about to change.  Red Sox 2B Dave Stapleton stepped to the plate, and lined a foul ball right behind the first base dugout, and it found the four year old Jonathan Keane.
Jonathan's father, Tom, believed that the ball had innocently hit the dugout roof, but when he looked down, he saw his slumping son covered with blood.  Young Jonathan was unconscious, and patrons were screaming for medical personnel.
Without hesitation, Jim Rice jumped out of the dugout, wrapped up Jonathan in his arms and brought him to the Red Sox dugout.  At the same time, team doctor Dr. Arthur Pappas met Rice in the dugout and had already called Boston's Children's Hospital, and within three minutes from being struck, the young lad was in an ambulance on his way to the Hospital.
At the hospital, Jonathan underwent emergency surgery to relieve pressure on his brain, and without hesitation the doctors have credited the actions of Jim Rice, Dr. Pappas, and the Boston Red Sox for perhaps saving Jonathan's life.   At the very least, Rice's actions undoubtedly prevented permanent damage.
"Jim Rice likely saved Jonathan's life," says Tom. "If he hadn't reacted so quickly, God knows what might have happened."
Jonathan spent five days in the hospital, but eventually made a full recovery.  At the time…
"The doctors can't tell you if there's any permanent injury, at the time," says Tom. "We're very lucky."
Jonathan has no memory of that day.
But for Rice, the day was not over.  He had a baseball game to finish.  He continued the game with a blood soaked uni and proceeded to go 1-4 with 2 RBIs in an eventual 7-3 loss to the Chicago White Sox.
Jonathan matriculated to and graduated with honors from North Carolina State with a Business Degree.  He is the co-founder and CEO of Customer HD, a Raleigh, North Carolina company that assists other companies in outsourcing telephone services.  His wife is a nurse, and they have three children.
He is still a baseball fan, and takes his kids to see the Durham Bulls.  There was a time when protective netting along the seats was a debatable issue.  However, when asked, he would not advocate for more protective netting.  But now that he takes his own kids to Durham Bulls Athletic Park, he might have a different point of view.
"It has become more real to me, knowing how fragile he is at that age," he says. "If you'd asked me five years ago, I think I'd probably have been more neutral. Having kids makes nets seem like a good idea."
That would be special if the story ended there.  But it doesn't.  A year after the incident the Boston Red Sox invited Jonathan (then 5), to throw out the ceremonial first pitch at the Red Sox Home Opener.  He accepted and reunited with Jim Rice.
And yet there is still more to this story.  Jim Rice visited the hospital to see young Jonathan, and learned of the family's financial condition, went to Boston Children's Hospital business office and instructed the Hospital to send all of the medical bills to him for payment.
When asked, Rice said the following:
"I've hit home runs. I've driven in runs. But as far as something that stands out, it's probably the picture when I went up into the stands and took the kid out of the stands who was hit by the foul ball."
Rice spent his entire 16-year career with the Red Sox, and finished with a .298 batting average and 382 home runs.  He was the only player in baseball history to have over 200 hits, with 39 or more home runs over three consecutive seasons. He was inducted into the Baseball Hall of Fame on July 26, 2009.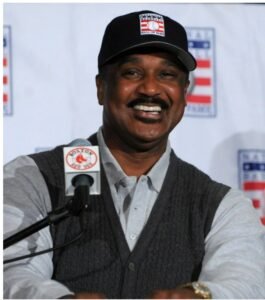 Jim Rice is a not only a HOF Baseball Player, but he is also a HOF human being.