The 2016 draft is undoubtedly the prize draft in the AF era.  They had a couple of supplemental picks after the first round; 32nd and 36th overall pick.  The 32nd pick was due to the loss of Zach Greinke in free agency, and the 36th pick was due from Kyle Funkhouser not signing in 2015.  This gave the Dodgers 42 picks in the draft.  The Dodgers signed 33 of the 42 draft picks.
Of the 33 who signed, 14 have made it to MLB.
Gavin Lux – 1st round (#20 overall)
Will Smith – 1A supplemental (#32 overall)
Jordan Sheffield – CB-A supplemental (#36 overall)
Mitch White – 2nd round
Dustin May – 3rd round
DJ Peters – 4th round
Devin Smeltzer – 5th round
Luke Raley – 7th round
Andre Scrubb – 8th round
Tony Gonsolin – 9th round
J. Alexy – 11th round
Cody Thomas – 13th round
Dean Kremer – 14th round
Zach McKinstry – 33rd round
Perhaps there could be others that can still make it (Ramon Rodriguez).
Of the 14, 4 look to be potentially multiple All Star candidates; Gavin Lux, Will Smith, Dustin May, Tony Gonsolin.  Gonsolin's selection last year was the group's 1st All Star nod.  Why Will Smith has not been selected as of yet is a mystery.  The Phillies, JT Realmuto, is a perennial All Star.  Yadier Molina, Willson Contreras, Travis d'Arnaud, Buster Posey, and Omar Narvaez have blocked Smith the last two years.
Gavin Lux will have a tough time becoming an All Star as a SS, but it is not impossible.  Dustin May and Tony Gonsolin have clear opportunities.  Of the non-Dodgers, Baltimore's Dean Kremer could be a possibility…doubtful but possible.
Gavin Lux attended Indian Trail High School and Academy in Kenosha, Wisconsin. He batted .560 for the school in his senior season. He was one of the top 50 high school prospects heading into the 2016 MLB draft.  He won the 2016 Wisconsin baseball Gatorade Player of the Year awards and Holy Rosary Sports Night Male Athlete of the Year Award in high school.  He had committed to Arizona State University.
His uncle, Augie Schmidt, is a former minor league professional baseball player and current head coach of the Carthage College baseball team.
While I wrote at the time I thought that the Dodgers should have selected Bo Bichette, I remained a fan of Lux.  Gavin had a good pro debut.  However his 2017 season started of slowly due to a rib injury.  He recovered the second half to make his season respectable.  However some of that luster on his star started to tarnish.
In 2018, Lux got back on track and had a great season in high A and AA.  He hit a combined .324/.399/.514/.913.  But it was 2019 where he became a true star on the rise.  He was named MiLB Player of the Year by Baseball America after batting .347/.421/.607/1.028.  He was projected to be the 2020 NL Rookie of the Year.
2020 was a very tough season for Lux.  He got to the summer spring training late for an undisclosed reason.  His home town, Waukesha, Wisconsin was under fire.  And his mind was anywhere other than baseball.
In 2021, Gavin was supposed to be the 2B.  However, Corey Seager was injured and Lux was moved to SS.  Lux was placed on the IL late July, and was sent down to OKC for rehab.  At the time of his rehab, Corey Seager returned to be the SS and Trea Turner was acquired to be the 2B.  Lux was recalled for a short period of time, and then optioned.  He was recalled in September and was in effect a utility player for the rest of the year.
In 2022, Lux was the regular 2B, and after a slow start he caught fire and was batting at or above .300 for June and July until he hurt his neck.  Upon his return, Lux was not the same, and his numbers started to tumble.  September and October were particularly dismal, but his injury precluded him from specific baseball moves.
Lux has been working especially hard this winter in anticipation of becoming the everyday SS for the Dodgers.  He has put on 15 pounds of muscle to help with his arm strength and his missing power stroke.  I think Gavin could be playing with a chip on his shoulder.
2023 figures to be a pivotal season for the Dodgers with Gavin Lux playing a key role in the success or failure of the team.
Will Smith becoming a Dodger was somewhat a stroke of luck.  He was also being courted by St. Louis who had the two picks following the Dodgers 32nd pick, and were prepared to take Smith.  However per Pedro Moura in his book, "How To Beat A Broken Game: The Rise of the Dodgers in a League on the Brink" he wrote: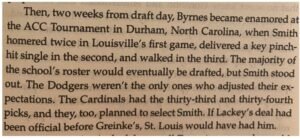 Byrnes is the Dodgers' Josh Byrnes.
According to Moura, the Dodgers became enamored with Smith late in the pre-draft process, and were able to zero in and select him with the 32nd pick of the Compensatory First Round only because the Cardinals, who lost Lackey to the Cubbies, filed their transaction after Greinke's move to the desert, leaving them with Pick No. 33.
Jordan Sheffield was picked up by Colorado pursuant to the 2020 Rule 5 draft.  He was DFA'd in 2021 and outrighted to AAA.  Sheffield was released from his AAA affiliate last October.  He is not currently signed with any MLB organization.
Mitch White will be fighting for a rotation spot with Toronto.  Yusei Kikuchi seems to be the favorite for #5 in the rotation, with White projected to be the long reliever and #6 SP.
Dustin May is full of promise.  His "stuff" is particularly nasty.  Like many young pitchers he still needs to master his command and control.  This will be a pivotal year for May as he returns from TJ surgery.  He will start out as the #5 pitcher in the rotation, but could move into a possible post season rotation if his season goes as many believe he is capable of.
DJ Peters was often compared to Jayson Werth.  He just never matched those plaudits.  Peters was DFA'd by the Dodgers in 2021.  Texas claimed him and he finished the season with the Rangers.  He was then released by Texas at the end of 2021.  He signed with the Lotte Giants in the KBO and was released.  He signed with Washington late 2022, was released, and is again a free agent.  He was the James Outman before James Outman.  Let's hope Outman has a better result.
Devin Smeltzer was traded by LAD with Logan Forsythe and Luke Raley to Minnesota for Brian Dozier.  Smeltzer has 140.1 career MLB innings, all with Minnesota.  He was outrighted by the Twins, but elected Free Agency.  Miami signed Smeltzer to a MiLB contract and is a NRI to ST.
Luke Raley was part of the trade with Minnesota for Brian Dozier.  He was traded back to the Dodgers with Brusdar Graterol for Kenta Maeda and Jair Comargo.  In March 2022, Raley was traded to Tampa Bay for Tanner Dodson.  The Dodgers like the potential ceiling of Tanner Dodson more than the ceiling of Raley.  Raley has 144 career PA – .189/.278/.283/.561.
Andre Scrubb was involved in Bear's favorite trade.  In August 2018, Scrubb was traded one for one to Houston for Tyler White.  Scrubb had a very good 2020 season but not so good 2021.  Scrubb elected Free Agency rather than accept a MiLB assignment with Houston.  Scrubb is now pitching for Cangrejeros de Santurce, a professional baseball team based in Santurce, the largest barrio of San Juan, Puerto Rico.  They are part of the Liga de Béisbol Professional.
Tony Gonsolin was a steal in the 9th round and signed for $2,500.  He was an OF and relief pitcher at St. Mary's in Moraga, CA.  When Gonsolin signed, he was placed in a reliever role with his wicked split finger.  However, before the 2018 season, Gonsolin asked to become a starter, and the Dodgers agreed. One year later, Tony was in MLB as a starter and reliever.
In 2020, Gonsolin spent the year with the Dodgers.  He was hurt for most of 2021,  In 2022, Gonsolin had a break out season, and was the best pitcher in MLB up to the All Star break.  He was selected to the NL All Star team.  He had a rough July, but got back in command in August before he went on the IL with a forearm strain.  We all fear that injury as it quite often leads to a UCL tear and TJ surgery.  The Dodgers may have rushed him back, as he was not effective upon return.  He is currently working on changing his mechanics to minimize the strain on his forearm.  Will he be able to come all the way back without TJ surgery?  I guess we are going to find out.  He certainly believes he is.
Here is what he recently said: 
 "Just trying to get stronger over the offseason, get everything feeling good, feeling right. Doing a little mechanical changes to try and stay healthy all year and that's the goal, to stay healthy all year and let the results show for themselves."
Gonsolin didn't go into detail on what mechanical changes he made. We are all going to have to wait and see what those changes will be. If he is right, he is going to be a solid #3 starter in the rotation.
AJ Alexy was traded with Willie Calhoun and Brendon Davis to Texas for Yu Darvish on July 31, 2017.  Alexy remained in the Texas system through 2022.  He has accumulated 30 IP for Texas and a 6.30 ERA.  He was DFA'd by Texas, and the Nationals claimed him off waivers.  He is now the 41st member on a MLB roster.  He was traded by Washington to Minnesota to make room for Dom Smith.  Minnesota has now DFA'd Alexy to make room for Carlos Correa.
Cody Thomas is another James Outman before James Outman.  He is a prolific athlete who was a QB for the University of Oklahoma when he battled Baker Mayfield for the starting job.  Thomas is an exceptional defensive OF with prodigious power, who strikes out a lot.  Sound familiar?
On February 21, 2021, Thomas was traded with Adam Kolarek to Oakland for Sheldon Neuse and Gus Varland.  Thomas was recalled to Oakland late last year and has accumulated 32 PA.  After the season, Thomas was designated and went unclaimed.  He was outrighted to Las Vegas Aviators (AAA) and is a NRI to ST.
Dean Kremer may be the top draft pick no longer with the Dodgers.  In July 2018, Kremer was traded with Rylan Bannon, Yusniel Diaz, Zach Pop, and Breyvic Valera to Baltimore for Manny Machado.  Kremer has 197.2 IP with the Orioles and a 4.55 career ERA.  His 2022 season was a breakthrough season for both Kremer and Baltimore.  He is projected to be the #4 SP with the Orioles.
Zach McKinstry was a 33rd round pick by the Dodgers who made it to MLB in 2020.   He was a typical AAAA player with the Dodgers in a super utility role.  Zach was one of Harold's favorite players.  The one player role that the Dodgers are seemingly stacked with is utility players, and at last year's trade deadline, the Dodgers decided to trade McKinstry to the Chicago Cubs for RHRP Chris Martin.   It was a tremendous trade for the Dodgers, and it gives McKinstry a clear path to a MLB role with the Cubs.
The 2016 draft produced more MLB players, but not quite the quality as the 1968 class. Although, there is still time for players to step up. The Dodgers are a depth driven team, with  multiple role players, but just not at the elite level.  The 2016 draft is the epitome of this type of collection.  Lots of pieces, with some chances of upper tiered players at the MLB level (Smith, Lux, May, Gonsolin).