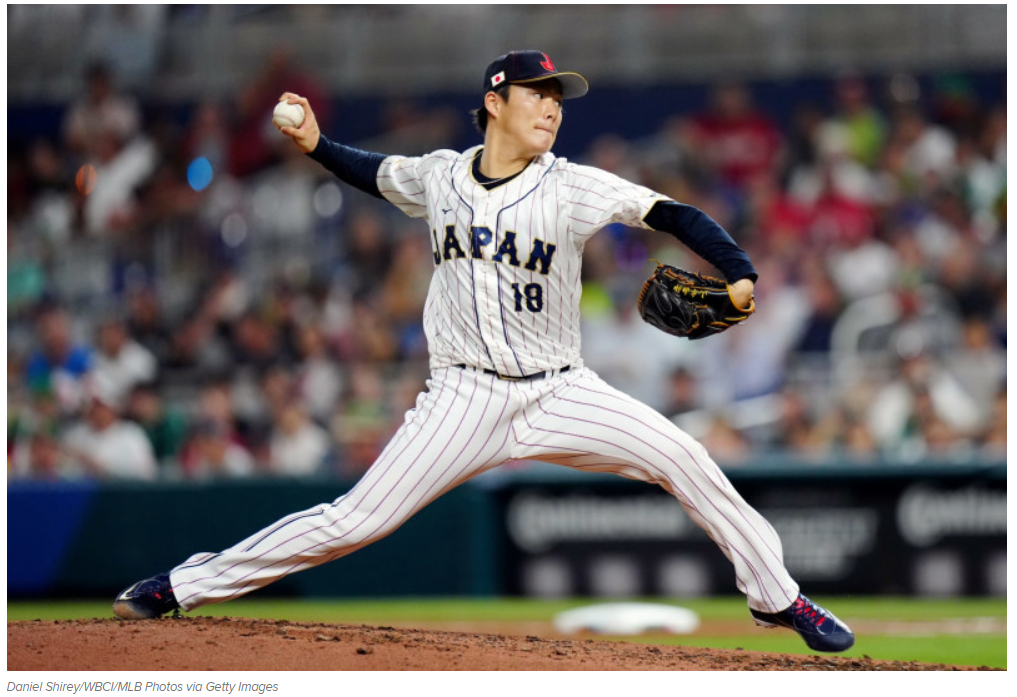 There has been some discussion on the LAD interest in KPB CF, Jung Hoo Lee.
I have no problem with the pursuit of Jung Hoo Lee by AF/BG, however he does not give the team the perceived need of a RH bat.  I believe it is a real need, but that is just me.  Lee is a LH hitting OF, with average to below average HR power.  And if the Dodgers do somehow some way end up with Shohei Ohtani (I still do not see it happening), that is still yet another LH bat.  Gavin Lux is a LH bat.  The Dodgers will lose RH hitting JD Martinez.  The current Dodger RH bats…Mookie, Will Smith, CT3, Miguel Rojas, Austin Barnes, Jonny Deluca, and Miguel Vargas.  Outside of Mookie and Smith, I do not think the opposing pitchers are going to fret a lot with those RH bats.
It is widely speculated that it will either be Vargas or Michael Busch with LAD in ST, but not both.  If the Dodgers keep Busch, that is another LH bat.  That would seem to move the needle more for keeping Vargas over Busch.  Then again, there are more RHP than LHP making the platoon happy Dodgers more inclined to keep Busch.  IMO, what it will come down to is which of the two the trading team prefers.  I have already said that I am on the Busch train rather than the Vargas train, but nobody from LAD has called for my opinion (I know, hard to believe, right?).
Also, some are calling for Feduccia to replace Barnes as the backup catcher, which is a real possibility.  There is another LH bat.
We continue to read reports that the Dodgers are in on every Asian FA.  Shohei Ohtani, Yoshinobu Yamamoto, Jung Hoo Lee, and Shōta Imanaga.  The Dodgers being reported to be pursuing any FA is not news, but it also does not mean anything.  I can't count the number of FA the Dodgers were "supposedly linked" to and never came to fruition.  And I am a CPA and should be able to count that high.  So I tend to not put a lot of faith into any of these "insider" reports.
I have changed my stance on Shohei Ohtani 180 degrees.  I never believed the reports that the Dodgers would sign him.  He is not needed to drive attendance.  They already have two genuine MLB superstars in Mookie and Freddie.  $600MM ($450MM to $600MM) is a lot to give to one player.  Contract terms reports for free agents have not generally been off that much.
However, LAD owners love their marketable superstars, and Ohtani is the quintessential marketing unicorn.  Not just in MLB but globally.  We are going to see Ohtani jerseys in LAD blue all over Japan.  How do you think that will impact the LAD value?  The franchise value could increase the full $600MM once he is signed.   The Angels have nowhere close to the name recognition of the Dodgers.
The Dodgers recently hired Lorenzo Sciarrino as their senior vice president of global partnerships.  I doubt that this was done in a vacuum.  Chief marketing officer, Lon Rosen, said this about Sciarrino,
"he has an incredible grasp of the complex sports ecosystem that features worldwide sponsorship at its center and dynamic business opportunities in its orbit. We are thrilled to welcome him back to the Dodgers and can't wait to see what he brings back to the organization." 
Does anyone think that Shohei Ohtani was in mind with this hire?  Yoshinobu Yamamoto?
Both NY teams will be bidding (excessively bidding) for Yamamoto.  The Giants are also believed to be heavily considering putting together a significant package for Yamamoto.  Farhan Zaidi recently returned from Japan where he watched Yamamoto. Brian Cashman (NYY) was on hand when he threw his no-hitter.
The Athletic's Will Sammon reports that Yamamoto wants to play in a large market, which should work in the Mets' favor.  Kodai Senga is pushing hard for Yamamoto to become a NYM.  It will come down to NYM, NYY, SF, and LAD.  AF/BG/Kasten better be able to pivot quickly from Yamamoto if negotiations start to slip slide away.  I don't see Steve Cohen being outbid if that is what he wants.  For the Dodgers and 28 other teams, it is not fantasy baseball.  It is a business.
Also per Will Sammon…
"According to a source familiar with the negotiations, the Giants did not receive a final opportunity to counter New York's offer because Senga was keen on joining a Mets rotation that included Justin Verlander and Max Scherzer when the season began. After trading both future Hall of Fame pitchers, the Mets cannot offer that enticement to Yamamoto now. And there's a sense within the industry that the Giants won't allow another team to outbid them for his services."
This could be another FA option the Dodgers will come in 3rd or 4th.
Zaidi has also been reported to very much favorably consider Jung Hoo Lee to be their CF.  SF seriously needs a quality CF to roam Oracle Park, especially triples alley.  Lee figures to be a lot less expensive than Bellinger.  But I have to believe that either Lee or Bellinger will be in SF next season.  Bellinger will be getting a lot of attention from NYY, Chicago Cubs, Houston, and Philadelphia.  Chicago is gearing up for a marathon negotiation session with Boras that figures to go beyond the posting period for Lee, and into 2024. Lee might be the better option for SF.  Get the bird in the hand…
SF has also missed out on Bryce Harper, Aaron Judge, and Carlos Correa over the last few years, so I fully expect them to make a BIG run at Ohtani.  They NEED that star. Zaidi did not get Melvin to manage the Giants and not put together a top roster.  The days of Yastrzemski or Flores or Estrada as the face of their franchise will be over this Winter.
The Dodgers were never really in on any of those FA.  They also swung and missed on Gerrit Cole, Corey Seager, Trea Turner, Xander Bogaerts (that one is for you, Badger), Zack Greinke, Anthony Rendon, and Carlos Rodón.  Actually, I think they were half swings that were ruled they went around.  I should add that Harper, Cole, Seager, Bogaerts, Rendon, and Rodón are all Scott Boras clients.  And yet there are those who truly believe that the Dodgers will sign Blake Snell or Jordan Montgomery, both Boras clients.  For those who want to see Lee in a LAD uniform in 2024, please note that he is also represented by Boras.  But he figures to sign before Bellinger (also a Boras client).
Who does that leave?  Shōta Imanaga.  He is older (30) and will not require a deal in excess of 5 years (if that).  Like it or not, this is who the Dodgers have shown they prefer.
Imanaga started against Team USA in the World Baseball Classic gold medal game. Imanaga was credited with the victory after allowing one earned run in two innings.  The lone run came from a solo HR off the bat of Trea Turner.  He also struck out Paul Goldschmidt with a devastating splitter and caught Cedric Mullins looking at a 94-mph fastball on the outside corner.
Ken Rosenthal reported that U.S. players noticed similarities between Imanaga and Braves star Max Fried, due in part to the southpaw's effectiveness against right-handed batters.  The Dodgers could do far worse than with a LHSP with a comp to Max Fried.
Shota Imanaga, Nasty 84mph Split-Change. 😨 pic.twitter.com/WLgTLkInwJ

— Rob Friedman (@PitchingNinja) March 21, 2023
I do believe that Imanaga is a real possibility.  The Dodgers show they preferred Kenta Maeda and not so much Masahiro Tanaka, and Imanaga is more of a Maeda comp than a Tanaka comp.
Others to watch:
Yuki Matsui, LHP, Age on Opening Day 2024: 28
One of the top relievers in Japan, Matsui has the advantage of full international free agency; as a result, he's attached to neither a posting fee nor MLB Draft pick compensation. Matsui, 27, is very likely to explore options in North America, and many in the industry believe he'd prefer to sign with a Major League team.
MLB clubs often talk about assembling bullpens that feature diverse blends of arm angles and pitch arrays. Matsui will help in that regard. He stands 5-foot-9 and throws a splitter, slider and 4-seam fastball with good carry.
No posting fee, no loss in draft compensation?  A top LHRP?  Seems like a perfect match for AF/BG.
Naoyuki Uwasawa, RHP, Age on Opening Day 2024: 30
Uwasawa hails from the same team that both Yu Darvish and Shohei Ohtani came from.  Uwasawa profiles as a long reliever or 6th man.  The Dodgers have a cupboard full of these types.
Kōna Takahashi, RHP, Age on Opening Day 2024: 27
MLB evaluators believe Takahashi profiles best as a reliever in the long term. He relies mostly on a fastball and splitter, with his four-seamer climbing as high as 98 mph. But Takahashi is probably not going to be posted this year.
I figure AF will engage and "negotiate", but will not get signatures on a contract for the best of the Asian FA.  I will gladly be wrong on this one.