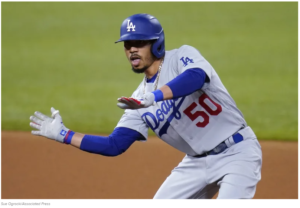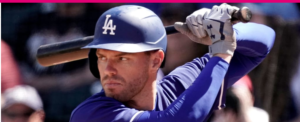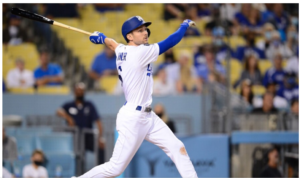 Who are the offensive stars of the Dodgers?
Mookie Betts – Acquired in trade with Boston for Alex Verdugo, Connor Wong, Jeter Downs, and half of David Price's contract.
Freddie Freeman – Acquired via free agency.
Trea Turner – Acquired via trade in a package with rental Max Scherzer, for Keibert Ruiz and Josiah Gray.
Does AF need to go outside of the organization to get the elite position players?  More on that at a later time.
By the way, where are those Boston fans who were laughing and telling anyone who would listen that Boston would not trade Verdugo straight up for Mookie?
The team goes as do the top three in the order go.  Is it a coincidence that Mookie sits, and the Dodgers are shut out?  The next game he is back in the leadoff role, and the Dodgers put on a 14 run 24 hit show.  I ask that rhetorically and with tongue planted firmly in cheek.
Yes the Dodgers lineup is solid.  OK, better than solid.  They have the #1 OPS of any ML team, and are .35 points better than the #2 team.  The Dodgers also have the best OBP of any team in MLB.
While the team certainly stands at the pinnacle, the team needs someone to drive the bus.  That someone is Mookie Betts.  Mookie is playing at an MVP level.  He leads all of MLB with 48 runs.  He leads the NL in HRs and is #2 in MLB with 13.  While he is a leadoff hitter, he is still Top 10 NL and Top 14 MLB in RBIs with 31.
But Mookie is not alone.  #2 in the order is also making noise.  While Freddie's HR total is down, his OPS is just south of .900.  There is no better #1 and #2 in the lineup than Mookie and Freddie.  Here is where the duo rank in the NL.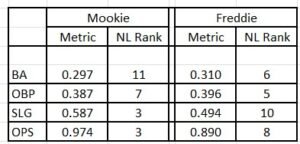 But how about the #3 in the lineup?  Trea Turner now has a 19 game hitting streak, and that power is starting to come around.  His OPS is now north of .800.  Here are the splits for the top 3 in the lineup.
Mookie Betts

Freddie Freeman

Trea Turner

Seasonal OPS for the three:
Mookie – .974
Freddie – .890
Trea – .816
During those split times, the Dodgers are 5-2 in the last 7, 11-4 last 15, and 20-10 last 30.  No team has a better last 15 game record, and only NYY has a better last 30 game record than LAD.
Chris Taylor (.818) and Edwin Rios (.878) also have OPS metrics north of .800.  Bill James offers the OPS grade differentiation below: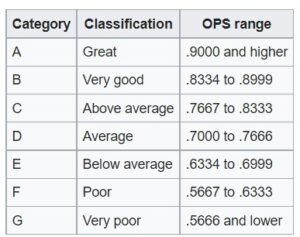 BILL JAMES OPS GRADES
Not to be overlooked was Ryan Pepiot's 3rd start of his MLB career.  Before the game Pepiot was recalled and Phil Bickford was optioned to OKC.  Will Pepiot be optioned a 3rd time to make room for another reliever, or will he remain on the roster and stay in the rotation until Andrew Heaney and/or Clayton Kershaw are deemed ready?
Ryan continues to show improvement.  He still has a tendency to lose that control and command.  He still walks too many and too many other 3 ball counts.  At times, he has trouble with his command and cannot get that 3rd strike to be chased.  These are ML hitters, and they do not chase as much as do MiLB hitters.  He has to trust his pitches and get them to start in the zone and rely on his late movement.  At times it is beautiful to watch, but other times he is just to careful and perhaps not trusting.  Will Smith did a good job of calming him down and getting him to focus and believe.  Will Smith is becoming a premier catcher as well as an offensive force.
Brusdar Graterol inherited 3 runners in the 5th with one out, but navigated the course well, allowing only 1 run on a sac fly.  He allowed a double in the 6th, but no runs.
The next three relievers were somewhat of a roller coaster ride.  Alex Vesia allowed 3 hits and a run before getting out of the 7th.  Daniel Hudson who appears to be assuming the Blake Treinen role had lapses in control.  He hit two batters in the 8th, but thanks to a DP, nothing else.
Craig Kimbrel gave his best KJ impression in a non-save situation, but still got out of the inning to preserve the victory.  How long before the honeymoon is over for Kimbrel?  If this happened to KJ, the angry masses would be out looking to DFA him.  I recognize that KJ is also struggling some as the Atlanta closer.  There is not going to be any change in the closer's role.  It looks like Kimbrel is closer to the 2021 CWS version than the 2021 Cubs version.  For the season, Kimbrel has a 4.15 ERA and a 1.38 WHIP.  For May those metrics are 5.63 and 1.75 respectively.
As I am writing this, there still is no definitive word on the fate of Max Muncy.  Will he sit again tonight, be placed on the IL, or inserted into the lineup?  Edwin Rios has done nothing to be extracted from the lineup.  Given the chance, can he put up 35 HRs in a season?  Edwin is a better offensive option than Max right now.  If Max is hurt, he should go on the IL and Kevin Pillar's contract should be purchased.  Pillar is another CF option as well as a ML bat.  Gavin Lux can stay at 2B and continue to show significant signs of improvement.
The LAD train has left the station, and Mookie is the engineer. Those warning track power flies are now starting to leave the yard.  Belli is starting to show signs of life.  Get on board, it could be a fun ride.