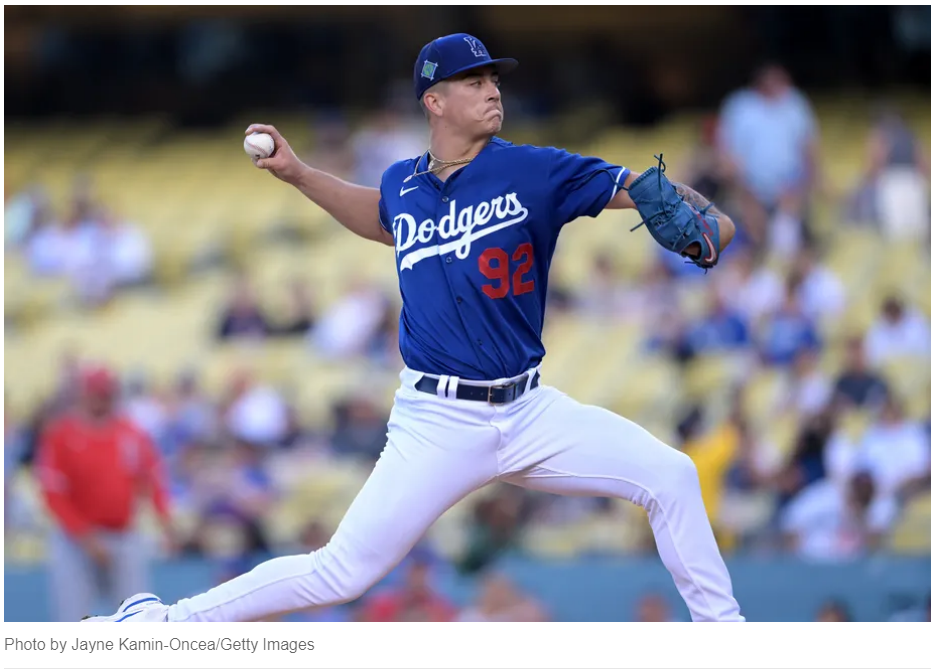 Reno Aces (Arizona) 2 – OKC Dodgers 9
On the Mound
Yefry Ramirez pitched an efficient 4.2 innings.  He surrendered 2 runs on 4 hits 2 walks and 2 strikeouts.  Ramirez was relieved by LHRP Caleb Ferguson.  Ferguson was pitching in a back-to-back game, inherited three runners.  After pitching an immaculate inning last night, he threw 4 pitches and struck out the only batter he faced, stranding all three runners.
In what might become a big story this year, former top prospect Yadier Alvarez continued his comeback.  He threw 2.0 innings surrendering 1 hit, but no walks, and registered 3 Ks.
Mark Washington made his AAA debut and pitched a perfect inning with 1 K.  Dakota Chalmers closed out the win.
While he only threw 4 pitches, Caleb Ferguson moved that much closer to LA.
At the Plate
After getting roughed up by the LAD, Tyler Gilbert was optioned to Reno.  In his second start, it was the OKC Dodgers who roughed him up.  He surrendered 6 runs over 2.1 IP.  The Dodgers were up 9-2 after 4 innings.
Omar Estevez hit his first two HRs of the year, and registered 6 RBIs.  Zach McKinstry continued his outstanding 2022 campaign with two more hits.  He is now hitting .355 with a .935 OPS.
Player of the Game
I have to go with the 2 HR guy…Omar Estevez.
Oh my O-mar!

Omar Estévez connects on his first homer of the season!

Dodgers lead, 6-2. pic.twitter.com/8jNHMmXP7z

— Oklahoma City Dodgers (@okc_dodgers) May 29, 2022
Do it again, Omar!

Estévez blasts his second three-run homer in as many innings!

He's got 6 RBI and has pushed the lead to 9-2. pic.twitter.com/8ZtUnsHSRs

— Oklahoma City Dodgers (@okc_dodgers) May 29, 2022
Springfield Cardinals (St. Louis) 3 vs Tulsa Drillers 4 – 10 innings
On the Mound
Bobby Miller had his best 2022 outing on this night.  He pitched a spectacular 6.0 innings.  He faced the minimum batters over the 6.0 innings, with the only single he allowed erased in a DP. He threw 75 pitches through 6.0 innings.  However in the 7th, he surrendered his second hit and a HBP on the next batter.  Jose Adames relieved Miller.  Adames struck out the first two batters he faced and looked to get out of the inning.  However, he walked a batter, hit the next batter for 1 run, and walked another for the tying run.  Miller was charged with 2 runs, but he clearly pitched well enough get through without the charged runs.
Jose Hernandez followed Adames to the hill in his AA debut, and pitched a scoreless 8th with 1 K.  In the 9th, Guillermo Zuniga allowed a hit and BB, but registered 3 Ks.
In the 10th, Aaron Ochsenbein allowed a run scoring single to score the ghost runner.
At the Plate
In the bottom of the 1st, James Outman singled and moved to 2nd on a throwing error on a pickoff attempt.  Jacob Amaya single Outman home and a 1-0 lead.
In the 6th, the Drillers scored a second run on a Kody Hoese double, a WP, and a run scoring single by Jeren Kendall.
Down 3-2 in the 10th, after two quick outs, Andy Pages was HBP, and Devin Mann walked to load the bases.  Kody Hoese hit a single scoring the ghost runner and Andy Pages for the walk off.
Kody Hoese had three hits and the game winning RBIs.  Jeren Kendall and James Outman had 2 hits.
Player(s) of the Game
I cannot choose between Bobby Miller or Kody Hoese, so I shan't.
Bobby Miller's pitch limit raised to 85, and he took advantage of it, getting into the 7th inning for the 1st time in his career. FB hit 101 several times, was still up to 100 in the 6th, and his last FB of the night was 98. The line:

6.0+ IP
2 hits
2 runs (earned)
0 BBs
5 Ks⬇️ pic.twitter.com/PTllEIgh87

— Josh Thomas (@jokeylocomotive) May 29, 2022
Kody Hoese walks it off in extras for Tulsa! pic.twitter.com/KAFU8sav67

— Josh Thomas (@jokeylocomotive) May 29, 2022
Great Lakes Loons 13 vs South Bend Cubs 10
The Loons scored 7 in the 8th for the come from behind win.
On the Mound
Two usually reliable pitchers had very tough outings tonight:  Lael Lockhart and Braydon Fisher.  They allowed 8 runners in 5.0 IP on 8 hits and 4 BB.
Michael Hobbs pitched a strong and perfect 2.0 IP.
Cole Duensing relieved in the 8th.  He surrendered two singles and a HBP to load the bases.  Duensing allowed a two run scoring single.  Ryan Sublette relieved Duensing and got out of the jamb.
Ryan Sublette made it interesting in the 9th with 3 walks.
At the Plate
The Loons struck first and fast in the first.  Jonny DeLuca walked and with Jorbit Vivas and Eddys Leonard singling, the bases are loaded.  José Ramos singled to score DeLuca and Vivas.  Leonard scored and Ramos moved to 3rd on a throwing error.  Ramos scored on a Ryan January double.
In the 6th, Imanol Vargas hit his 4th HR.  3 walks and a single scored a second run and closed the score to 8-6.
In the 8th, the Loons scored 7 to take the lead.  After three walks sun scoring singles by Eddys Leonard and José Ramos tied the score.  Ryan January hit a double that scored 2 more.  A sac fly scored the 5th run.  After a HBP, Juan Zabala hit a double to score a 6th run.  The 7th run scored on a WP.
The Loons scored 13 runs on 10 hits, 10 walks, 3 HBP, and 4 Cubs errors.
Jorbit Vivas, Eddys Leonard, José Ramos, and Ryan January all had 2 hits.
Player of the Game
I am going to name José Ramos as the Player of the Game.
It's the Jose Ramos show for Great Lakes today. Ramos made a highlight-reel catch to end an inning, then, next at-bat he tripled, then scored on a ball back to the pitcher to generate his team's 1st run. This kid from Panama knows how to create a spark! #dodgers #joseramos pic.twitter.com/0ClataHjv0

— Dodgers Daily (@dodger_daily) May 21, 2022
Visalia Rawhide (Arizona) 1 vs Rancho Cucamonga Quakes 10
On the Mound
Edgardo Henriquez started and pitched 5.0 terrific scoreless innings.  He allowed 2 singles and a BB to go with 7 Ks.  Christian Suarez completed the next two innings and allowed an unearned run.  Martin Santana finished the game with 2.0 scoreless innings.  Suarez and Santana each had 3 Ks each.
At the Plate
In the 3rd, the Quakes used 5 walks, a WP and a single by Yunior Garcia to score 3.
In the 4th, a walk, a fielding error and a 3-run HR (9) by Diego Cartaya scored 3 more.
In the 5th, a Luis Rodriguez singled and scored on a Jake Vogel triple.
In the 6th, Alex De Jesus and Diego Cartaya singled, moved up on a passed ball, and De Jesus scored on ground out.
In the 7th, Jake Vogel walked and came home on a 2-run HR (2) by Yunior Garcia.
Diego Cartaya and Yunior Garcia each had 2 hits with a HR.
Player of the Game
It could have gone to either Diego Cartaya or Yunior Garcia, but I choose Cartaya because of the 4 RBIs vs. Garcia's 3.
Diego Cartaya hits a three-run bomber to center field for a total of 417 feet‼️ This is Cartaya's ninth homer of the year‼️

Quakes lead 6-0
Bottom of the fourth inning pic.twitter.com/vRqyEL1bCu

— Rancho Cucamonga Quakes (@RCQuakes) May 29, 2022