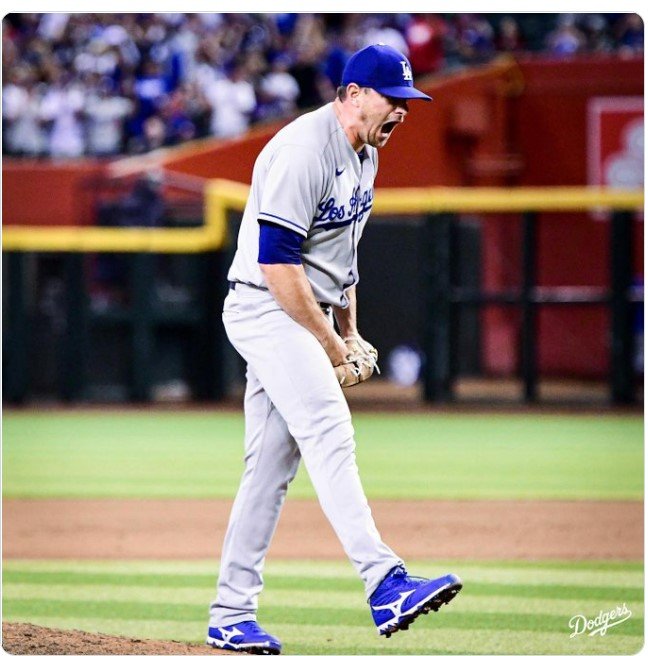 The Dodgers just completed their 23rd game in their 31 games in 30 day stretch.  It was supposed to be 31 in 31, but a rain out in the first game moved it to 31 in 30.  The team is 16-7 over that stretch.  They have outscored their opponents 145-85 and a 60 run differential.
During this stretch of games there have been only 12 position players; the same position players that started the season.  On this day, the first position player to find the IL was Max Muncy.  Kevin Pillar's contract was purchased to become the first position player to be added to the roster this season.  But since he did not play in the game, there remains only 12 position players who have played in these 23 games.
The same cannot be said about the pitching.  The Dodgers have used 8 different starting pitchers and 17 different relievers.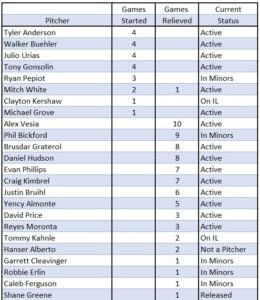 Clayton Kershaw started the first game of this stretch and then was placed on the IL before his next scheduled start.  Alex Vesia and Phil Bickford are tied for most appearances from a Dodger reliever. (Edit Update:  Vesia appeared in his 10th game in this stretch last night).  Bickford was just optioned to make room for Ryan Pepiot and now Michael Grove.  Bickford is no longer considered a high leverage option for the team, with the closest Dodgers lead at the start of an appearance in May up four runs. Bickford's last six outings, beginning May 15, began with the Dodgers trailing by three runs, up nine, up four, down three, ahead by 10, and up by 11 runs.  It seems the team has lost a little confidence in Bickford.  Hopefully he will return from OKC with the same confidence as he had in 2021.
Notice that Andrew Heaney and Blake Treinen are not included in the above chart.  Both hit the IL before this stretch started.  Treinen is now on the 60 day IL.  He is not expected back before the All Star break.  Neither Heaney nor Kershaw are expected back before this stretch is complete.
What is the point?  None of the pitchers are in the current serious discussion for CYA. I know it is early, but the point is that there is not one pitcher who is thus far elite. Although Tony Gonsolin has been pretty formidable.  And yet they are playing at near .700 baseball over the last 23 games.  Is that sustainable?  Probably not. But what it does say is just how deep this LAD pitching is.
RELIEF PITCHING
STARTING PITCHING

The starters are 10-3 during the stretch, meaning the relievers are 6-4.
Justin Bruihl has been the most effective reliever considering ERA. But his 8 baserunners on in 5.0 IP is a 1.6 WHIP.  He also has very rarely pitched in high leverage situations.  Only two times has he entered in the 7th or 8th before last night, and neither outing was efficient.  Two baserunners in 0.1 IP in those games.  He was perfect in last night's game entering the 7th.
The Dodgers are averaging 6.3 runs per game.  Thus, while the pitching has not been elite, it has been more than good enough when they offense puts up runs.  The positive outcomes need to have some caution attached.  The Dodgers have played 5 teams during this stretch, and none of the five teams are playing at the .500 level: Cubs (3), Pirates (3), Phillies (7), DBacks (7), Nationals (3).
The schedule is put together, and teams do not get to choose who and when they play. And champions need to beat the teams they are supposed to.  After this stretch of the final DBack game and three against Pittsburgh, the competition gets a little stiffer.  The Dodgers will face NYM (4), White Sox (3), Giants (3), and LAA (2).  Currently, only the CWS are sub .500, but only at 22-23.
Not to let last night's game be forgotten, Tony Gonsolin pitched to his 3rd consecutive quality start.  He still has a few too many three ball counts that drive up his pitch count.  Even though he did not walk anyone, and had 7 K's, he still threw 92 pitches in 6.0 IP, just over 15/inning.  Averaging 15 pitches per inning will necessarily limit how deep Tony goes.  Thus the team will need to rely on their relievers.  Are the relievers getting a little gassed during this stretch?  There are four relievers at OKC who will undoubtedly get recalled at some point in the next month:  Caleb Ferguson, Phil Bickford, Garrett Cleavinger, and Reyes Moronta.  Caleb looks to be just about ready.  He pitched in back to back games yesterday and tonight.  After an immaculate inning last night, he faced one batter and struck him out on 4 pitches.
Mookie hit his 14th HR, an opposite field job, on the 2nd pitch of the game.  He also added a single, and is now batting > .300.  Justin Turner had a 4-4 night including 2 doubles.  It was his second 4 hit game in a little over 2 weeks.  He also had a 3 hit game a week ago.
Your NL HR leader: @MookieBetts. pic.twitter.com/YWk4PVZho6

— MLB (@MLB) May 28, 2022
Gavin Lux had a single and double.  His double was to dead CF off the wall and was off a very good LHP, Kyle Nelson. So I was a little surprised when Hanser was set up cold to bat against Joe Mantiply.  I know the book says that Hanser should bat, but IMHO, Gavin deserved another shot at a LHP.
Gavin Lux vs Kyle Nelson#AlwaysLA

Double 🏃💨

Exit velo: 103.2 mph
Launch angle: 23 deg
Proj. distance: 416 ft

This would have been a home run in 18/30 MLB ballparks

LAD (3) @ ARI (2)
🔺 7th pic.twitter.com/jRSwx6VYDq

— Would it dong? (@would_it_dong) May 29, 2022
While The Catman was outstanding, the relievers were also equal to the task. Justin Bruihl, Alex Vesia, and Daniel Hudson combined for 3.0 IP, 1 hit, 1BB, and 5 Ks.  Hudson was especially effective.  After Ketel Marte led off the 9th with a double, Hudson got Christian Walker to ground out 5-3 on the first pitch.  He then struck out David Peralta on a wicked slider, and Jake McCarthy on a 97.7 MPH 4-seamer.
98 MPH ON THE CORNER 🔥

Daniel Hudson shuts the door & Dodgers get the W! pic.twitter.com/7t3C76a9sQ

— FOX Sports: MLB (@MLBONFOX) May 29, 2022
The Dodgers complete the 4 game series tomorrow with a chance for another 4 game sweep against a divisional rival.  Tyler Anderson will battle against Zach Davies.