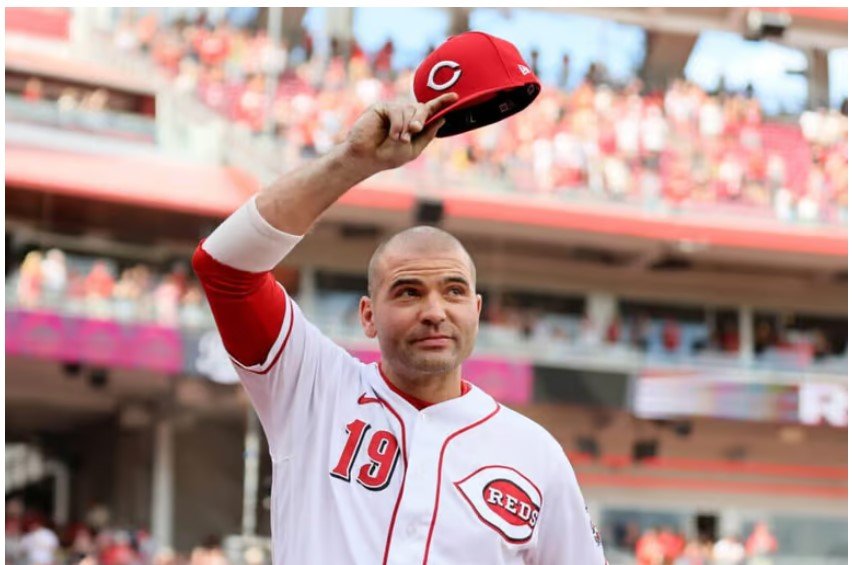 Next week I am meeting up with 5 friends and wives for a 70th birthday getaway for 3 of the 6. Two of us are 71, and one is a youngster at 69. We have experienced a lot in our lives, and we have remained great friends since college. There is not anything we would not do for the others. We have been to weddings and funerals (too many) and multiple golf outings for 50 years. Only one still lives in the LA area, one in Maryland, one in Idaho, one in Reno, one travels between Goleta, CA and Prescott, AZ, and one lives in Northern California.
Two of us are Dodger fans, one is a Giants fan, one is a NYY fan, and two just really do not care.
Most stay connected on Facebook. I do not have a Facebook account, so I have my wife keep me up to date with all goings on with these guys.
I know I am not unique in that scenario. All of us have lifelong friends we continue to stay in touch with. So why am I writing about this, you may ask.
I was getting very nostalgic when reading about Joey Votto with his tenure with the Reds might be coming to an end. Last year 2 HOF players retired: Albert Pujols and Yadi Molina. This year, we are for sure seeing the end of the careers of Adam Wainwright and Miguel Cabrera. One is for sure a first ballot HOF, and one will get consideration (and votes) but may end up on the outside looking in. I think you can guess which is which.
Waino has an 18 year career that started out in the bullpen, but accumulated 2668.1 IP. He won 200 games, has a career 3.53 ERA, 2202 strikeouts. He was a 5 time top 7 CY vote getter, and 4 top 5. He was a Roberto Clemente Award winner. His career has been shortened due to injuries along the way, but still put up these numbers. He has a bWAR of 44.9 which is in between HOF and not HOF. May not be enough to get him across the finish line, but then again Harold Baines and his 38.8 bWAR is in the Hall.
And then there are three we just do not know yet. One is a lock, one should be a lock, and the third will not get much consideration, but has had a great career.
Clayton Kershaw is the lock. He just is not saying whether he plans on retiring or not. He says that every year, but this year it just feels different. His shoulder is hurting for a reason. There is a lot of mileage on that shoulder and back. Will his shoulder require surgery or just rest? He says he does not want to play just to be on the team. He wants to stay competitive. Can he really handle another year? We do know that the Dodgers have a long standing contract out to him every year. The Dodgers will continue to employ CK as long as he wants to be a LAD, no questions asked. The Dodgers will gladly exceed the CBT to keep Kersh on the team. Will CK choose to stick with LAD, retire, or spend his last year with the Texas Rangers? We will find out this Winter. Kersh has said that he has made peace with potentially retiring.
Joey Votto is a lock for me, but maybe not for everyone. The Reds have a $20MM team option with a $7MM buyout. The Reds are not like LAD and $13MM might better be spent elsewhere. If it were up to the Reds players, Votto would be wearing the Cincinnati Red again in 2024. At 40 years old with plenty of injuries of late, Votto's time is quickly coming to an end. But Votto says he still wants to play, but is unsure if he is physically able to. For his 17 year career, Votto has hit .295/.409/.511/.921, 356 HR, 1362 RBI, 144 OPS+, 18.7% K rate, and 15.6% BB rate. He has a 64.4 bWAR which should be good enough to get in. Like Kershaw, he does not just want to occupy a seat in the clubhouse. He wants to be able to contribute. If he cannot, he will be ready to retire.
The third is not a potential HOF, but has had a remarkable career that may be coming to an end. Brandon Crawford has been a lifelong SF Giant fan, and was drafted by his childhood favorite team out of UCLA. He has spent his 13 year career with San Francisco. He will be activated from the IL on the final day of the 2023 season to play against LAD so that he will get a hero's welcome from the home crowd. He has said, he will be in the lineup. It is doubtful that SF will bring him back for a 14th season. Marco Luciano is ready to assume the mantle as the Giants' SS. Will they bring back Crawford as a reserve in some capacity. Farhan and Kapler are going to need to prove themselves next year or find themselves collecting unemployment. SF has enough veterans. It is time for them to get younger and more athletic. Where have I heard that before? Will Crawford choose to sign with another team? Will his health allow him to? We will see this Winter.
Kershaw, Votto, and Crawford have spent their entire careers with one organization.
Adam Wainwright was a 2000 1st round draft pick of the Atlanta Braves. In December 2003, Waino was traded from Atlanta to St. Louis in the JD Drew trade. Waino has pitched his entire ML career with St. Louis (2005 – 2023). Most of us only know him as a Cardinal.
Miguel Cabrera was signed as an IFA from Maracay, Venezuela by the Florida Marlins, on July 2, 1999. On December 4, 2007, Miggy was traded by Florida with Dontrelle Willis to Detroit for 6 players: Dallas Trahern (minors), Burke Badenhop, Frankie De La Cruz, Cameron Maybin, Andrew Miller and Mike Rabelo. Gee, I wonder who won that trade. He played 5 years with Florida and 16 years with Detroit.
I know there are others who are calling it a career, but I cannot think of any sure thing or very near HOF players. Or players who have played 13+ years with their current team. No, Sean Doolittle, who just announced his retirement, does not make this list.
I know we all lose the battle with Father Time, but it still smarts a little when favorites are calling it a career.  Others will take their place, but each of the above will be remembered the rest of my days.
MiLB Notes – Michael Busch has been named as a finalist as the top MiLB top hitting prospect in 2023.  He is joined with Junior Caminero – 3B/SS, Rays, and Jackson Holliday – SS/2B, Orioles.  The winner will be announced, October 2, 2023.