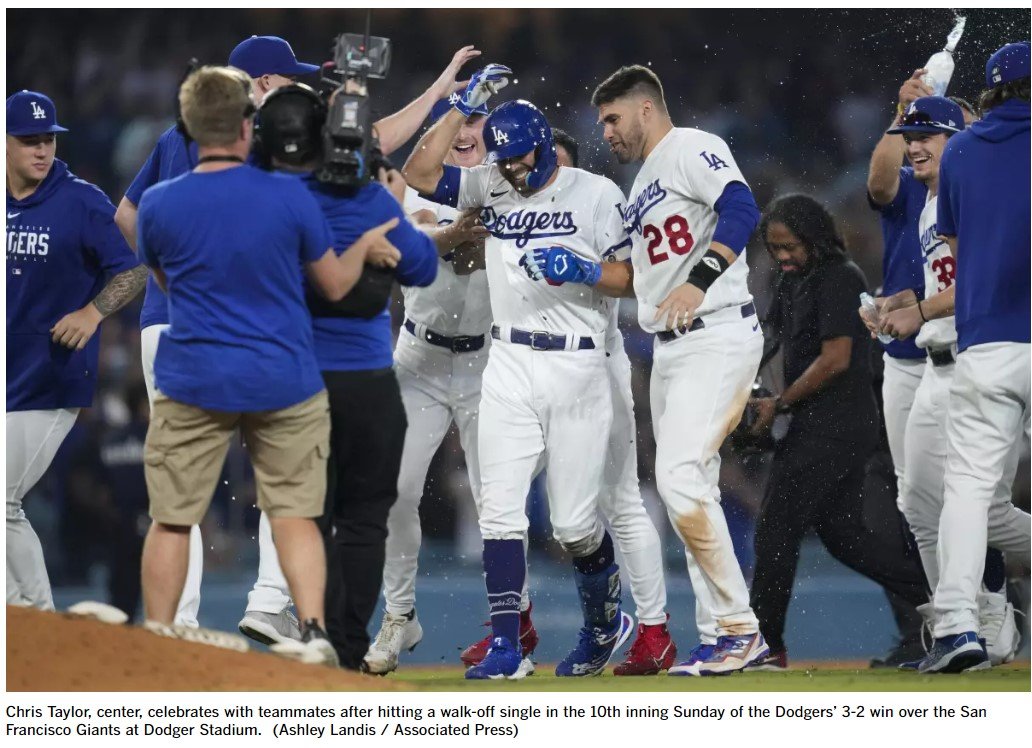 Well, down to the nitty gritty now. 7 more games and the regular season is over. Dodgers win the division again by double figures. Yet, they could face a familiar foe as the playoffs go on. The Diamondbacks are making a push and are currently the second wild card. The Cubs hold the third spot
San Diego's loss in extra's on Saturday night all but knocked them out of a spot. After their win on Sunday, they are 2 games under .500, 5 games out of a wild card slot, and can, if they win out, have an 83-79 record. But they have to have a ton of help. They are now tied with SF and both teams are 2 games away from Wild Card elimination.  San Diego plays 3 games with San Francisco, starting Monday night. They also have 3 with the White Sox.
I will say it now, Pads are toast. Couldn't happen to a nicer bunch of guys. ( SMIRK ). So, where do the Dodgers stand at this point? The main thing is keeping all of their players healthy headed into the playoffs. They don't want another Max Muncy type injury the last day.
There was a little scare Saturday night when JD fouled a ball off of his shin. But he stayed in and doubled. JD is two RBIs away from 100. Freeman is four. If they both reach the century mark, it would be the first time in franchise history that four players had 100 or more RBIs. Mookie is still looking for HR #40 which would set the record for a leadoff man.
The starting pitching still remains the #1 question. Miller is probably the only starter at this point they could expect 6 or more innings from. Losing Julio stung. Kersh had a nice game, 5 innings, no runs, 5 K's and 2 walks. He got help from his defense.
The rest of the rotation will probably be from Lynn, Pepiot, Sheehan, and Grove. Stone was sent down. The bullpen pitchers are jockeying for a spot also. Phillips, Miller, Graterol, Ferguson, Kelly are the sure things. Yarbrough will be down there too as a long man if needed. The first round they will need only three starters. So I could see an overloaded pen.
Miller and Kersh should be pitching games one and two. On the road, they will probably use an opener in game three. Hopefully they are up 2-0.
Catcher Will Smith has not been the same hitter for quite some time. Smitty was well on his way to matching last year's offensive output until his rib was broken. It looks like he has acquired some bad habits since. He is not hitting fastballs like he normally does. A little rest pre-postseason would probably be a good idea. Barnes is not his match offensively, but if the rest of the offense does their job, he doesn't have to be.
The infield all the way around is solid. Rosario has proven to be a very good defensive second baseman. Mookie plays there against RHP. Muncy's defense has been ok. The main thing is that he is hitting very well now, and not just homers. Rojas is a defensive whiz with occasional pop. He has been much better the last month. Hernandez and Taylor are more than capable backups.
Freddie is steady. Hitting over .330 and driving in runs and moving people over. His bat is the most consistent in the lineup.
Mix and match in the outfield. Against lefties, it is Peralta, Outman and Heyward. Peralta has been mired in a bad stretch, but got a solid double last night. Heyward is hitting over .270 and providing solid defense and occasional pop. Outman has been getting on base, but not hitting much of late. But he can be dangerous if he runs into a mistake.
Against lefties, the outfield mix changes with Taylor usually in left and Mookie in right. Hernandez will occasionally replace Outman in center.
All in all, the offense is solid. They have the best average with runners in scoring position in the league. And they lead the majors in two out runs.
Are they ready? I believe they will hit. Depends on how the opposition's starter is doing that particular game. One thing they must do is be better situationally. That has been an Achilles heel all year long. You get runners at second and third with less than two outs, you need to hit the ball somewhere and give yourself a chance. Cut down on the K's in critical situations.
Use the next 7 games to work on those things when the opportunity arises. We all know the playoffs are a crapshoot. Just play good baseball, and take advantage of the other team's mistakes.
09-24-2023 – MiLB Game Summary Report
 Albuquerque Isotopes (Colorado) 2 – OKC Dodgers 1
OKC went down to defeat in their final regular season game of 2023.  The lone run for OKC was delivered by a Michael Busch HR (27) in the top of the 6th to give OKC the lead.
With the score tied 1-1 in the 7th, Hunter Feduccia hit a one out triple (2).  Bryson Brigman drew a BB.  Justin Yurchak hit into a DP.  That would be the final threat of the game for OKC.
Albuquerque got a triple and single in the bottom of the 7th for the eventual winning run.
OKC had 4 hits: Jonny Deluca – single, Ryan Ward – double (27), Hunter Feduccia – triple (2), and Michael Busch – HR (27).
Future LAD Performances:
Miguel Vargas – 3B – 0-3 with a BB, throwing error
Michael Busch – 1B – 1-3 with a HBP (11) – HR (27)
Jonny Deluca – RF – 1-3 with a BB
Some end of the season notes for OKC.
The Dodgers finished the regular season with 90-58 record overall and with the most wins for an Oklahoma City team in a single season during the Bricktown era (since 1998). Their 90 wins are the second-most wins in OKC's Triple-A history (since 1962) behind only the 1965 Oklahoma City 89ers, who finished 91-54.
OKC's 90 wins are tied for the most in the Minors this season with Triple-A Norfolk (90-59) and the Dodgers are just the second Pacific Coast League team since 2006 to notch at least 90 wins, joining the 2017 Memphis Redbirds (91-50).
The Dodgers finished in first place in the overall PCL standings, marking the fourth time that has happened during the team's Bricktown era (also 2005, 2013 and 2015). The Dodgers held at least a share of first place in the league standings for all but seven days this season.
The Dodgers finished with a 48-27 record on the road this season. The team set a single-season Bricktown-era record for road wins and the Dodgers compiled the most road wins in the Minors this season. Their 48 road wins are the most by any PCL team since 2005 and the 2023 Dodgers are the first team in all of the Minors to win at least 48 road games in one season since High-A Lake Elsinore in 2010 (48-22).
Michael Busch hit his third home run in the last four games as well as his team-leading 27th home run of the season, going 1-for-3. With the home run, he tied his longest hitting streak of the season with OKC at nine games and is 12-for-32 (.375) during the streak with six extra-base hits, eight RBI and nine runs scored. His 27 home runs this season are the eighth-most homers hit by an OKC player in a single season during the team's Bricktown era.
Michael Busch goes deep in OKC's regular season finale! Busch is up to 27 homers this season pic.twitter.com/8SSUVtMiZs

— Bruce Kuntz (@Bnicklaus7) September 24, 2023
OKC will begin the PCL Championship Series at OKC on Tuesday facing the Round Rock Express (Texas).  It is best 2 out of 3, with the winner heading to Las Vegas to face the International League Champion for the overall AAA Championship.