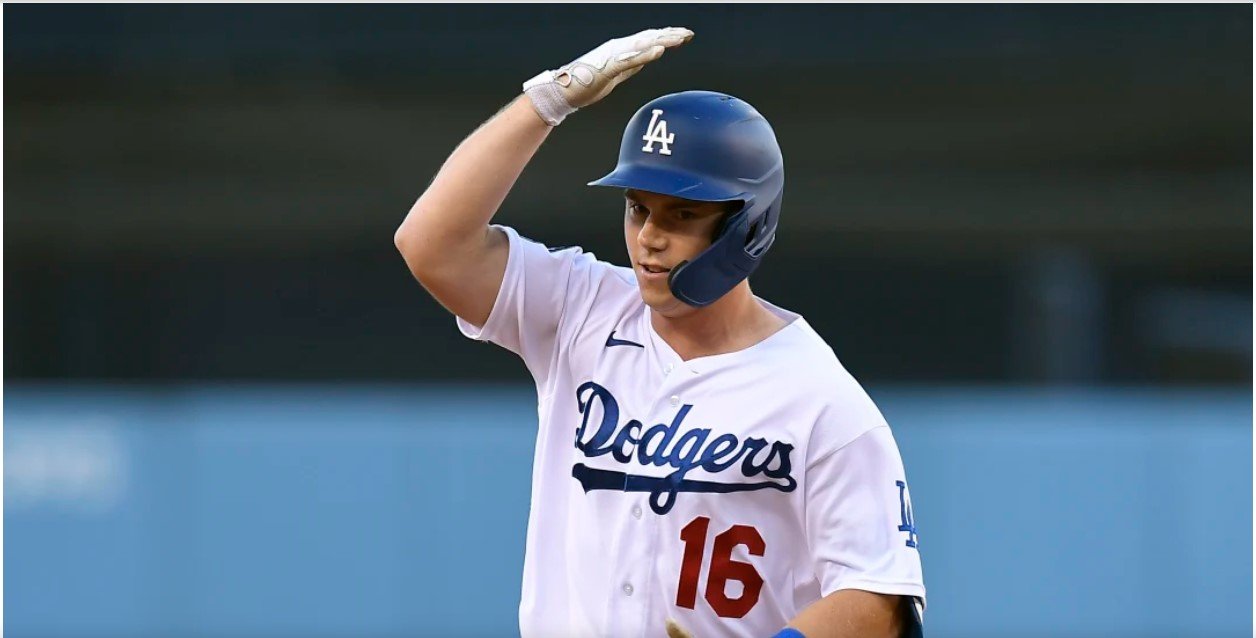 What to do with Will Smith?  It has been reported that Smith broke a rib on a HBP thrown by St. Louis Cardinals RHSP, Jake Woodford, on April 30.  It has also been reported that Smith needed to adjust his swing to compensate for the pain.
Smith had a fantastic May batting .318/.434/.529/.963, 5 HR, 18 BB, 10 K
Since May:
June – .230/.380/.446/.832, 4 HR, 15 BB, 20 K
July – .269/.341/.385/.726, 1 HR, 7 BB, 15 K
August – .255/.296/.418/.714, 4 HR, 6 BB, 23 K
September – .197/.324/.311/.635, 1 HR, 8 BB, 12 K
Since the All Star Break – 214 PA, 213 AB, .244/.318/.380/.699, 5 HR, 18 BB, 46 K
Since August – 182 PA, 159 PA, .233/.308/.377/.685, 5 HR, 14 BB, 35 K
Smith has been struggling since the All Star Break.  Doc and Smith both say it is not the injury, he is not tired, just bad mechanics and bad habits he got into after the rib fracture.  He is in the cages working with the coaches to try and get back those mechanics that earned Smith the All Star invite.
Before the ASB, Smith was hitting a robust .279/.396/.494/.889, 13 HR, 44 BB, 35 K.
His power has diminished considerably and his plate discipline, bat speed, or whatever, has caused his BB/K ratio to go from 44 BB/35 K to 18 BB/46K.  And still the Dodgers are scoring a lot of runs.  But that has more to do with Betts/Freeman/Muncy/JDM who surround Smith.
And what if he does find that stroke again?  His playoff numbers are not top shelf.
In 160 PA,142 AB, .204/.288/.366/.654, 5 HR, 17 BB, 39 K.
Austin Barnes has been much maligned, and mostly deservedly so (this year).  But:
Since the ASB – 77 PA, 70 AB, .257/.303/.371/.674, 2 HR, 4 BB, 14 K
Since August – 60 PA, 54 AB, .278/.322/.426/.748, 2 HR, 4 BB, 11 K
Barnes playoff metrics are not good either.
120 PA, 106 AB, .208/.280/.292/.572, 2 HR, 10 BB, 32 K
No, I am not advocating Barnes be the primary catcher, but there is something wrong with Smith.  Will more time off help?  If not tired and no pain, I do not see why he would need it.  But maybe Barnes should get 3-4 of the final 8 games instead of just 1-2.  Smith figures to start every game in the NLDS.
Regardless as to what happens in the final 8 games, can the Dodgers really trust Smith in the #3 hole?  I am going with yes.  That is where he has batted all year, and that is where he is most comfortable.
What I will also be watching for over the last 9 games:
Kershaw in his final start of 2023 in SF. Final regular season start in his career?
Does Ryan Pepiot force AF/Doc to put him in the playoff rotation? He is tentatively pegged to start one of the DH games in Colorado on Tuesday.  I say yes.
Does Lance Lynn use the new strategy for him – Go as hard as you can for as long as you can. Do not hold back to try and go deeper in the games.  He should have 2 starts remaining.  Will he solidify his spot in the rotation?
Will Bobby Miller continue to show he is a Game 1 or Game 2 starter? He should get 1 more start in the regular season.
Will Emmet Sheehan earn a spot on the postseason roster as a reliever? He should get 1 more start in the regular season.
Who will AF bring up for the DH in Colorado? Will it by Kyle Hurt?  Will it be Gavin Stone?  Victor Gonzalez?
Will Freddie get his 3 doubles to reach 60? 4 HRs to reach 40? 4 RBI to reach 100?
Will JDM get 2 RBIs to reach 100?
Will Max get 4 HRs to get to 40? Remember he will get 3 games in SF.
Will Mookie get 1 HR to get to 40? Will he get 1 more leadoff HR to hold the MLB record in a season?
Will James Outman find his April & August stroke?
Who will solidify their role as a late inning high leverage reliever? I suppose it is now Evan Phillips, Ryan Brasier, Brusdar Graterol.  I do not see that changing.
Who will be the final 1 or 2 to fill the bullpen. Joe Kelly, Shelby Miller, Caleb Ferguson, Ryan Yarbrough figure to hold down spots.  That would leave Emmet Sheehan, Alex Vesia, Kyle Hurt, Michael Grove, Gavin Stone, and Victor Gonzalez fighting for the final two spots.  I am going with Sheehan and Vesia.  Although I can see Grove beating out Vesia.
That would be Phillips (R), Brasier (R), Graterol (R), Kelly(R), S. Miller (R), Ferguson (L), Yarbrough (L), Sheehan (R), and Vesia (L). 6 RHRP and 3 LHRP.  That goes with a SP rotation of Kershaw (L), Miller (R), Lynn (R), Pepiot (R).
It is clear that the Dodgers will be looking for LHP for 2024.
Final home game of the 2023 season is next on the agenda.
Go Blue!!
09-23-2023 MiLB Game Summary Report
Albuquerque Isotopes (Colorado) 6 – OKC Dodgers 4
OKC is finishing off the regular season getting ready for the playoffs.  Their pitching is running on fumes.  Robbie Erlin went the first five, allowing 1 run with 10 hits, 2 BB and 6 K.  The next two relievers allowed 5 runs, but 4 were unearned with 2 errors by the pitchers, Tyson Miller and Bryan Hudson. Ricky Vanasco continued to pitch well in AAA with a perfect 9th inning with 2 Ks.
The future LAD:
Miguel Vargas – 3B – 0-5
Michael Busch – 1B – 1-2, 3 BB
Jonny Deluca – CF – 1-4, 1 BB
Ryan Ward hit his 21st HR, and David Freitas hit his 7th double.
OKC has one more regular season game in Albuquerque.