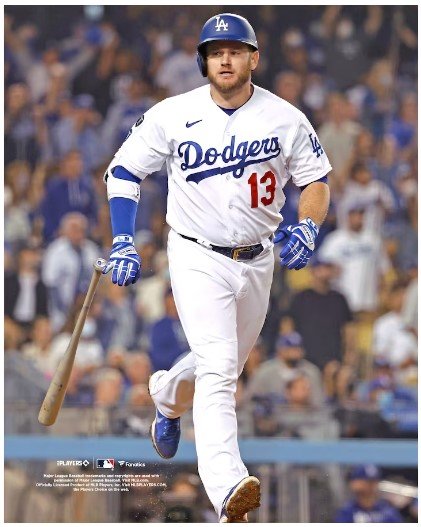 I have no idea who will play 3B next year.  AF would have to be thoroughly convinced that either Vargas or Busch can become the regular 3B.  Neither one is adept at 3B defensively.  Vargas is RHH with good bat to ball skills, and Busch is LHH with power and improving bat to ball skills.
Busch – .322/.426/.613/1.039 – 460 PA, 26 HR, 26 doubles, 89 RBI, 18.9 K%, 13.5 BB%
Vargas – .298/.417/.496/.913 – 276 PA, 10 HR, 15 doubles, 45 RBI, 20.3 K%, 16.3 BB%
Busch has so much more slug than Vargas, and that is what the Dodgers prefer.  But with Lux coming back, do they need another LHH starter?  Vargas' slug is less than .500 at AAA, so his slug will be limited at the ML level.  3B is supposed to be a slug position.  Neither is the ideal choice, but both could be more than serviceable.  I cannot see both being LAD next year.
Max Muncy is the incumbent 3B, and while he lacks any kind of defensive range, his bat makes up for it.  It will be difficult to replace 36 HR, 102 RBI, .824 OPS, especially at a cost of $14MM.
Before Friday's game, with 541 PA, Max is hitting .211/.333/.491/.824, 36 HR, 102 RBI, 16 doubles, 1 triple, 119 OPS+, 2.9fWAR, 2.8 bWAR.  His 2.9 fWAR equates to a $23.2MM value.
He is 9 PA shy of reaching 550 PA and maximizing his club option at $14MM.    He had a value of $19.1MM in a dismal 2022 campaign.  His $14MM will be a bargain next year.  I cannot see AF not exercising the club option.
If not Max, Vargas, or Busch, then who?  Here are the 2023-24 FA 3B:
Ehire Adrianza (34)
Brian Anderson (31)
Jeimer Candelario (30)
Matt Chapman (31)
Charlie Culberson (35)
Josh Donaldson (38)
Eduardo Escobar (35) – $9MM club option with a $500K buyout
Evan Longoria (38)
Mike Moustakas (35) – $20MM club option with a $4MM buyout
Justin Turner (39) – $13.4MM player option with a $6.7MM buyout
Gio Urshela (32)
Joey Wendle (34)
I know a lot of fans were originally looking at Matt Chapman as a possible LAD 3B.  His defense is GG caliber, but his offense is not very good.
.244/.333/.427/.760, 15 HR, 39 doubles, 2 triples, 51 RBI, 109 OPS+, 4.1 bWAR, 3.2 fWAR, $25.6MM value.
I have to believe the Dodgers will take any of their internal options over the Scott Boras client.
The only other 3B that LAD MAY have interest in would be to bring JT back home.  He has a player option of $13.4MM that he can opt out for $6.7MM.  If the Dodgers give him the JDM $10MM deal, that would give JT $16.7MM total for 2024.  For the season, JT is hitting:
.280/.351/.467/.818, 23 HR, 95 RBI, 30 doubles, 118 OPS+, 2.4 bWAR, 1.6 fWAR, $12.6MM value.
He did the above with 600 PA.  He is on pace to exceed his ML career high PA of 622 in 2016.  Can he duplicate that at the age of 40?  I have my doubts.  I think AF would prefer to get much younger in DH and 3B.
Then of course there is the trade route.  I have no clue who might be attainable.  But one name that has been bandied about is Oakland 2B/3B Zack Gelof.  Gelof is having a fantastic rookie season:
.277/.342/.532/.874, 13 HR, 19 doubles, 1 triple, 145 OPS+, 2.5 bWAR
I am not sure how Oakland would feel about it, but the Trade Simulator is okay with Maddux Bruns and Jorbit Vivas to Oakland for Zack Gelof.  Maybe you have to substitute Landon Knack for Maddux Bruns to get an established MLB infielder still in his rookie year.
Per MLB Pipeline – Bruns is Dodgers #17 prospect, Vivas is #10, and Knack is #9.
Per Baseball America – Bruns is #16 prospect, Vivas is #15, and Knack is #7.
Trade Simulator:
Bruns – 5.6
Vivas – 8.7
Knack – 8.9
One player that I have been wanting since he was drafted is Minnesota's Royce Lewis.  With Carlos Correa playing SS, Lewis has been playing 3B. He returned in May 29 after his 2nd ACL surgery.  In 239 PA:
.309/.372/.548/.921, 15 HR, 7 doubles, 52 RBI, 149 OPS+, 2.4 bWAR and fWAR.
He has 2 DRS and 2 OAA at 3B.  Maybe the knees will not hold out long term at SS, but he is more than capable at 3B.
Bums wants Bobby Witt Jr..  I want Royce Lewis.  We are both going to be disappointed.
There are not any ML ready 3B prospects that I would prefer over either Busch or Vargas.  And that includes Minnesota's Brooks Lee, or any of Baltimore's infield prospects:  Coby Mayo, Connor Norby, or Joey Ortiz.
There has been some discussion as to the value of JDM and Max.  Here is a snapshot of their 2023 season going into Friday night.  I have isolated vs LHP as that seems to be the weakest offensive area for LAD.  Not that it mattered much Friday night with Max not in the lineup because of LHSP, Sean Manaea.
JDM
LHP – .273/.346/.591/.937 – 110 AB, 9 HR, 13 BB
WRISP – .336/.388/.655/1.043 – 110 AB, 9 HR, 15 BB
Late & Close – .286/.342/.486/.828 – 35 AB, 2 HR, 3 BB
2 out – .331/.393/.676/1.069 – 148 AB, 14 HR, 14 BB
Batting 4th – .278/.344/.549/.893 – 144 AB, 9 HR, 14 BB
Batting 5th – .296/.345/.637/.982 – 179 AB, 16 HR, 16 BB
135 OPS+, 2.1fWAR, 1.9bWAR, $16.8MM value
Max
LHP – .154/.265/.385/.650 – 143 AB, 11 HR, 17 BB
WRISP – .200/.348/.407/.755 – 140 AB, 7 HR, 34 BB
Late & Close – .200/.347/.463/.810 – 41 AB, 3 HR, 7BB
2 out – .157/.317/.333/.650 – 153 AB, 7 HR, 35 BB
Batting 4th – .215/.337/.492/.829 – 311 AB, 24 HR, 58 BB
Batting 5th – .178/.341/.438/.779 – 73 AB, 6 HR, 3 BB
119 OPS+, 2.9 fWAR, 2.8bWAR, $23.2MM value
Even a negative defensive player gets more positional/defensive value than a DH which is the primary reason that Muncy has a greater WAR than JDM.  Offensively, JDM is 19.4 runs above replacement, while Max is 14.1.  Thus for Max to continue to get maximum WAR (and getting maximum value), he will need to play 3B.  Can the Dodgers afford to let him continue to play the position?
Max is currently the #7 3B OPS in MLB.  If you like OPS as the pivotal metric, there really is not going to be much improvement.  Max is #1 in RBI, and #2 in HR in MLB.
IMO, it is going to be either Michael Busch or Miguel Vargas at 3B and Max at DH.
The Dodgers named their eight players assigned to the Glendale Desert Dogs AFL team.  The Dodgers will team with players from the following additional teams: Mets, Red Sox, Twins, White Sox.  The Dodgers players assigned:
Ronan Kopp, LHP (MLB Pipeline Prospect #16)
Yeiner Fernandez, C/2B (MLB Pipeline Prospect #26)
Ben Casparius, RHP
Jake Pilarski, RHRP
Ryan Sublette, RHP
Kendall Williams, RHP
Damon Keith, OF
Jake Vogel, OF
The Arizona Fall League regular season begins on Monday, Oct. 2 and runs through Thursday, Nov. 9.
We can get more involved in this discussion as we get closer to the start of the AFL.
09-22-2023 – MiLB Game Summary Report
Albuquerque Isotopes (Colorado) 7 – OKC Dodgers 0
Kendall Williams, who was just named as one of the LAD Arizona Fall League players, was promoted to OKC.  Kendall was rudely received, but stayed in for quite some time. He allowed 5 runs on 6 hits, 5 BB, and 2 K in 6.0 IP.  He had 91 pitches/56 strikes.    He did allow 2 solo HRs.
Williams is 23 years old (22 baseball age) and is playing on his 4th team in 2023.  He was acquired in 2020 in a trade with Toronto for Ross Stripling.
Rookie ACL – 1 game
Great Lakes – 7 games
Tulsa – 8 games
OKC – 1 game
Jake Reed surrendered 2 more runs in the 8th.
OKC had 4 singles, 3 BB, and struck out 11 times.