Greetings from blustery South Lake Tahoe.  I do not have my MLB TV so I cannot watch the games on TV.
A big thank you to Bear for providing me with multiple columns to help me while I am on vacation. I am on vacation for 14 of 17 days.
I know the consensus belief is that the LAD starting pitching is not good enough to win the WS.  If I were take a poll, I bet that the overwhelming majority would surmise that LAD may squeak out of the NLDS but not the NLCS.  Of course we would all like to see Sandy Koufax, Don Drysdale, Claude Osteen, and Don Sutton, but those guys are nowhere in MLB anymore, and that is not how the game is managed today.
It is not arguable that Atlanta's rotation figures to be the top rotation in the playoffs, but they are not automatic.
A couple of days ago Dodgerrick wrote, "Stone and Sheehan have not been good.  There is no way to put lipstick on that pig!"  Rick, surprise.  We do not agree.  Stone may not be ready to be in the rotation, but he is more than capable of getting 6-9 outs.  Sheehan has shown that he can be effective with 9-12 outs.  In last night's game, he just ran out of gas.  I link that to LAD not letting their younger pitchers get much above 75 pitches.  In his last 6 games he has:
07-29 – 82 pitches
08-03 – 56 pitches
09-02 – 76 pitches
09-08 – 73 pitches
09-16 – 39 pitches
09-21 – 93 pitches
On the night, Sheehan had 18 whiffs, with 9 Ks (out of 14 outs), with 0 hits.  After the 2nd out in the 5th, Emmet was at 68 pitches and hit a wall.   A HBP, 3 walks, and 25 pitches later Emmet was pulled.  They were trying to get Emmet the win, but that would not be a factor if he is the back end in a piggyback.
In a comparison with Clayton Kershaw in both of their last 6 outings:
Clayton Kershaw – 26.0 IP, 17 hits, 7 runs (all earned), 6 HR, 12 BB, 22 K
Emmet Sheehan – 25.1 IP, 14 hits, 9 runs (all earned), 5 HR, 10 BB, 32 K
Sheehan can easily go 3-4 IP and be effective.
I may be in the minority, but I will be excited to watch Clayton Kershaw, Bobby Miller, Ryan Pepiot, and Lance Lynn as the starters, with Emmet Sheehan, Ryan Yarbrough, and Michael Grove as multiple inning relievers.  There is still a chance that Gavin Stone could be one of those multiple innings relievers. Doc has all but announced that Bobby and Clayton will be 1 and 2 depending as to who they play. The kids have come a long way this year.
For those who have not been following, Rancho Cucamonga was swept in the California League finals to the Modesto Nuts (Seattle).  In the end, relief pitching failed the Quakes.  RC was the Southern Division champions, and #2 in the League.  They did have two California League All Stars:  OF Chris Newell and RHRP Lucas Wepf.
Chris Newell – 22 years old – 13th round 2022 draft – In 188 PA for RC, Newell batted .312/.426/.662/1.088, 8 doubles, 14 HR, 32 BB, 52 K.  Before anyone tries to equate those numbers to MLB, once Newell was promoted to Great Lakes (May 30), in 184 PA, Newell batted .222/.321/.424/.745, 9 doubles, 7 HR, 24 BB, 58 K.
Lucas Wepf – 23 year old RHP, UDFA, at Rancho Cucamonga – 22.0 IP, 2.43 ERA, 0.99 WHIP, 1 HR, 8 BB, 58K.  It is that 58K in 22.0 IP that got him the All Star nod.  He was promoted Great Lakes on July 1.
Those would not have been my top two Quakes, but they were pretty dominant when they were there, and were very deserving. I would have selected the California League HR leader, the OPS leader, the SLG leader, and top 5 in multiple other categories… Thayron Liranzo.  Liranzo was also the only California League catcher to have enough PA to qualify, who has improved a great deal in his defensive metrics.
I am going to give a full season review for the Quakes in the near future.
Great Lakes also had two post season All Stars:  LHSP Justin Wrobleski and utility player, Taylor Young.  Unlike both Quakes Cal League All Stars being promoted mid-season, both Wrobleski and Young were on the Loons opening day roster and on the post season roster.
Wrobleski was one of four Midwest League Starting Pitchers so honored, and Young was named an All Star as a utility player.
Justin Wrobleski – 23 years old (22 baseball age) LHSP, 11th round draft pick 2021.
Wrobleski dominated in the 2023 campaign, striking out 109 batters in 102.1 innings. Wrobleski posted a 2.90 ERA, a 3.22 FIP, and a 26.0 K%, the leader in the Midwest League East Division. The left-hander appeared in 25 games, starting 23 and going six innings three times.
Wrobleski pitched an immaculate inning on April 21st  against the South Bend Cubs. He retired the final batter of the first inning through the first batter in the third inning on 15 pitches, 15 strikes. The second inning was the immaculate inning.
Taylor Young – 25 years old (24 baseball age) 2B/Utility, 8th round draft pick 2022.
Taylor Young played in the most games (124), scored the most runs (76), tallied the most hits (109), walks (82), stolen bases (56), and plate appearances (545) of any Loon in 2023. Young played at four defensive positions, 65 games at second base, 32 at third base, 22 at shortstop, and five in left field. Young notched a .738 OPS, seven home runs, and 55 runs batted in.  His 56 stolen bases are the second-most in a single-season by a Great Lakes player. Dee Strange-Gordon had 73 in 2009 in 131 games.
I will also give a full season review of Great Lakes in the near future.
The Dodgers have named infielder Michael Busch as the 2023 Branch Rickey Minor League Player of the Year and right-handed pitcher Kyle Hurt as the 2023 Branch Rickey Minor League Pitcher of the Year.  Busch has posted a 1.039 OPS in Triple-A, and Hurt has a 14.87 K/9 and a 28.7 K% less BB % between Double-A and Triple-A.  Kyle Hurt is a future closer for LAD.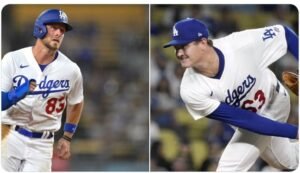 09-21-2023 – MiLB Game Summary Report
OKC Dodgers 8 – Albuquerque Isotopes (Colorado) 5
The Oklahoma City Dodgers pieced together a seven-run seventh inning to key an 8-5 victory over the Albuquerque Isotopes. OKC busted out for seven runs to take an 8-2 lead, collecting five hits, along with four walks and one hit batter throughout the seventh-inning rally. Justin Yurchak provided a go-ahead, two-run double to put the Dodgers ahead. Later in the inning, Miguel Vargas drilled a 438 foot three-run homer to dead center field. Yonny Hernández capped the big inning with a two-run single.
The Isotopes quickly responded with three runs in the bottom of the seventh inning to narrow the gap to 8-5. The Dodgers pitching staff regrouped and retired eight of the game's final 10 baters to nail down the victory. OKC scored a run in the first inning on a RBI single by Jonny DeLuca. Albuquerque went in front in the third inning on a wild pitch and a RBI double by Daniel Cope, as the score remained at 2-1 until the seventh inning.
Miguel Vargas has homered on back-to-back days! pic.twitter.com/wu5zUK9i6V

— Bruce Kuntz (@Bnicklaus7) September 21, 2023
For the second time in three games, the Dodgers won after trailing in the seventh inning or later. It was the team's 22nd win of the season when trailing after six innings.
Miguel Vargas homered in a second straight game, with both home runs hit out to center field. He also recorded a third straight multi-hit game, going 2-for-5. Over the last three games, Vargas is 6-for-15 with three extra-base hits and seven RBI.
Hunter Feduccia was the only OKC batter in the original lineup who did not record a hit.
Key Performers:
Miguel Vargas – 2-5, 1 BB, 1 run, 3 RBI, HR (10)
Jonny Deluca – 2-5, 1 run, 1 RBI, double (13)
Yonny Hernandez – 2-4, 1 BB, 1 run, 2 RBI
Justin Yurchak – 1-3, 2 BB, 1 run, 2 RBI, double (12)
For those out there like me who did not get a chance to see the following, this is special.  Baseball is a lot more than just scores and stats.
What a pitch. Now we know where you get it, @BrusdarGraterol. 😳 pic.twitter.com/wO5gi9p39D

— Los Angeles Dodgers (@Dodgers) September 22, 2023
Brusdar Graterol with a 1-2-3 inning as his mom watches on for the first time as a pro. pic.twitter.com/qDKywurG4w

— Chad Moriyama (@ChadMoriyama) September 20, 2023