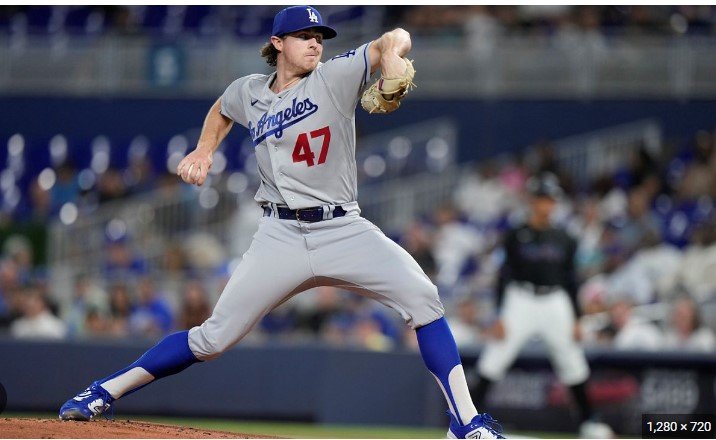 We have enjoyed Bobby Miller for most of the 2023 season.  He has 17 starts and 8 of them have been quality starts.  June and July were learning months.  His biggest weakness was letting his emotions get the better of him.  He has made a concerted effort to curb those emotions.
There have been 3 Bobby Miller's this year.
Bobby Miller 1 was his first 4 starts.  He accumulated 23.0 IP and had an ERA of 0.78.  His FIP was 2.17 so he was dealing his first 4 games.  The batting metrics for those games – .150/.218/.213/.431.
Bobby Miller 2 was his next 4 games.  He had 21.0 IP but his ERA was 8.57.  He did have a bit of bad luck (not much) with a FIP of 5.36.  The batting metrics for those games – .310/.381/.517/.899.
Bobby Miller 3 was post All Star Game.  He has 9 starts and has thrown 50.2 IP.  He has a 3.20 ERA and 3.65 FIP.  The batting metrics are – .225/.275/.372/.646.
Doc Roberts was quoted as saying:  "He's put himself right there, in front of the conversation, as far as starting a playoff game. He's earning it."  Come on Doc.  He's earning it?  The 2 veterans in the rotation, Clayton Kershaw has a very sore shoulder, and Lance Lynn can't keep the ball in the yard.  No Doc, he is already a playoff starter. He is looking like he is earning Game 1 starter.
Last night the Dodgers may have found their Game 2 starter…Ryan Pepiot.   Pepiot flirted with a perfect game.  He retired the first 20 batters he faced.  He made a great pitch to Josh Bell, but Bell reached out grounded it into CF for a clean hit.  Pepiot did not pout after the hit.  He struck out Jazz Chisholm to end the inning and his night.
Pepiot was dominant all night.  He faced 22 batters in 7.0 IP throwing 84 pitches: 60 for strikes (71.4%).  He only had 3 K, so he was pitching to soft contact all night.  In almost every dominantly pitched game, there are some special defensive gems to support the pitcher.  Here are back to back web gems from Miggy Rojas and Amed Rosario in the 4th.
Here are the back-to-back web gems by Miguel Rojas and Amed Rosario.pic.twitter.com/6XcSiCOk5Y

— Dodger Blue (@DodgerBlue1958) September 8, 2023
Amed Rosario made another outstanding defensive play in the 7th.
Amed Rosario Hops pic.twitter.com/XgsM4HFz5v

— Mad Choriyama (@MadChoriyama) September 8, 2023
I know it is a small sample size, but Ryan Pepiot has allowed 2 earned on 9 hits, with 2 walks and 17 strikeouts in 21 innings in 2023, with an ERA of 0.86.   He is not a "Johnny Come Lately" coming out of nowhere.  Remember he was scheduled to be in the starting rotation before the injury in ST.
Caleb Ferguson and Evan Phillips were just as dominant, although Ferguson gave up a single because it hit 2nd base and bounced away from Rojas.  Doc needed to get Ferguson and Phillips some work.  Ferguson had not pitched since September 1, and Phillips had not pitched since September 2.
On the night that Ryan Pepiot pitched a gem, the LAD bats broke out.  They scored 10 runs on 16 hits.  The big bats came from a couple of players who have been lashed out against by many fans: Chris Taylor and Miggy Rojas.  CT3 had 3 hits and 5 RBI including his 15th HR and 13th double.
Besides his outstanding defense, Rojas had 3 hits including a triple (1).
Amed Rosario had 2 hits and 2 RBIs.  He is looking like a GG fielder at 2B compared to his dismal SS defense.  The Dodgers may have turned another career around.  Just in time for his FA.
Then there was the historical hit of the night.  Freddie Freeman hit his record breaking LA Dodger record for doubles with his 52nd.  This tied the Dodgers franchise record by Johnny Frederick.  Of course it went with a little hilarity.
The most Larry Walker play ever! #Dodgers

— Howard Cole (@Howard_Cole) September 8, 2023
The Dodgers avoided a sweep in the 2nd consecutive series.  They are off to Washington to take on the Nationals.  But there is a situation that may put a crimp in the Dodgers sails:
Mookie Betts did indeed leave the stadium on crutches, as @IsaacAzout said, and went through an x-ray. I'm told it was more precautionary, but still something to monitor.

Betts fouled a ball off his foot in his last at bat of the game.

— Juan Toribio (@juanctoribio) September 8, 2023
But it wasn't just the MLB Dodgers pitchers that had good nights.
OKC had Alec Gamboa as a 2.0 scoreless and hitless IP opener for Kyle Hurt.  Hurt followed with 5.0 scoreless IP with 1 hit.  He allowed a BB and 6 K.
Amongst insane talent, Kyle Hurt has, IMO, had the best year of any pitching prospect in the system & that's saying something. He was crazy tonight good going 5 scoreless, striking out 6. FB Touched 97.8, cutter 89.4, change approached 90. ERA 3.09, 145 Ks in 88.1 innings. pic.twitter.com/Mkgrk2F4rO

— Dodgers Daily (@dodger_daily) September 8, 2023
The third youngster pitching for OKC, Michael Grove, pitched 1 inning in his rehab start.  He allowed 2 runs on 3 hits, but he struck out 3 batters.
Michael Grove struck out three in a rehab inning for Oklahoma City #Dodgers

Although he allowed three hits and two runs, Grove averaged 95 mph on his fastball and generated six whiffs within the single frame pic.twitter.com/mYGk6p8uV8

— Bruce Kuntz (@Bnicklaus7) September 8, 2023
Then there was River Ryan in AA:
River Ryan, my No. 9 #Dodgers prospect, was excellent for Double-A Tulsa:

5.0 IP
1 H
0 R
2 BB
5 K
10 whiffs
66 P / 42 S

Ryan hit 99 mph on his fastball tonight and has a 3.33 ERA in 24 games this season pic.twitter.com/RsLlTb9ZoM

— Bruce Kuntz (@Bnicklaus7) September 8, 2023
Ricky Vanasco is turning into a viable future relief option followed.  He was one of three pitchers who followed River Ryan:
Ricky Vanasco went scoreless again, which is his 16th scoreless outing in his last 17 appearances. Dude has been automatic & has also been explosive. He had 2 Ks tonight & has 22 Ks in 14 innings since the beginning of August. #dodgers pic.twitter.com/EnZtmpIIXW

— Dodgers Daily (@dodger_daily) September 8, 2023
A third pitcher, Great Lakes RHP Jerming Rosario, pitched five outstanding innings for the second consecutive strong start.
2nd Great start in a row for Jerming Rosario, where, in both starts, he went 5 innings scoreless. In those 2 outings he has had 15 Ks, just 1 walk! Wow! Well done Jerming! #dodgers pic.twitter.com/wl55zdpw4f

— Dodgers Daily (@dodger_daily) September 8, 2023
Casey Porter was just a bit off on this.  Rosario did allow a run in this one.  It was a solo HR in the 3rd.  Rosario is really starting to show why some of us consider him a prospect.
One other MiLB feat that occurred last night.  Jorbit Vivas hit for the cycle for OKC.
Jorbit Vivas leads off the ninth inning with a triple to complete the cycle!!! 🚴 pic.twitter.com/fBgcr9vudc

— Oklahoma City Dodgers (@okc_dodgers) September 8, 2023
The Dodgers will throw a 3rd rookie SP tonight against the Nats.  We also might get a look at Gavin Stone before this weekend series is over.
The Dodgers are going to need their rookies to be impactful and fearless for the playoffs.  The experience they are getting is invaluable for 2024 and beyond, but they are going to need to pitch at an elite level for 2023 to make a statement for the season.
Miller #1 and Pepiot #2 for the playoffs.  That is not out of the line thinking.
The kids have arrived, and there are more following.
Dodgers young pitchers look crazy 👀

Already here:
Bobby Miller
Emmet Sheehan
Ryan Pepiot
Gavin Stone

Soon to add:
Nick Frasso
River Ryan
Kyle Hurt
Landon Knack

Looking ahead:
Payton Martin
Jesus Tillero
Maddux Bruns
Peter Heubeck
Ronan Kopp

Friedman Wpic.twitter.com/fgHSTeXrvH

— sky (@GonsolinRBW) September 8, 2023
I am most excited about Payton Martin and Jesus Tillero in the looking ahead column.