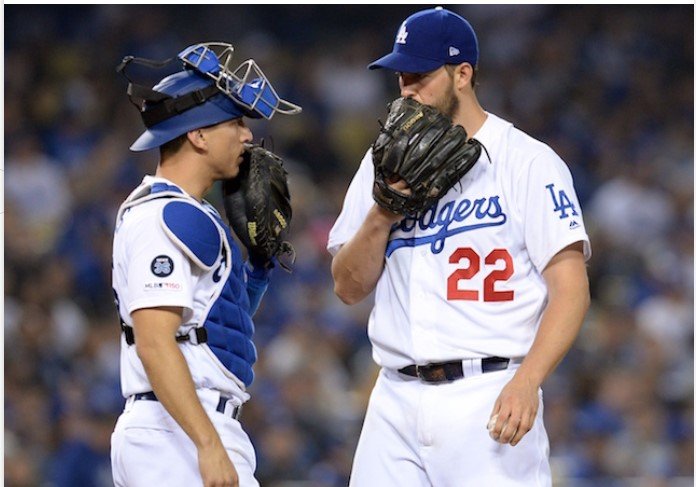 It was just another regular season game. The Dodgers have virtually locked up a playoff spot and they are playing out the last four weeks of the season with a very comfortable lead.
But coming off of a lost weekend against Atlanta, they were looking for a little boost from their ace, Kershaw, against the Marlins.
It was quite obvious from the beginning of the game that Kersh, like his last start, was not firing on all cylinders. His control again seemed off. What was of more concern was the drop in velocity on his fastball, which was not even topping out at 90.
Add that to the Urias situation, and all of a sudden, the only viable veteran left in the starting rotation is deadline pickup, Lance Lynn. According to CK and Dave Roberts, his shoulder is still giving him some problems.
But like the warrior he is, Kersh is going to push through and pitch until he just cannot do it anymore. I am really beginning to believe that we are seeing the end of Kershaw's time as a Dodger. If, and this is a big if, he needs some sort of medical procedure at the end of the season, I believe he will retire.
This also makes Buehler being able to come back and pitch come playoff time, huge. Buehler would probably be an opener. Piggybacking with someone like Grove or Sheehan. Maybe even Stone.
As of right now barring no setbacks, the Dodgers playoff rotation will be Kersh, Lynn, Miller. Then take your pick, Pepiot, Sheehan, Yarbrough. There isn't much choice after that. Urias is not going to be a factor. Unless something really unexpected takes place.
I can live with what we have. If Striker can give them some innings, it will be a good thing. I do not expect him to go five, or maybe even four. But give them three solid innings and then piggyback with Sheehan, who I am really beginning to think is going to be a solid pitcher, and they should be fine.
I don't think they match up well with the starters the Braves can throw at you, and maybe not even the Phillies rotation. We all have to accept that this is what they have.
It will be over the offseason that they will have to add and subtract. But I love the fact that this is a team. They have great chemistry and they do not quit. I believe getting JD back makes the lineup that much longer and harder to navigate.
Playoff baseball is a different animal. The pitching and defense is better. You have to play your best baseball to win it all. This might not or it may be the Dodgers year. But it is going to take a concerted effort by all of the players to reach the prize.
If it does end up being the end for Kershaw, we will have witnessed one of the best to ever wear a Dodger uniform for the last 15 years.