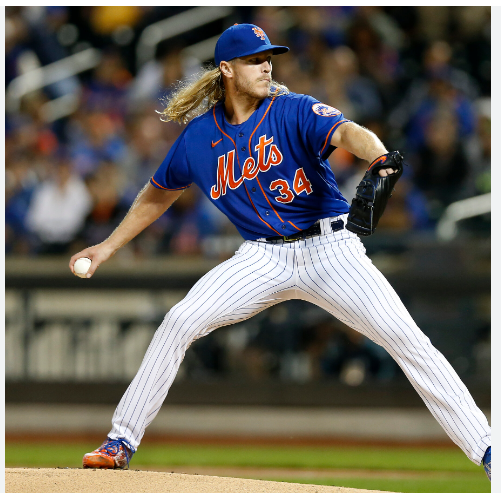 I have to admit that I was taken aback by the Noah Syndergaard signing.  I am not disappointed, just a little surprised.  I was expecting the Dodgers to sign one of the pitchers that Dustin Nosler had outlined.
Syndergaard could be the best #5 rotation pitcher in MLB.  That just pushed the depth down a peg and made it deeper.
Julio Urías
Clayton Kershaw
Tony Gonsolin
Dustin May
Noah Syndergaard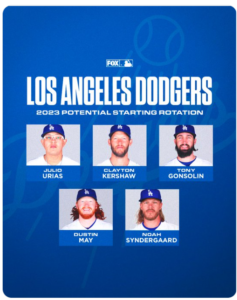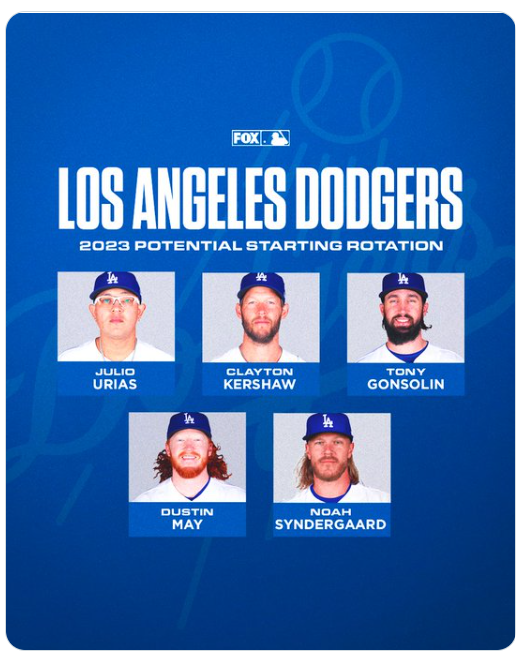 Rotation Depth:
Ryan Pepiot
Michael Grove
Andre Jackson
Bobby Miller
Gavin Stone
Pepiot could and maybe should move to the bullpen.  His fastball and change could be a devastating combo in relief situations.  Michael Grove and Andre Jackson are a repeat of Ross Stripling and Mitch White, and will probably start at OKC.  If Pepiot also moves back to OKC, the OKC rotation could be the depth identified above.  That excludes Landon Knack who also deserves to be in the AAA rotation.  That does not count the AAAA pitchers the Dodgers will obviously tap, as they do every year.
We all know that Syndergaard is not the same intimidating pitcher he was early in his career, specifically 2016.    Noah earned his first and only All Star selection in 2016.  He was #8 in CY voting, and received MVP votes.
He was oft injured in 2017 and  completed just 30 innings.
In 2018, he got some of that 2016 mojo back. Between a strained ligament in his index finger, and a disease he caught from children he was with during the 2018 AS break, he was a very productive and effective pitcher.  He completed 154.1 IP with a very respectable 3.03 ERA.  He had 155 Ks and 39 BBs.
In 2019, Thor completed a full season with 32 starts and 197.2 IP.  His ERA was not very good, but he had 202 Ks and only 50 BBs.  His 2019 FIP indicated that he did pitch with some bad luck, but still not dominating pitching like he had in 2016.  His ERA + indicated just a bit south of an average starting pitcher.
Overall, from 2015 to 2019, he tossed 716 innings with a 3.31 ERA, 26.4% strikeout rate, 5.6% walk rate and 49.1% ground ball rate.  But then disaster struck.
On March 26, 2020, Noah had TJ surgery and missed all of 2020 and most of 2021.  He did get 2.0 innings at the end of the season.  2021 was his FA year, and NYM thought enough of Syndergaard to give him a QO, which he declined.  LAA signed Thor to a 1 year, $21MM contract before the lockout.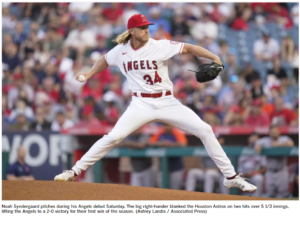 LAA traded Syndergaard at the deadline to Philadelphia for catching prospect Logan O'Hoppe; #64 in MLB Pipeline Top 100 prospects, and Syndergaard was back in the playoffs, and pitched in his 2nd WS.  He was on the losing end both years (2015 and 2022), and now hopes to help LAD win the 2023 WS.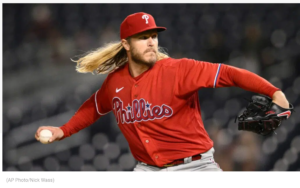 In 2022, Noah had 24 starts and 1 relief appearance for a total 134.2 IP: 3.94 ERA.  Seemingly a nice production after 2 years of no pitching.  Syndergaard was acquired to somehow replace Tyler Anderson's 178 IP.  After last season, and with pitching Yoda Mark Prior, coupled with Noah's competitive nature, I think there is a good chance Syndergaard can achieve TA's IP.
What the Dodgers hope with any adjustment is an increase in Thor's velo. His velo for his fastball and slider are 4-5 MPH slower than at his peak. If he can increase that velo, he should be able to improve on his 2022 metrics.  The Dodgers have had good success with increasing velo with other reclamation projects.  Will Noah Syndergaard be the next?
Thor certainly has a history of injury, like Tony Gonsolin, Dustin May, and Clayton Kershaw.  So while there is reason for positive expectations with a top rotation, there is also reason for trepidation.  The Dodgers will have the depth to manage injuries.  In addition, we still have no idea if the Dodgers are done with pitching additions.
One other facet about the Syndergaard signing is that Thor has an edgy side about him.  He is not the laid back stoic personality much like most of the current LAD roster.  His take on Carlos Correa's comments about Derek Jeter not deserving any of his GG will lead to some interesting confrontations when LAD meets up with SFG.  Noah is another social media favorite and a character.  But he is nothing like Trevor Bauer.
Hobbies include ice baths, being shirtless…. and reading. Now starting #NoahsBookClub. Dropping the first book on Feb. 1st. Let's Read. 🍎⚡️ pic.twitter.com/DYjygxZX8H

— Noah Syndergaard (@Noahsyndergaard) January 28, 2021
I do not for a minute believe this is the last player personnel transaction we see from AF/BG.  Will there be more FA signings?  Or will there be trades? Or will it be both?  Stay tuned.
Noah Syndergaard on why he chose the Dodgers in free agency #MLB pic.twitter.com/8niiF0zvs2

— DΛVΣ (мя.тωιттєя) (@DoyersDave) December 14, 2022