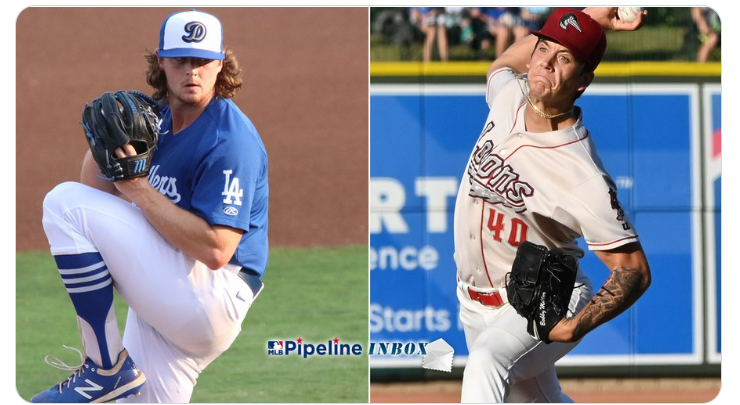 It was quite a night at Chickasaw Bricktown Ballpark in OKC.  The OKC Dodgers beat the Albuquerque Isotopes (Rockies AAA) 3-2.  It ended with a Jason Martin walk-off HR as the leadoff hitter in the 9th, but it began with Dodger RH Pitching prospect, Ryan Pepiot, showing why he us so highly thought of.  He brushed away his Spring Training blues and pitched 4.0 brilliant innings.  He had good vertical lift on his fastball, and his changeup is special.  He is still working on his slider, but if he has the fastball and change working as he did last night, then he has time to continue with the development of his Blake Treinenesque slider.
Admittedly I am very biased, as Pepiot is my favorite MiLB player.  I plan on writing more on the prospects, but for now, while I do not believe that Pepiot is any candidate to make the rotation for LAD this summer (unless disaster strikes), he can make an appearance at Dodger Stadium as a reliever.  Ryan has always had high reliever risk, but his changeup is so special, that he is very capable of getting ML hitters out using his fastball and change in a short stint.  If he does perfect that slider he is working on, he will be in strong contention for a rotation spot in 2023…NOT 2022.
Pepiot was followed by 29 year old Dominican RHRP, Jose Adames, who struggled with the first three batters he faced.  Adames really has not pitched since 2016 (other than 3.2 IP in 2019), and he looked as if he did not believe in his stuff.  After 6 straight balls, catcher Tomás Telis came out tell him in a not so kindly tone to start throwing strikes.  He ended up walking the second batter and allowed a single to the Isotopes 1B, Sean Bouchard, that scored two Isotopes (1 earned).  Adames then settled down to retire the next three batters and ended his night with a three-pitch strikeout of the Rockies #9 prospect, 23 year old LF Ryan Vilade.
Following Adames was Carson Fulmer.  Fulmer was 2015 1st round pick of Detroit (#8 overall).  Fulmer was considered the prize of the Vanderbilt pitching corps which included Dodgers first round pick Walker Buehler.  Also on that Vandy pitching staff was LHP Phil Pfeifer (LAD 3rd round pick also in 2015), and Jordan Sheffield (LAD 1st round competitive balance pick in 2016).  Carson has never fulfilled that promise as a starting pitcher, but he is now a reliever and maybe…just maybe…the Dodgers can find yet another failed starter to shine in the pen.  Carson threw 2.0 innings, allowing one hit and registering one strikeout.  I am very much excited to see what he can do in this new role.
Finishing up (and getting the win) was 29-year-old Cuban LHRP, Darien Núñez.  He retired all six batters he faced, striking out three.  He has a very live arm, and his pitches last night were nasty.  It is very clear why the Dodgers are high on Darien.  He has excelled in MiLB, and now he needs to take the next step and produce at the ML level.
The hitting stars for the Dodgers were LF Jason Martin and his walk off HR, and utility infielder, Andy Burns.  Andy had three of the Dodger seven hits including a 2 run double in the 6th.
Albuquerque RHSP, Ryan Feltner, seemed to stymy the Dodgers for 5.0 innings.  He certainly did not dominate, however due to multiple base running miscues, the Dodgers could not score.  The Dodgers put runners on base in four of the five innings Feltner pitched.  They finally scored two in the 6th, however because of yet another base running error, they could not make it a bigger inning.
The Isotopes brought in Jordan Sheffield in the 6th, who proceeded to pitch as he did while in the LAD system…wild and unpredictable.  He walked the first two batters, surrendered the two run double to Burns, and then got Ryan Noda on a deep fly out to CF.  That was enough for Sheffield on this night.
Even with the one error (Martin in LF), there were a couple of sparkling infield defensive plays.  One by 3B Burns and one by SS Zach McKinstry.
While Feltner was allowed to go 5.0 innings (79 pitches/51 strikes), Pepiot was only allowed to go 4.0 innings throwing 49 pitches, 33 for strikes.
It was a joy to watch the OKC Dodgers start their 2022 season with a win.  Tonight the Dodgers send out LHP Robbie Erlin, another former ML pitcher I am very eager to watch.
1,300 miles away, still another highly touted RHSP was starting for the Dodgers in their final ST game against LAA.  On his 23rd birthday, with his parents in the stands, Bobby Miller came out blazing, striking out Shohei Ohtani with a 100.2 MPH fastball.  It appeared at times that Bobby was wearing his emotions on his sleeve. After giving up a long fly to CF on a two-strike pitch to Anthony Rendon he was shown as shaking his head and talking to himself.  He got the out, and Rendon has been known to hit very well…right Clayton?  Say thank you Cody and move on.  He was also shaking his head after the Stassi line out to end the second.  Bobby got through the third unscathed.  Overall Miller pitched a tremendous three scoreless innings, allowing 1 hit, 2 walks, and 2 strikeouts.  He has a legit 100 MPH fastball.  Miller's four-seamer averaged 99.3 mph on Tuesday.
Maybe Bobby can learn from Blake Treinen who gave up a scorching line drive to Matt Duffy that Jose Ramos laid out for a diving catch in right field, and Blake had a smile and a WOW.  He also gave up a sharply hit long fly out to Brandon Marsh, and he simply walked off the mound.  But that is a veteran vs a 23 year old trying to impress.
Craig Kimbrel had a much better showing in the 9th with 2 Ks.  The Ks were great, but his ball was moving and looked unhittable.
Miller threw 55 pitches, but only 29 for strikes.  The biggest negative on Miller is his lack of command.  He needs to harness that command to be a productive and effective MLB starting pitcher.  The lack of command is why he is still considered to have huge relief risk and why several analysts believe he will end up in the bullpen.  He is only 23 so whatever doubts anyone has, he has plenty of time AND ability to become a top ML pitcher for LAD.
Mookie Betts showed signs that he is feeling comfortable at the plate at the right time.  Both he and Trea Turner had two hit nights. Max Muncy had a run scoring double.  Freddie Freeman walked twice and scored twice.  Even Cody Bellinger got a hit, albeit a bloop single that dropped in front of a diving Jo Adell.  As they say, it looks like a line drive on the score sheet.  Those are the hits you want to save for Friday, but who knows, maybe that is the AB that turns Belli around.
Overall it was a great night to see the future of the LAD pitching from their top two pitching prospects…Ryan Pepiot and Bobby Miller.