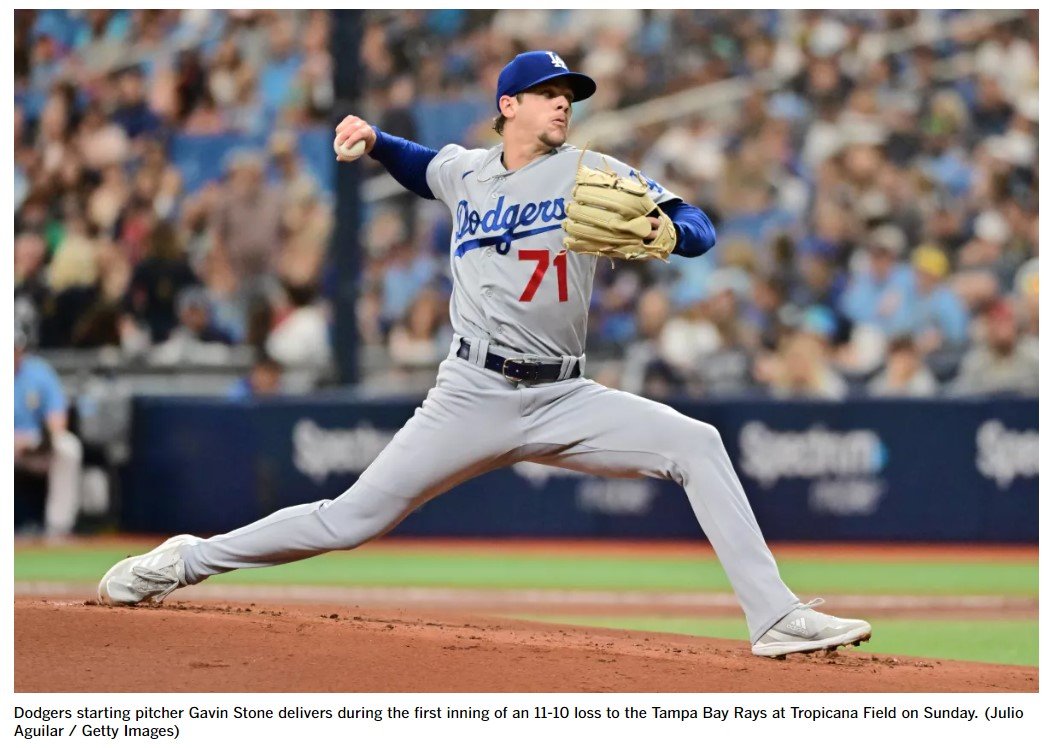 The Dodgers went into Tampa Bay looking to win the series and finish the last 10 game stretch of Cardinals, Braves, and Rays with a 5-5 mark.  Things looked promising going into the weekend as the Dodgers were not going to face the Rays Shane McClanahan or Zach Eflin. Instead the Dodgers are limping home with a 4-6 record.  More on that later.
A lot of the pre-season and early season chatter was, let's go with the kids.  Let's look at the rookie pitchers first.
Ryan Pepiot – Got hurt before the season started (left oblique strain). He is not expected back until the All Star Break, at the earliest.
Michael Grove – Started 4 games before he had a groin strain in his April 20 start. Before the injury – 16.0 IP, 8.44 ERA, 1.75 WHIP, .313 BAA, .880 OPS, .373 BABIP, 7.88 K/9, 3.94 BB/9, 2.00 K/BB, 4.66 FIP, 4.83 xFIP.
Gavin Stone – Putting it kindly, Gavin IS JUST NOT READY. Is it his "stuff'?  His confidence? Both?  In his 3 starts:  10.0 IP,148.40 ERA, 3.00 WHIP, .451 BAA, 1.175 OPS, .478 BABIP, 4.50 K/9, 6.30 BB/9, 0.71 K/BB, 5.69 FIP, 6.30 xFIP
I would think that those numbers are just not acceptable for a MLB pitcher.  It is not just one bad start, but 3.  Will he get another chance?  Of course he will, but now the question is, when.  I was not able to watch any of the weekend games to hear what Dave Roberts might have said.  Reading one comment today:
Stone's next start is scheduled to be over the weekend against the Yankees, another top lineup in the Majors. But following his past three starts, Roberts said the team will need to "reassess" whether or not the young hurler will make that start.
 The Dodgers need to guard against his confidence spiraling out of control, something that could easily happen to a young pitcher.
Bobby Miller – 1 start and earned a 2nd and now at least a 3rd. Julio Urías is no longer considered to be available in the NYY series.  He was not able to have a scheduled bullpen session as he felt discomfort while playing catch on May 26.  Julio is now scheduled for a bullpen session at Dodger Stadium in May 29, and his formerly projected July 3 start against NYY is now considered unlikely.
I was at the Saturday OKC Dodger vs Sacramento River Cats game where Michael Grove had his second rehab start.  He threw 77 pitches in 5.2 scoreless innings.  He allowed a single in each of the 1st 5 innings, but nothing else.  Two runners got to 2nd via a stolen base, but that is it.  Grove did not walk a batter and he registered 7 Ks.  He did not dominate, but looked very much like a #5 pitcher.
I do not believe I would be way out of line to think that Michael Grove will be brought back and Gavin Stone will be optioned.  That start figures to be Saturday.  The winner in all of this would seem to be Noah Syndergaard, at least for now.
We were led to believe that the hamstring injury for Julio Urías was not that bad, and that he should be ready to pitch when his 15 day stint is up.  We have now learned that date is not only in doubt, but if you believe Jon Heyman, it could be longer:
"Julio Urias has begun to play catch, but may still be three to four weeks away from returning to the Dodgers. The left-hander is such a gamer, he pitched against the Cardinals last week at less than 100 percent, a mistake."
We also know that Heyman and Scott Boras are close.  Could Boras be planting information as to what he wants to see happen?
With Walker Buehler, Ryan Pepiot, Dustin May, Blake Treinen, Daniel Hudson, and a whole host of relievers, it is hard to believe what the Dodgers report on injury status.  I recognize that the Dodgers are not purposefully misleading, but nevertheless the original status reports are just wrong.
Bobby Miller will get at least one start on Monday against Washington at home, and possibly another next weekend against NYY also at home (Sunday).
I think some of us optimists should have listened to the realists…the Dodgers pitching right now is not very good.  The current #1 figures to be Tony Gonsolin, and the currently struggling Clayton Kershaw as the #2.  After that, two rookies and Noah Syndergaard.
Now for that depth.  Currently on the 40 man roster, not on the 60-day IL, and in the minors are:
Michael Grove
Andre Jackson
Tayler Scott
Alex Vesia
The first will probably be recalled this week after management speaks with Grove, Travis Barbary, the two pitching coaches, trainers, and doctors.  The second has never fared very well in a multi inning format.  He seems to hit a wall HARD, and then loses it…FAST. The other 2 are strictly relievers.  There are no other pitchers that can be recalled.  And no, Dylan Covey is not an option.   That is a shame.  In his first game with Philadelphia, he had 5.0 IP, 1 run, 5 hits, 1 BB, 6 K.  The Phillies are happy to have him.  To be fair, the Dodgers bullpen was on fumes and they needed another reliever and selected the contract of Tyler Cyr.  To do that, they had to DFA someone, and that someone was Dylan Covey.  Covey had just pitched 4.0 innings and he could not be used for 3-4-5 days, and they needed someone that night.  I am certain they were hoping Covey would clear waivers.  He did not.
To bring another starter onto the 26 man will require someone being DFA'd.  If that pitcher is in the organization it will probably be Matt Andriese with a longshot, Landon Knack.  While the other AA pitchers have promising futures, that is what they are…futures.
Andriese has pitched fairly well in May.  In 4 starts, Andriese has 20.1 IP, 1.77 ERA, 0.89 WHIP, .194, BAA, 13K/4BB.  Is he next man up?  There are still more than 8 weeks before the end of the trade deadline.  Most teams will not seriously start thinking about trades until after the draft.  The draft is now held on All Star Week.  This year, Sunday, July 9 to Tuesday July 12.  I would think that the Dodgers will kind of Band-Aid the pitching staff, starting and relieving, until then.
The position player rookies continue to struggle, although James Outman's struggles are troubling.  He has struck out 6 out of his last 7 and 10 of his last 14 ABs.  He is watching pitches go right down the middle and swinging at pitches out of the zone.  He still has an OPS north of .800, so everyone knows that he is capable.  Will MiLB help him find it again?  That is why we let the Big Boys make those decisions.
Vargas is just playing like a rookie.  He will continue to show signs that he is the prolific hitter we all believed, but he will also struggle.
I expect the Dodgers will lose games.  Most losses I can get over quickly.  Sunday, not so much.  That is a game the Dodgers should have won.  They scored 10 runs with 5 HRs.  What does that mean?
Before Sunday, the Dodgers were 265-2 since 2000 when scoring at least 10 runs.
They were 35-1 since 2003, when hitting at least 5 HRs.
Sunday was the 1st game since June 30, 1996, when the Dodgers scored 10 runs with 5 HRs…and lost.
Stone had 2.0 IP. He is the 1st LAD pitcher since Carlos Frias (2014) to accomplish that.  There have been only two others in the Dodger franchise history to have pitched 2.0 innings or less, allowing 10 runs and 5 HRs.  Both of those did so prior to 1963.
In the second inning, with 2 outs and a 3-2 lead, Stone allowed 5 consecutive hits and  5 more runs.
The Dodgers battled back twice.  Once down 4 runs and once down 3 runs.
Trayce Thompson went 3-3 including a solo home run, and 2 BB.
CT3 also went 3-3 but with 2 HRs, and 2 BB.
Max hit his 17th HR before getting what was first reported as a hamstring cramp.
JDM had another multi-hit game including his 10th We are nearing the end of May and JDM has a .901 OPS.
Freddie Freeman had 2 more doubles and leads MLB in XBH with 32. Ronald Acuña Jr., Paul Goldschmidt, and two others are tied for 2nd with 27.  Two other LAD are in the top 10: Mookie (tied for 6th with 26), JDM is tied for 10th with 25.
Stone managed to give the Dodgers only two innings. He allowed seven runs on 10 hits, essentially throwing batting practice to Rays hitters. Stone became only the 4th pitcher in franchise history to post that stat line in two innings or fewer. He's the first pitcher since Carlos Frias in 2014. Prior to that, no Dodger pitcher had done it since 1963.
There was a stretch in the second inning where Stone allowed five consecutive hits. He was actually one out away from escaping the inning with a one-run lead, but just couldn't put away the Rays hitters. Four of their hits came with two strikes.  He allowed 10 hits in those 2.0 innings.
4-Seamer – 4 hits
Slider – 3 hits
Change – 3 hits
He did have 15 whiffs.
Change – 8 whiffs
4-Seamer – 4 whiffs
Change – 3 whiffs
Unfortunately, he could not get one for strike 3 to any of the 5 consecutive hits with 2 outs.
In the ten game stretch against St. Louis, Atlanta, and Tampa Bay, the Dodgers scored 61 runs, more than 6 runs per game.  However, they allowed nearly 7 runs per game (68).
The Dodgers are home to face the Nationals for 3.  They remain in 1st place over Arizona.  Just like with Tampa Bay, the Dodgers should be missing the Nationals top two pitchers, Josiah Gray and MacKenzie Gore (LHP).
05-28-2023 MiLB Summary Report
OKC Dodgers 8 – Sacramento River Cats 3
Jonny DeLuca had 2 more hits. Luke Williams and Devin Mann also had 2 hits.
Jahmai Jones – double (10)
Gus Varland and Nick Robertson each pitched 1.0 scoreless innings.
OKC beat Sacramento 4 out 6 in the series.
Tulsa Drillers 4 – NW Arkansas Naturals (KC) 1
Tulsa completed their 1st 6 game series sweep since MiLB went to the 6 game series format.
Brandon Lewis and Diego Cartaya each hit home runs.
Nick Frasso and Emmet Sheehan pitched a dominant game.  They were pitching a combined 1 hit shutout until the 9th, when Sheehan gave up a solo HR.
Frasso returned to the mound after a 3 week absence.   He pitched 3.0 innings with 35 pitches (24 strikes).  He pitched to one over the minimum due to a batter reaching on an error. He struck out 4.  The right-hander lowered his season ERA to 0.91.
Sheehan matched the longest outing of his career, working six complete innings for the second time and the first time since last season. He allowed two hits and two walks while striking out nine. After Wilson's leadoff homer in the ninth, Sheehan struck out the next three batters to end the game.  Sheehan lowered his ERA to 1.64.
Lewis, who hit two homers in Saturday's win over the Naturals, got the Drillers off to a quick start. With two outs in the bottom of the second, Kody Hoese singled and Lewis followed with another homer, his fifth of the season, to stake Tulsa to a 2-0 lead.
Cartaya upped the margin to three runs with a long, solo homer in the fourth inning.  That was Diego's 4th.
An unlikely source was responsible for the Drillers final run of the game when they were forced to play the final half of the game without a designated hitter. In the top of the fifth inning, catcher Carson Taylor was struck by a deflected pitch from Sheehan after it had struck the batter. Taylor finished the half inning but was removed afterwards, forcing the designated hitter Cartaya to enter the game as the new catcher.
In turn, that forced Sheehan to bat for himself in the bottom of the fifth. He struck out on three pitches, but he got another chance at the plate in the seventh inning. With the bases loaded, he drew a five-pitch walk to collect his first professional RBI.
Diego Cartaya – 2-4, 1 RBI, HR (4)
Brandon Lewis – 2-3 2 RBI, HR (5) – 3 in 2 games
Great Lakes Loons 6 – Peoria Chiefs (St. Louis) 2
Great Lakes beat the Peoria Chiefs 6-2, for a fifth straight game. The Loons are the first team in High-A to win 30 games.
Great Lakes homered twice, and their pitching forced three double-plays and struck out 10 batters. 
Damon Keith belted his second three-run first-inning home run of the series. Keith now has eight overall, five in the last 12 games, the eight is tied for first with Gavin Cross of the Quad Cities River Bandits. Austin Gauthier and Alex Freeland scored, both reaching on singles. Freeland posted 11 hits in the six-game series. 
Maddux Bruns, the starter for the Loons, worked his second four-inning shutout of the week. Despite allowing three men to reach scoring position, the 20-year-old kept the Chiefs off the board and struck out six.
Peoria posted eight of their 11 hits off Orlando Ortiz, who managed to just keep them to two hits. In the bottom of the fifth, three Chiefs in a row singled. Thomas Francisco, Ramon Mendoza, and Tyler Reichenborn all mustered a base knock. The right-hander buckled down and forced a 5-4-3 double play of Darlin Moquete, a run did come across.
Francisco and Mendoza singled back-to-back again in the seventh, Ortiz then got a fielder's choice to get the lead runner and a strikeout of Moquete, his third of the game.
In the fifth and sixth, Great Lakes produced three runs. Taylor Young doubled, his second hit of the game, and Frank Rodriguez was hit by a pitch. Austin Gauthier followed with a two-run double to right-center field. Trent Baker finished five innings, but all five runs were earned.
Griffin Lockwood-Powell, in the sixth, smacked a ball off Leonardo Tavares. Lockwood-Powell now has five home runs in 30 games played.
The eighth was the best opportunity for the Chiefs to cut the deficit. Ortiz was ousted after allowing two singles and a hit-by-pitch. Aldry Acosta then entered with the bases loaded and no outs. He got a fielder's choice, to take away a runner, with the Chief on third plated. Acosta then enforced a 6-4-3 double play, the right-hander's team-leading ninth of the year.
Juan Morillo finished Peoria 1-2-3 in the bottom of the ninth. Morillo's last four appearances have been four scoreless innings.
Rancho Cucamonga Quakes 3 – Lake Elsinore Storm (San Diego) 2
The Quakes won an absolutely epic game on Sunday, salvaging the final three games of a six-game set with Lake Elsinore to earn a split.
Rancho pitching took a perfect game into the eighth, only to see it broken up on a ball lost in the afternoon sky by right fielder Juan Alonso. Alonso would redeem himself though, driving in the go-ahead run in the last of the eighth to give the Quakes their third straight win and reclaim their 5.5 game lead over the Storm, now with 21 games to play in the first half.
The game's first run came off Storm starter Miguel Mendez in the fourth, as Kyle Nevin doubled and later scored on a Thayron Liranzo groundout, making it 1-0. Rancho starter Jared Karros was flawless, needing just 45 pitches to work four perfect innings before turning it over to the bullpen. Joel Ibarra retired the next six hitters, before Kelvin Bautista worked a 1-2-3 seventh. The Storm got the gift in the eighth against Rancho reliever Christian Ruebeck and tied the game on a Rancho error, evening the score at 1-1. Jorge Puerta opened the bottom of the eighth with a leadoff single against Will Geerdes (2-2) and eventually scored on Alonso's sac fly to deep center field, making it 2-1. The Quakes got a much-needed insurance run with two outs, as Kyle Nevin's RBI single brought home Dayton Dooney to make it 3-1. Madison Jeffrey gave up a run on two hits in the ninth, but with Samuel Zavala on at first, struck out Albert Fabian to end the game and earn his sixth save of the year.