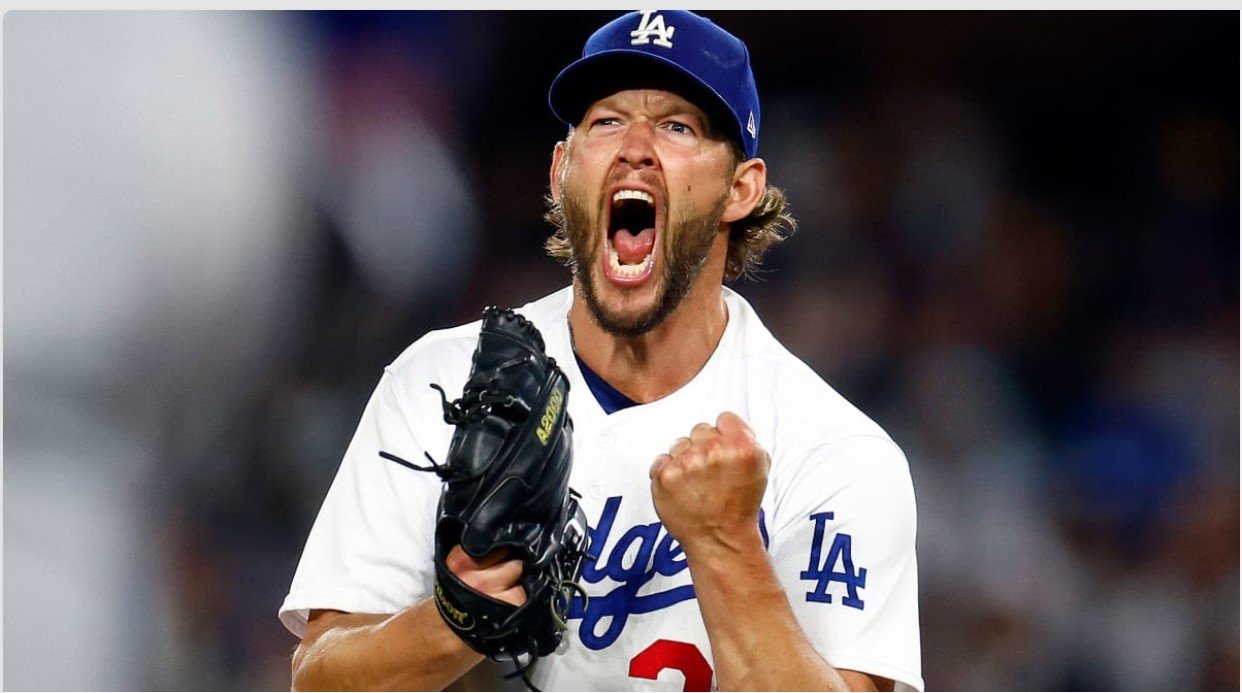 The Dodgers have now played 12 consecutive games since August 1, and are 11-1 during that stretch.  They now have a 7 game winning streak.  During August, the Dodgers have scored 78 runs, and allowed 35 runs, for a run differential of 43.  They are averaging 6.5 runs per game, and allowing an average of 2.9 runs per game.
They have scored 8 or more runs in 5 of the 12 games.  They are 5-0 in those games, and are 6-1 when they have score 7 or less. They are 3-1 when they have scored 4 or less.
So the offense is still clicking.
The starting pitching has been a concern until recently.  Since August 1, the Dodgers have added Lance Lynn and Ryan Yarbrough.  While Yarbrough has not started as of yet, he has been the second pitcher in, pitching 4.1 and 3.0 innings.  He followed an opener in his first LAD appearance.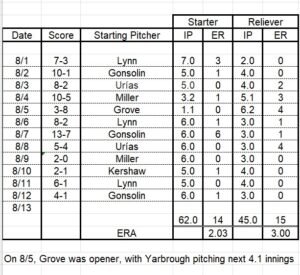 For the twelve games, the starters have gone:
7 IP – 1
6 IP – 5
5 IP – 4
2 IP – 1 (Bobby Miller)
1 IP – 1 (Michael Grove opener)
Lance Lynn has three starts and 18.0 IP.  Tony Gonsolin has three starts and 17.0 IP.  Julio Urías has two starts and 11.0 IP.  Bobby Miller has two starts and 9.2 IP. Michael Grove (1.1 IP) and Clayton Kershaw (5.0) have the other two starts.
While the starters have not been overly prolific in their length in their starts, half of their August starts have been at least 6.0 IP.
Also since August 1, the Dodgers have had Clayton Kershaw return to the rotation, along with the resurgence of Julio Urías.  Tony Gonsolin has had two excellent starts, and one not so good, but got the win. He looks to be a very good candidate for a Gonsolin/Yarbrough piggyback for the playoffs.
The one August loss was due to a bullpen meltdown of Yency Almonte and Caleb Ferguson.  Except for Tony Gonsolin's August 7 start against San Diego, the starting pitching has been excellent.
Of course there is always going to be those that will call out "Big Deal" they beat up on Oakland, San Diego, Arizona, and Colorado.  Since August 1, the starting pitching ERA is 2.03, while the relief ERA is 3.00.  Over a 12 consecutive game stretch, that is certainly commendable no matter who they are facing.
Since August 1, they have widened their lead on the NL West from 2.0 games to 8.5 games.  That is a 6.5 game increase over a 12 game stretch.  They are on a 97-98 win pace right now.
Going into the trade deadline, my contention was that if Kershaw cannot come back and be the pitcher he was before the injury, and if Julio Urías and Tony Gonsolin could not turn the corner, then the Dodgers would undoubtedly not win the WS anyway.  They needed one more starter, and picked him up (Lance Lynn), and a bulk inning/piggyback pitcher (Ryan Yarbrough), along with a strikeout pitching reliever (Joe Kelly).
The Dodgers could get Blake Treinen back before the end of the season, and he could be lethal in the playoffs.  I know Walker Buehler wants to come back, and the Dodgers seem to be giving him every opportunity to do just that.  He will not be in a position to go deep into games, but he could be a potential for a opener/piggyback game starter.
If this pitching continues at the current pace, the Dodgers will be formidable in the playoffs.  FanGraphs have them #2 to win WS, behind only Atlanta.  Their odds of getting into the playoffs is 100%.  They are 98.4% to win the Division, and 95.7% to clinch a bye.
The LAD offense is very dangerous, and they are not solely dependent on their stars.  AF/BG went out in the Winter to grab some excellent bench role players rather than wait until the trade deadline. Jason Heyward, David Peralta, and Miguel Rojas. That gave them the full season to gel with the team, and they have more than produced.  At the deadline, they added two hitters who can excel at hitting LHP: Amed Rosario and Kiké Hernández.  Since becoming LAD, these two have an OPS of .803 and .884 respectively.  Add in the full-time DH, JD Martinez, and the offense is geared up to score runs.
Also, James Outman has been red hot since July 1, and now sports an OPS north of .800 for the season.  Since July 1, his slash line reads .320/.460/.510/.970 in 126 PA and 100 AB.  That is All-Star range.  Also, since July 1, his K ratio is at 23.02% and his walk rate is at 18.25%.  He is much improved in both ratios.
The offense has been clicking most of the year, and with 46 games until the playoffs, the pitching looks to be getting ready to dominate as they did last year.  And yes my rose colored glasses fit just nicely, thank you very much.