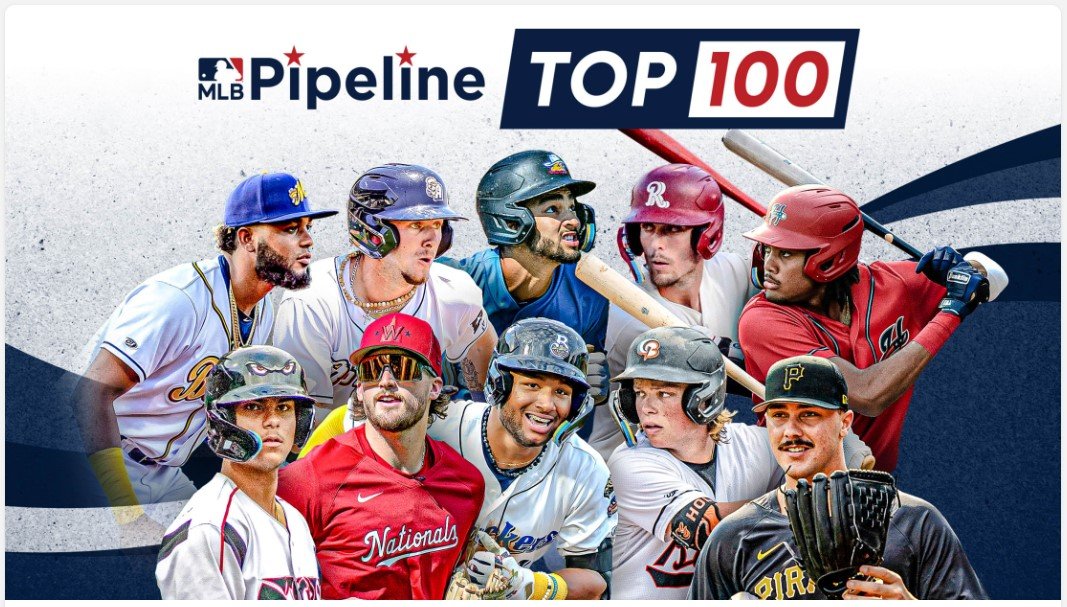 With MLB Pipeline's Top 100, their three gurus, Jonathan Mayo, Jim Callis, and Sam Dykstra, will put together a draft of a Top 100 and then run it by as many pro scouting directors, assistant general managers and executives as possible, using their feedback to fiddle with the order to get as close to what the industry thinks about the best prospects in the game.
Per MLB Pipeline, the Dodgers have a new #1 top 30 prospect, Dalton Rushing.  Michael Busch, Diego Cartaya, Nick Frasso, and Gavin Stone round out the top 5.
The Dodgers June update had 9  top 100 players.  They are now down to five.
Dalton Rushing – (46)
Michael Busch – (47)
Diego Cartaya – (61)
Nick Frasso – (70)
Gavin Stone – (85)
Bobby Miller and Emmet Sheehan have graduated from the prospect list, while Ryan Pepiot and Andy Pages were both removed from the top 100 list.
It has been awhile since the top LAD prospect was a low as #46.  The biggest fall was Diego Cartaya who has dropped from pre-season #8 to June update #22, to #61.  Busch fell some, but not terribly far.  From pre-season #42 to June update #38, to #47.
Dalton Rushing has moved to #6 ranked catcher, and Cartaya has dropped to #9.  It did not take long for San Diego's 17 year old catcher prospect, Ethan Salas, to assume the top catcher ranking, the top Padres prospect, and #5 overall prospect.  Rushing moved up 5 spots from #51 to #46.
Nick Frasso jumped from #95 to #70, while Gavin Stone dropped from pre-season #77 to June update #53, to #85.
While the Dodgers do have 5 top 100, they are showing depth more than elite prospects.  22 different teams placed a player in the top 100 before LAD's first one at #46.
Baltimore had 4 top 100 before LAD had their 1st.
Milwaukee had 4 top 100 before LAD had their 1st.
Pittsburgh had 3 top 100 before LAD had their 1st.
Washington had 3 top 100 before LAD had their 1st.
Tampa Bay had 3 top 100 before LAD had their 1st.
Eleven teams had 2 top 100 before LAD had their 1st.
6 teams had a single top 100 before LAD had their 1st.
Baltimore and Pittsburgh each had 6 top 100 prospects (4 top 28).  Milwaukee (4 top 38), Chicago Cubs (2 top 30), Colorado, Cincinnati (2 top 44), and NYM all tied the Dodgers with 5 top 100 prospects.
Kansas City and Houston did not land a player in the top 100 prospects.
Eleven 2023 draft picks have moved into the top 100, including 2 of the top 4, and 5 of the top 16.
Moving to the LAD top 30 prospects.  The Dodgers top prospect list includes:
RHP – 10
OF – 6
C – 5
LHP – 3
INF – 2
3B – 2
2B – 1
SS – 1
Six LAD prospects have graduated out of their prospect status.
Bobby Miller
Miguel Vargas
James Outman
Emmet Sheehan
Michael Grove
Jonny Deluca
Two LAD prospects dropped off the top 30 (C – Jesus Galiz and INF – Alex Freeland), while Eddys Leonard was traded to Detroit.
While the Dodgers did not place any of their 2023 draft picks into the top 100, 3 placed in the LAD Top 30:
Kendall George – OF – #15
Jake Gelof – 3B – #16
Brady Smith – RHP – #28
Six new pre-2023 draft picks have made the jump into the top 30.
Payton Martin – RHP – #12 – 19 years old – Rancho Cucamonga
Thayron Liranzo – C – #19 – 20 years old – Rancho Cucamonga
Chris Newell – OF – #24 – 22 years old – Great Lakes
Jesus Tillero – RHP – #27 – 17 years old – DSL
Hunter Feduccia – C – #29 – 26 years old – AAA
Austin Gauthier – Util – #30 – 24 years old – Tulsa
Payton Martin, a 17th round draft pick in 2022, has made the biggest jump.  I have been writing about Martin all season long.  19 years old in full season A Ball.  In 14 games, 39.2 IP, Martin has a 2.04 ERA and a 1.13 WHIP.  He has 48 K and 15 BB.  He is in very much of a hitters league.  He is now the 6th rated LAD RHP.
Thayron Liranzo and Hunter Feduccia are two catchers that have been knocking on the top 30 door all year.  I do think Feduccia is playing at the MLB level next year.  I think there is an outside chance that Feduccia gets called up when rosters expand.  Small chance with Busch, Deluca, and Vargas all eligible to be recalled.  I just think he needs to be considered.
Chris Newell ate up the California League but is finding the Midwest League a little tougher.
Jesus Tillero is one of two DSL prospects in the top 30,  The other is SS Joendry Vargas.  Jesus has pitched in 9 games, 27 IP, 1.33 ERA, 0.70 WHIP, 31 K and 5 BB.
Joendry Vargas (17 years old) – 180 PA – .336/.433/.550/.983, HR, 17 XBH, 27 BB, 27 K.
Austin Gauthier has come from being an Undrafted Free Agent (2021) out of Hofstra, to being a solid player both last year, and especially this year.  This year:
Great Lakes – .365/.487/.568/1.055 – 6 HR, 17 XBH, 36 BB, 30 K
Tulsa – .284/.406/.460/.866 – 6 HR, 22 XBH, 44 BB, 40K
The Dodgers are still top heavy in RHP and catching.  They are getting some additional OF prospects, especially younger and lower in the organization.  But they still are lacking for elite infield prospects, especially up the middle.
Dalton Rushing has been struggling since he came back from a bad concussion.  In his last 28 games since he came off the concussion IL, with 121 PA, he is hitting .151/.347/.258/.605.  It is difficult to judge Rushing since he has returned to the lineup.  He has not been in the lineup since August 8, since he is back on the IL.  He is getting the benefit of the doubt with the talent evaluators.
Contrarily, Diego Cartaya is slugging again.
The Dodgers have multiple players who will reach MLB, but becoming an All-Star might not happen.  We need to see how the younger players in the lower levels of the organization develop.  I am still very optimistic on Payton Martin, Josue De Paula, Joendry Vargas, Jesus Tillero, and Thayron Liranzo.  I am also very curious as to how far Austin Gauthier can climb the organizational ladder.  How do you not pull for an undrafted free agent.
08-11-2023 – MiLB Game Summary Report
OKC Dodgers 5 – Tacoma Rainiers (Seattle) 2 
Gavin Stone started but was not quite as sharp as he was the last start.  He did get thru 6.0 IP and threw 102 pitches.  He allowed 2 runs (1 earned) on 3 hits, 5 BB, and 7 K.  He did surrender a solo HR.
David Freitas had a three hit night.  OKC scored 5 runs on 5 solo HRs.
Justin Yurchak (4)
Ryan Ward (17)
Bryson Brigman (2)
Michael Busch (23)
David Freitas (3)
Tulsa Drillers 5 – Amarillo Sod Poodles (Arizona) 1
Kendall Williams continued his outstanding pitching at AA with 6.0 more scoreless innings.  He allowed 3 hits, with no BB, and 7 K.  He has lowered his AA ERA to 0.90.
Key Performers:
Austin Gauthier – 2-4, 2 runs
Ismael Alcantara – 2-3, 1 RBI
Yusniel Diaz – 1-2, 2 BB, 2 runs
Great Lakes Loons vs West Michigan Whitecaps (Detroit) – Game Postponed – DH Saturday
Inland Empire 66ers (LAA) 5 – Rancho Cucamonga Quakes 2
Inland Empire scored 2 runs off starter Jared Karros and 3 more off Carlos Martinez on a 3-run HR.  RC scored a pair of runs in the 9th on a 1-out 2-run HR by Wilman Diaz.
Key Performers:
Wilman Diaz – 2-4, 1 run, 2 RBI