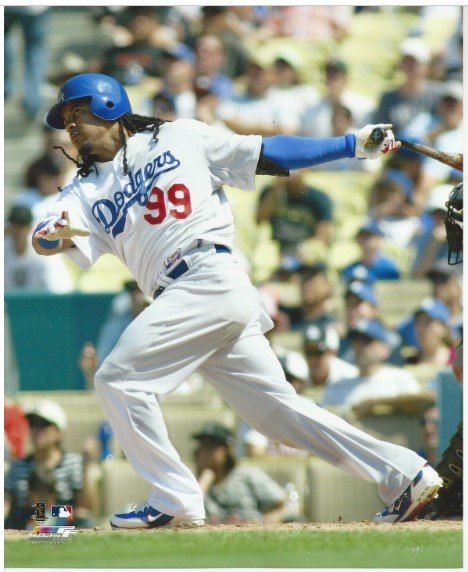 There are several players who spent a short time with the Dodgers that I enjoyed watching. Some made impacts and others, not so much. Sometimes a name player can be traded and not really do much for the team he goes to. The Dodgers over the years have obtained some guys like that.
In 2021 they signed Albert Pujols as a free agent after the Angels unexpectedly released him from the last year of his 10 year deal. There were rumblings from the Angels side that Pujols demanded to play every day. He had gotten off to a horrible start.
After he had signed with the Dodgers, he denied saying that. He was signed to improve LA's attack against left-handed pitching. Indeed in his first game as a Dodger, he drove home the first run in a 3-1 win over Madison Bumgarner who was pitching for the D-Backs.
Pujols himself credited the Dodger organization for renewing his love of the game. He went on to hit .254 in LA with 12 homers and 38 driven in. He went 5-17 during the playoff run for the Dodgers. When he returned to LA as a member of the Cardinals in 22, he got a standing ovation from the crowd at Dodger Stadium. When he proceeded to hit # 699 and 700 off of Dodger pitching, he received two more standing ovations. I had never seen that happen for an opposing player before.
Ned Colletti when he was the GM picked up a few players at the ends of their careers. He did it with Greg Maddux twice. Maddux, although not the pitcher he once was, made an impact on the young pitchers on the Dodgers at the time.
Ned picked up Jim Thome too. Thome, who at the time was nursing an injury, only appeared in 17 games with LA. He did not hit a homer and had only 4 hits. His stint, although much shorter, reminded me of 1977 when the Dodgers, obviously looking for some left handed power off of the bench, picked up Boog Powell six days after the Indians released him. Boog played 50 games as a Dodger and hit no homers. Most of his AB's were as a PH and he was released at the end of August that year.
Juan Marichal was a Dodger for a short and not very successful two games in 1975. Dick Stuart, Dr. Strangeglove, played in 34 games for the 1966 Dodgers, he hit .268 and had three homers. He was released by the Dodgers after the season, spent 67-68 out of baseball and tried a comeback with the 69 Angels.
I think outside of Pujols, my favorite short time Dodger was Manny Ramirez. When Manny was traded for at the deadline in 2008, he immediately brought huge excitement to Dodger Stadium.
Left field became Mannywood. # 99 jersey's were everywhere as were the dreadlocks Manny sported when he arrived in LA. He hit spectacular homers and struck out just as spectacularly.
He went on an offensive tear pretty much unlike anything I had ever witnessed. In 53 games he hit .396. He had an OPS of 1.232. He hit 17 homers and knocked in 53 runs. He hit a pinch-hit homer on his bobblehead night when he could not play because of a slightly pulled hammy.
He continued his punishment of pitchers in the postseason series against the Phillies and the Cubs hitting .500 over both with 4 homers, 10 RBI's and 2 doubles. A free agent after the season, everyone was wondering where he would sign.
Manny being Manny, he kept everyone waiting and finally on the 4th of March, 2009, he signed a two-year deal with the Dodgers proclaiming, " I'M Back!" But 2009 would prove to be Manny's downfall. He failed a PED test and drew a suspension for 50 games.
He hit .290 in 104 games for the Dodgers. He had 19 homers and drove in 63. But in 2010, for whatever reason, he just was not the same player. On August 31 that year, he was taken on waivers by the White Sox. He was hitting .311 at the time with 9 long balls. Over his 223 game Dodger career he slashed, .322/.480/.580 and had an OPS of 1.012. He hit 44 homers over that time and drove in 156 runs.
Yep, Manny was very entertaining. I often wondered if he had not done the PED's and been healthy, what kind of difference maker he could have been. I did not experience that level of excitement over one player until the arrival of Yasiel Puig in 2013.
Well, those are a few of my favorite short timers. How about you?????