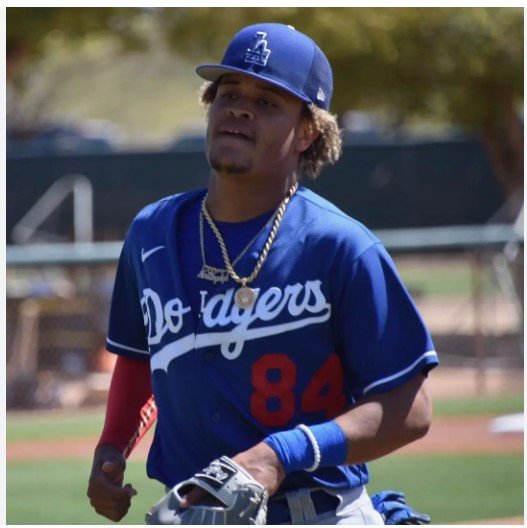 With catcher Diego Cartaya in 2018 and outfielder Luis Rodriguez in 2019, the Dodgers signed the top ranked Venezuelan prospect two years in a row. In their 2020 class, they signed another top Venezuelan prospect, SS Wilman Diaz, Maracay, Venezuela.  He was the overall #3 International Free Agent in the 2020 class.
According to industry sources, Wilman signed for $2,697,500.  The Dodgers also signed another Venezuelan catcher in the same draft group.  The #8 prospect, Jesus Galiz, signed for $812,500.
Wilman is from the same program that touted catching prospects Diego Cartaya and Yeiner Fernandez played at prior to signing with the Dodgers.
Diaz not only was MLB Pipeline's third-ranked prospect, but additionally the highest-ranked teenager of his class. The 17-year-old's best tool as hitting, having received a 60 on the 20-80 grading scale.
Diaz also is a capable defender at shortstop and has gotten rave reviews about his arm strength. Although he now seems to be working more around the infield.
Here is his pre-draft scouting video:
Wilman broke into the LAD Top 30 prospects at #9 in 2021.  His scouting grades were:
55 hit, 50 power, 60 run, 55 arm, 55 field, 50 overall
After his first year at DSL, Wilman dropped to #25 in 2022.  His offensive scouting grades dropped while his defensive grades improved.
45 hit, 45 power, 60 run, 60 arm, 60 field, 45 overall
After his 2022 season at Rookie League in the Arizona Complex League, Diaz dropped out of the Top 30 prospects.  That was reflected in the FanGraphs Scouting Report in 2023.
Scouting Reports history:
December 2020
Diaz has a good balance of tools, skills, athleticism and physical upside. He's 6-foot-2, 165 pounds with a loose, low-effort swing, good bat speed and plate discipline with good performance in games. He hits for power in games too, showing the ability to backspin balls to the pull side and drive the ball with impact to the opposite field as well. He still has a lean, athletic frame with a lot of space to fill out, so his power should climb once he gets stronger. Diaz also has the athleticism and actions to give him a good chance to stay at shortstop. He takes pride in his speed, which has improved to a plus tool, and he plays under control in the field with good hands, footwork and an above-average arm.
December 2021
Diaz has all the ingredients to hit with advanced plate discipline, short actions and a loose, easy swing. He does a good job staying behind the ball and has plenty of room to add strength. Diaz projects to be an above-average hitter with at least average power, but he still has some swing work ahead. The Dodgers plan to work with him on staying in his legs more and keeping his hands closer to his body to create a more linear bat path. Diaz is more polished on defense. He's a borderline plus runner with plenty of range, sure hands and plus arm strength from shortstop. He's a good athlete who projects to stay at the position even as he adds weight and strength.
FanGraphs 2021 – Scouting Report
Diaz has filled out a bit in the middle and does not have the same level of rotational explosiveness he did as an amateur, when he had some of the most exciting rotational athleticism some scouts had ever seen. This may be because the Dodgers have altered his swing, especially the way Diaz uses his lower half, as a way of helping him remedy plate coverage issues they thought would come with his old swing. During 2021 instructs and '22 spring training and extended, his feel to hit has been middling. He's not squaring pitches up with any authority and has tended to hit a lot of low liners and grounders. His defense at shortstop has been as advertised, though, and he finds lots of creative ways to turn the baseball around to first base. The context surrounding Diaz's current look — namely that he had a huge amateur profile (he was one of the more exciting, tooled-up players in his signing class) and is currently going through some mechanical changes — are important to consider here, but if you walked into Dodgers camp without knowing any of that, you'd think he was a glove-oriented utility prospect, similar to Jacob Amaya except several levels behind him.
FanGraphs 2022 – Scouting Report
An extremely high-profile amateur prospect, Diaz plays a very good shortstop, but he's struggling to cover enough of the plate to be viewed as a potential impact player even after changes to his swing. The wowing rotational explosiveness he showed as an amateur quickly dissipated in pro ball, though some of this may have been due to the swing alteration. At this point, we're talking about a 30-grade hitter with a 30-grade approach, someone who might be a glove-first bench option down the road barring a surprising resurgence.

His 2023 start at ACL was so much better than his 2022 season that he was moved up to full season A League at Rancho Cucamonga.  Something has clicked for Wilman, as he is hitting much better at RC.  He still has a little too much swing and miss, but maybe that will come as he gets more comfortable with his new swing.
Wilman was just named California League Player of the Week.  Diaz had a great week for the Quakes, going 12-for-21 with a triple and four home runs. Diaz was assigned to Rancho Cucamonga from the Arizona Complex League Dodgers on July 18 and has not looked back.
Maybe, just maybe, Wilman can find himself back in the LAD Top 30 prospects.
08-09-2023 – MiLB Game Summary Report
Tacoma Rainiers (Seattle) 6 – OKC Dodgers 4
Tacoma scored 5 runs in the first three innings off Matt Andriese.  OKC battled, but could not catch them.  Michael Busch continues to punish the baseball by slugging two more HRs in a losing cause.
Michael Busch 21
Michael Busch hit his 21st HR & has HRs on back to back nights. He's also hitting .344 this month, OPS 1.025, and hit .324 last month. That is all! #dodgers pic.twitter.com/zofcfqDnXJ

— Dodgers Daily (@dodger_daily) August 10, 2023
Michael Busch 22
Yet another Michael Busch homer! He is absolutely unstoppable right now pic.twitter.com/6MpNXV7Yg5

— Bruce Kuntz (@Bnicklaus7) August 10, 2023
Key Performers:
Michael Busch – 3-4, 1 BB, 2 runs, 2 RBI, 2 HR (22)
Justin Yurchak – 3-4, 1 RBI, double (9)
Bryson Brigman – 2-4
Michael Busch is now hitting – .326/.433/.621/1.054
Amarillo Sod Poodles (Arizona) 7 – Tulsa Drillers 4
The Drillers scored 3 in the bottom of the first, but Nick Frasso could not match his outstanding performance in his last start.  He went 4.0 IP, allowing 3 runs on 5 hits, 2 BB and 3 K and came out in a 3-3 tie.
Tulsa had 4 hits, including a 3 run HR from Imanol Vargas and a solo HR by Josh Stowers for the Drillers 4 runs.
Great Lakes Loons 5 – West Michigan Whitecaps (Detroit) 1
Maddux Bruns got back to productive pitching, although not as efficient as he would have liked.  He got to 78 pitches after 4.1 IP.  He surrendered 1 run on 2 hits, 3 walks, and 7 Ks.
Three Loons relievers pitched 4.2 hitless/scoreless innings to finish the game.
Key Performers:
Chris Alleyne – 2-4, 1 run, 1 RBI
Luis Guerra – 2-4, 2 RBI
Doubles – Jake Vogel (18), Max Hewitt (4), 1 RBI
Inland Empire 66ers (LAA) – Rancho Cucamonga 4
Inland Empire scored 4 in the 7th to give the 66ers a 7-1 lead.  RC scored 3 in the 8th, on a Josue De Paula single, back to back doubles by Joe Vetrano and Jesus Galiz, and a sac fly by Luis Rodriguez.  That was as close as they got.
Key Performers:
Josue De Paula – 2-4, 1 BB, 1 run
Jake Gelof – 2-5, 1 RBI, double (1)
Jesus Galiz – 2-4, 1 run, 2 RBI, 2 doubles (11)
Doubles – Joe Vetrano (3) and Sam Mongelli (1)