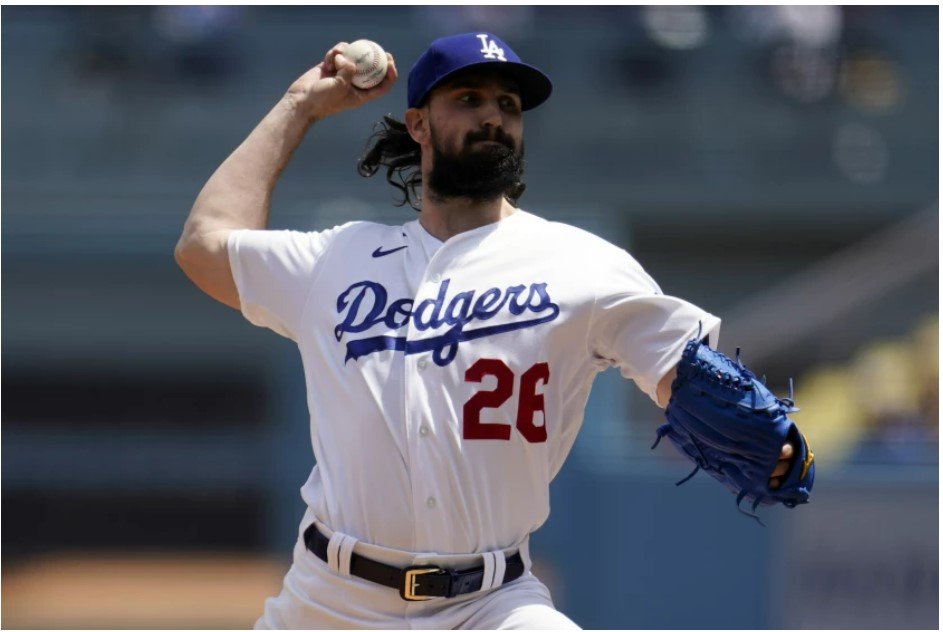 Ahhh.  Home cooking.  The difference between the Dodger pitchers at home and on the road is mind-boggling.
Home:
ERA – 3.13 (#1)
WHIP – 1.08 (#1)
BAA – .219 (#5)
BB – 72 (#1 least in MLB)
K – 258 (#26)
Away:
ERA – 5.70 (#29)
WHIP – 1.44 (#25)
BAA – .271 (#27)
BB – 113 (#11)
K – 298 (#8)
How does that even make sense.
So they come home, and they allow 1 gift ER in the game.
This was Will Smith bobblehead night, and he did not disappoint.  On a 3-1 sinker, Smith drove the next pitch 413 feet into the LF stands and a 2-0 lead.
Tony Gonsolin was given an extra two days rest…rest he says he needed.  Tony Gonsolin generally dominates at Dodger Stadium.  Coming into the game, Gonsolin was 16-3 with a 2.02 ERA.  After Tuesday's game, Gonsolin is now 17-3 with a 1.94 ERA.  He threw 90 pitches over 6.0 shutout innings for another quality start.  A couple of bad plays defensively added to the pitch count.  I will let you decide which plays I am talking about.
Gonsolin had 6 K's.  Three were on swing and miss splitters.  The other three were called; one on a slider and two on 4-seam fastballs at 91.9 MPH and 92.0 MPH.  Noah Syndergaard should learn from Gonsolin who can get outs on 92 MPH 4-seamers.
The K's were welcome, but what made this night special was the soft contact.  Gonsolin gave up TWO hard hit balls all night.  CWS did not have one batted ball in excess of 100.  The Dodgers had 7.  He did allow two hits and walked two batters in a very dominating 6.0 IP.  Only one runner reached second base (in the 4th).
Lance Lynn after the first inning was his usual tough competitor.  Many of us were hoping that the Dodgers would have traded for Lance Lynn back in 2020.  Texas decided to keep him at the deadline.  Instead Texas traded Lynn in December 2020 to CWS for LHP Avery Weems and RHP Dane Dunning.  Lynn signed a 2-year deal with CWS in 2022 for $38MM, with an $18MM club option for 2024 and a $1MM buyout.  Lynn is 36 and has had his share of injuries.  If I were to be tempted by a CWS starter, I would rather look into Dylan Cease and Lucas Giolito.
My overall preference for a CWS pitcher would be LHRP Garrett Crochet, but he is going to be VERY difficult to acquire.  He has all three of his arbitration years ahead.
The bullpen did its part for the most part.  Caleb Ferguson was back at his usual self.  He epitomizes the difference between home and away.  Going into Tuesday's game, Ferguson pitched 11.2 innings at home with a 1.54 ERA.  Away, in 11.1 IP, Ferguson has a miserable 6.35 ERA.  In his one inning, he retired the side in order on a pop out and two K's.
Evan Phillips was outstanding as well.  He struck out Luis Robert on 7 pitches, and none were strikes.  Tayler Scott entered in the 9th inning to close it out.  He was immediately met by an Andrew Vaughn ground rule double.  On a come backer, Scott wanted to go to third, but held on to the ball a little too long and Vaughn reached 3rd on the fielder's choice.  The LAD announcers thought he should have just gone to 1st to get the out.  That certainly would have been prudent, but I think he just held on to the ball too long.
Brusdar Graterol came in to relieve Scott.  He gave up a sac fly and then got the final out on a 3-1 ground out.
Yes, AF missed on Syndergaard (so far).  But his other acquisitions may not be MVP level, but they are still big contributors on this LAD team.  David Peralta hit a 2-run HR and Jason Heyward had a pair of hits.  JDM did not get any hits, but he is a huge contributor for this team.  Interesting metric on Peralta.  Since May 1, Freddie Freeman has the #1 BA in the NL, Luis Arraez has #2, and David Peralta has the #3.  I know Peralta got off to a slow start and caught the wrath of a lot of fans.  I was one who was happy he would no longer be tormenting the Dodgers as he did for so many years with Arizona.  He is proving to be very big addition, especially against RHP.
The Dodgers picked up a game on the DBacks.  But SF and SD both won.
Game 2 has Clayton Kershaw facing off against for Cleveland and San Diego pitcher, Mike Clevinger.
Charlotte in the house for Dad's bobblehead night. 🥹 pic.twitter.com/btVoQnauWc

— Los Angeles Dodgers (@Dodgers) June 14, 2023
06-13-2023 – MiLB Game Summary Reports
OKC Dodgers 17 – Salt Lake City Bees (LAA) 8
 The Oklahoma City Dodgers scored 10 runs through the first two innings as they went on to win their series opener, 17-8, against the Salt Lake Bees Tuesday night. The Bees  took the game's first lead when Trey Cabbage led off the game with a solo home run (17). The Dodgers responded with nine runs in the bottom of the first inning, including a three-run home run by Ryan Ward and a two-run double by Drew Avans for a 10-1 lead. Ward hit a second home run in as many at-bats in the second inning to give the Dodgers a 10-1 advantage. Cabbage's RBI double in the third inning and two-run homer in the fifth inning cut the Dodgers' lead to 10-4. The Bees went on to trim OKC's lead to 10-6 before Devin Mann hit a two-run double in the sixth inning and Kole Calhoun added a sacrifice fly for a 13-6 lead. After the Bees added another run, Michael Busch smashed a three-run homer into the upper deck in right field for a nine-run OKC lead before the teams exchanged runs in the eighth and ninth innings.
Justin Hagenman normally a RHRP started his third game and completed 4.0 innings.  He allowed 4 runs on 6 hits, including 2 HRs.  Mark Washington came in to relieve in the top of the 5th, but there was a rain delay, and when play resumed, Washington was removed.  Jake Reed came in for Washington,  He did not allow any runs in the 5th.  In the 6th, he gave up a single and walk.  With one out, Bryan Hudson came in with two inherited runners.  A WP put both runners in scoring position and a single scored two.
Hudson did have 4 K's in his 1.1 IP.  Justin Bruihl pitched a scoreless inning and Wander Suero surrendered a run in the 9th.
The Pacific Coast League-leading Dodgers improved to 46-18 overall and are a season-best 28 games above. 500. They also have the most wins by an OKC team through 64 games during the Bricktown era (since 1998).
With the win, the Dodgers maintained their 10-game lead in the PCL standings ahead of second-place Reno and Round Rock, which both also won their games Tuesday night. Eleven games remain in the first half, which wraps up June 25. With a win Wednesday, the Dodgers can clinch the first-half league title as the Dodgers own the head-to-head tiebreaker against both Reno and Round Rock.
Drew Avans – 2-6, 2 runs, 2 RBI, 2 doubles (9)
Yonny Hernandez – 1-4, 2 runs, 2 RBI, double (11)
Michael Busch – 3-4, 3 runs, 4 RBI, triple (2), HR (7)
Jahmai Jones – 2-5, double (16)
Ryan Ward – 3-4, 3 runs, 4 RBI, double (16) 2 HR (6)
Devin Mann – 3-3, 2 runs, 2 RBI, double (24)
Hunter Feduccia – 2-4, 1 run, 2 RBI, double (7)
This was the 4th HR in Michael Busch's last 5 games.
Springfield Cardinals 9 – Tulsa Drillers 3
 With just two weeks left in the first half of the Texas League season, the Tulsa Drillers looked to keep their division lead as they traveled to face the Springfield Cardinals at Hammons Field. Pitching has been the strong point of the Drillers all season, but on Tuesday evening, five Tulsa pitchers combined to issue nine walks as the Cardinals took a 9-3 game-one win.
Springfield took a 2-0 lead in the second inning on consecutive home runs from Arquimedes Gamboa and Mike Antico.
Carson Taylor cut the lead in half in the fifth inning with his fourth home run of the year, making the score 2-1.
The two runs in the second were the only runs allowed by Tulsa starting pitcher Nick Nastrini. He exited his tenth start after completing four innings and giving up five hits and four walks.
In the sixth inning, the Redbirds broke the game open by scoring seven runs that began with a lead-off home run from L.J. Jones. Five walks and three hits helped Springfield score the final six runs of the inning, making the score 9-1.
The Drillers used three pitchers in the inning as Braydon Fisher, Ben Harris and Tanner Dodson each took the mound.
Tulsa benefitted from two walks in the eighth inning to score two more runs. With one out, Austin Gauthier and Jorbit Vivas drew consecutive walks, and José Ramos singled to give the Drillers their second run. A wild pitch advanced both Tulsa runners to second and third for Imanol Vargas, who plated a third run on a ground out to shortstop Gamboa.
Ben Casparius draws the start in Game 2 of the series.
Jose Ramos – 2-4
Carson Taylor – 1-3, HR (4)
Wisconsin Timber Rattlers (Brewers) 8 – Great Lakes Loons 5
The Loons took the field knowing they were the Midwest League first half champions.
The Great Lakes Loons scored four runs in the final two innings but came up short in their series opener against the Wisconsin Timber Rattlers 8-5.
Great Lakes pitching walked 10 batters, including three in the sixth, the inning where the Timber Rattlers tallied four of their eight runs.
Robbie Peto walked two batters and then forced two flyballs, an out away from three scoreless innings. Eduarqui Fernandez reached on an infield single to plate a run. Robert Moore then swung at the first pitch and hammered it over the right field wall to make it 7-1.
The Loons in the final four innings left five on base. Ismael Alcantara singled in the sixth, and Jake Vogel reached on a base knock in the seventh. Both men were left on base, with Wisconsin's Ryan Brady striking out two Great Lakes batters in each inning.
Three walks assisted the Loons in bringing two across in the eighth. Ismael Alcantara, Chris Alleyne, and Frank Rodriguez all advanced on base on balls consecutively. Rodriguez's walk scored TaylorYoung, who reached on a fielder's choice, and Alcantara came across the plate after a wild pitch.
In the ninth, down 8-3, Great Lakes strung together three straight hits. Yeiner Fernandez singled, followed by Alex Freeland, his second hit. Griffin Lockwood-Powell, who entered in the eighth delivered in his first plate appearance, a two-run double to left field. The next two Loons went down in order.
Hyun-il Choi started the game, allowing three runs produced from five Timber Rattlers hits. Darrien Miller mashed a ball over the right-field fence in the second inning. In the third, Matt Wood doubled home a run, reached third after a single, and moved home following a balk.
The Loons' lone run through the first seven innings was a solo home run from Frank Rodriguez in the bottom of the third inning. In 13 games, Rodriguez has seven hits, two being home runs.
Great Lakes offensively went 1-for-15 with runners in scoring position and left 11 on base.
San Jose Giants 2 – Rancho Cucamonga Quakes 1
The offensive woes carried over to San Jose on Tuesday night, as the Quakes dropped a 2-1 decision to the Giants at Excite Ballpark.
Despite a season-high three hits from Josue De Paula, including his first homer in a Rancho uniform, the Quakes dropped their fourth straight game, matching a season-worst losing streak which was established earlier on this long road trip.

The Quakes would finish with just six hits.
With eight games to go in the first half, the Rancho lead is still at 3.5 games over both Lake Elsinore and Inland Empire.
Rancho starter Gabe Emmett was solid for a third straight outing, but couldn't carry his recent scoreless streak very deep into Tuesday's start. Emmett allowed a run in the first and the game-winner in the sixth, as he went deeper than any Rancho starter this year. Trailing 2-1 in the eighth, De Paula struck for his third hit of the day, but pinch-runner Kenneth Betancourt was gunned down at the plate to end the rally. Rancho went in order in the ninth.
Josue De Paula – 3-4, HR (1)