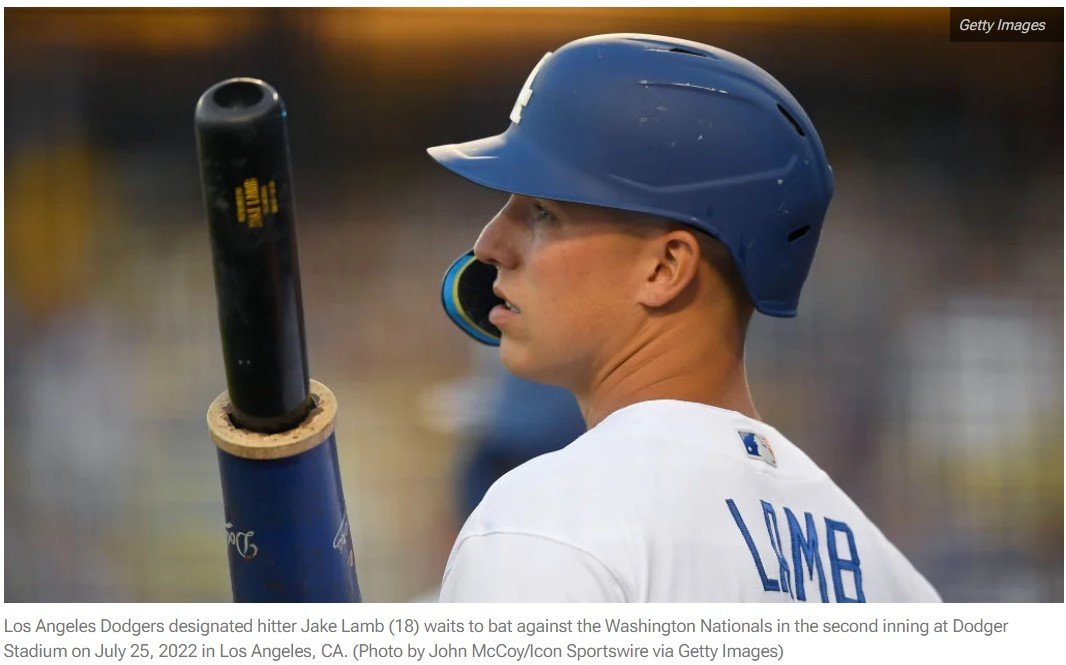 Okay, I have gotten off the ledge.  The Dodgers pulled off 5 trades, none of which figure to help the Dodgers this year, with the exception of opening up 40 man roster spots.
July 30 – Dodgers trade Zach McKinstry to Chicago Cubs for RHRP, Chris Martin.
August 1 – Dodgers trade LHRP Garrett Cleavinger to Tampa Bay for 18 year old OF German Tapia (DSL-Bautista).
August 2 – Dodgers trade RHSP Mitch White and MiLB 3B Alex De Jesus (A+) to Toronto for 23 year old RHP Nick Frasso (A+) and 20 year old LHP Moises Brito (DSL).
August 2 – Dodgers trade 3B/OF Jake Lamb to Seattle for cash or PTBNL
August 2 – Dodgers trade RHP Clayton Beeter (#15 prospect – AA) to NYY for Joey Gallo.
The Dodgers picked up two 40 man roster spots with the above.  They have used one with the addition of Miguel Vargas on August 2.  They now sit at 39.
There is going to need to be some roster manipulation in the next two months.  Coming off the 60 Day IL before the end of August (?):
Maybe before the end of the year:
Looking more doubtful:
Probable DFA for when players come off:
I am happy for Zach McKinstry. He is actually in the starting lineup for the Cubs.  I have no visions of Chris Martin being a high leverage reliever.  He is a single inning middle reliever.  He will throw strikes.  He will get strikeouts.  He will not walk a lot of batters.  And he will give up HRs.  That is who he is.
Garrett Cleavinger is not on the Tampa Bay ML roster. He has not yet been assigned to a MiLB team, but presumably it will be Durham Bulls (AAA).  German Tapia is assigned to DSL Bautista.  Far away from MLB.
Mitch White will join Ross Stripling in the Blue Jays rotation.  Alex De Jesus has been assigned to Vancouver Canadiens in High A.  Harold has agreed to do one of his patented Meet Nick Frasso posts for later this week.  Moises Brito is assigned to DSL Bautista.  Far away from MLB.
I am also happy for Jake Lamb who is heading home to Seattle. This was a convenient way of gaining a roster spot, and to make a player happy.  Good for Jake Lamb, good for AF/BG.
I am sorry, but I cannot get excited about this one at all. I will repeat what Joey Gallo said about his hitting ability.
"Coming here, I knew it was going to be really tough. It took a while for people to understand the player I am in Texas. Early on, I was the No. 1 prospect, but I struck out a lot. I was a strange player. But Rangers fans started to understand, 'OK, this guy strikes out, but he hits homers, he plays good defense, he's a good person.' Rangers fans came to understand that. Here in New York, if you don't get enough hits, it doesn't matter what else you're doing. They're going to tear you apart. I've been a Three True Outcomes player my whole life. It's not like I hit .300 my whole life. I've been a .200 hitter my whole life and I hit .160 here. So I knew New York was going to be a tough time and a tough place to play, especially the player that I am."
I will also re-post the apparent pitcher's book on Gallo.
Pitch chart for 4-seam fastballs that generated a swing-and-miss from Joey Gallo this season. Starting to think the book is out on that one. pic.twitter.com/DiZ68KIn1H

— Lindsey Adler (@lindseyadler) June 18, 2022
Gallo is now a Dodger so I will be rooting for him.  He is currently assigned to MiLB (not to a specific team).  He is due to be in SF on Wednesday, and it was reported that he will be in the lineup.  The LAD active roster is at 25 after losing Jake Lamb and JT (IL) and only adding Miguel Vargas.  Joey Gallo will make 26.  James Outman and Miguel Vargas will stay with the big league team at least until CT3 and Edwin Ríos are due back.  Both CT3 and Ríos are at OKC in rehab.  CT3 went 0-3, while Ríos was 2-4.
I get it.  The Dodgers are loaded.  IF (BIG IF) May, Buehler, Treinen, VGon, all come back healthy, their pitching will be stacked.  They have a 12 game lead heading into the first game post trade deadline.  There was never a question that the LAD were going to make the playoffs.  The question is (as it always is) how will they do in the playoffs.
LAD fans can hate the Pads all they want, but to ignore, or dismiss as insignificant, what they did this trade deadline is ignorant and arrogant.
They added:
Juan Soto, Josh Bell, Josh Hader, and Brandon Drury. All four are solid to elite additions.
They lost:
C.J. Abrams, MacKenzie Gore, Luke Voit, Eric Hosmer, Taylor Rogers, Dinelson Lamet, and 8 prospects:
They are also getting Fernando Tatis, Jr.  back later this month.  If the Dodgers fans can be excited about getting the LAD injured players back, SD fans have every right to get excited about Tatis.
Granted, that pretty much decimates the Padres farm system, and I can hear those now who think that a farm system is more important than the ML team, will tell everyone how short sighted the Padres are.  The Padres are going for it this year. They do not care if they catch the Dodgers.  They are going to make the playoffs, and they are going to be very formidable come October.  Plus, Machado, Tatis Jr., Soto, and Hader will all be back next year.
NYY also with a huge lead in the AL East (and AL), needed a LH bat.  Andrew Benintendi (check).  They needed a CF.  Harrison Bader (check).  A front line starting pitcher.  Frankie Montas (check).  They needed another reliever to take the place of Michael King.  Scott Effross (check).  And now they no longer have Joey Gallo.
The Cardinals needed starting pitching.  José Quintana and Jordan Montgomery (check).  They got reliever Chris Stratton who is having a rough year, but had three good years for 2019-2021.  Maybe he gets reinvigorated joining a team in a pennant chase.
The Brewers lost Josh Hader, but got Taylor Rogers, Dinelson Lamet, Trevor Rosenthal, and Matt Bush.  It is hard to argue that their bullpen is not better now than it was the day before the trade.
The Braves got RHSP Jake Odorizzi, RHRP Raisel Iglesias, and OF Robbie Grossman, and only losing LHRP Will Smith.  Many are going to say…Robbie Grossman, big deal.  I think that is what was said about Adam Duvall, Eddie Rosario, and Jorge Soler for the Braves last year.
The Phillies added a true CF (Brandon Marsh), another quality starter (Noah Syndergaard), and finally a quality proven closer for that bullpen (David Robertson).
Houston needed a catcher.  Christian Vazquez (check).  They needed a RH OF bat.  Trey Mancini (check).  They needed another high leverage reliever.  Will Smith (check).
Three other AL teams that will be longshots to make it to the WS, Twins, Blue Jays, and Mariners all improved their teams.
The contenders seemed to have all got better.
I do not have access to the medical records for any of the LAD players on the IL.  But we are talking about significant injuries, and to expect that they will all come back as good as they were before they went on the IL is not realistic.  Buehler is already talking about perhaps going into the bullpen.  He was not prolific in that role the last time he tried it.  Will Dustin May be allowed to stretch out to be a realistic option in a starting role in October?
Tommy Kahnle is at best a 50-50 shot at being able to return this year.  Victor Gonzalez last pitched August 21, 2021.  Danny Duffy last pitched July 16, 2021.  It has taken an extraordinarily long time for Blake Treinen to come back from what was originally considered a minor injury.  Are all three going to make a full comeback?
The Dodgers are still the Dodgers.  They have the best record in MLB with elite players hopefully back soon.   If they get them all back, they will be more than tough to beat.
My biggest frustration for the day was the loss of Mitch White and Alex De Jesus.  They have been favorites of mine since they signed.  Maybe Nick Frasso does develop to become that guy.  That was more of an issue for me than the questionable acquisition of Joey Gallo.  Who knows, maybe Gallo becomes this year's David Freese, Steve Pearce, and Jorge Soler by carrying the Dodgers in the World Series.  He is capable.