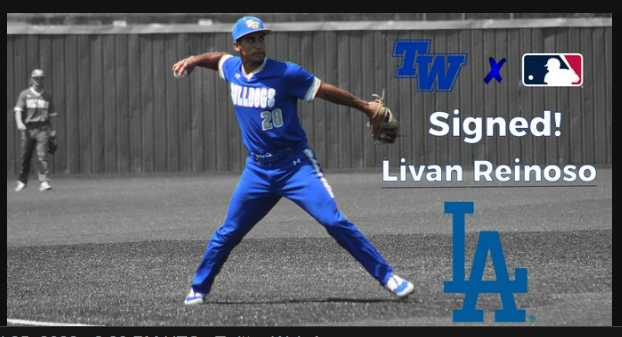 https://ms-my.facebook.com/TennesseeWesleyanAthletics/posts/10157558848499649
In late July  the Dodgers signed undrafted free agent Livan Reinoso to a minor league contract. The now 24-year-old third baseman is definitely one of their more interesting undrafted free agent signings.
The Duke of Dingers is headed to the @Dodgers.

Congrats to current Banana, Livan Reinoso! #GoBananas pic.twitter.com/HOhBLsDle2

— Savannah Bananas (@TheSavBananas) July 20, 2022
The 6'1"/185 lb. right-handed hitting Livan Reinoso was born in Paterson, New Jersey and MaxPreps information indicates he grew up in Hazelton, PA and attended Hazelton Area High School. His high school statistics, especially in his junior high school year, far exceeded the national average listed by MaxPreps. His two year high school triple slash was .458/.513/.656 along with an 1.169 OPS.
Following high school  he played one year at Chesapeake Community College before moving on to Erskine College for two years. All he did was continue to hit. During the 2020 and 2021 seasons he hit a combined .430/.477/.853 with a 1.329 OPS over 64 games. His 2020 season was limited to 21 games when things were shut down due to the Covid -19 response.
As a junior third baseman Reinoso  was named to the National Collegiate Baseball Writers Association All-Southeast Region First Team.
"This award could not go to a better young man. First team all region is a great honor and he is deserving of this award," said Erskine Baseball Head Coach Mark Crocco. "Livan is a relentless worker on and off the field. His dedication to a standard of excellence has continued to be recognized by so many. We are extremely proud to have him apart of our Erskine Baseball Family."
Reinoso's  2022 season was spent at the hot corner with the Tennessee Wesleyan Bulldogs of the National Association of Intercollegiate Athletics. He kept hitting at Tennessee Wesleyan — .417/.495/.921 with 32 home runs and 95 RBI in 64 games — and earned NAIA All-American honors. His 32 homers led the nation  while also leading all of NAIA ball with 95 RBI's, ranking 4th in the country with his 100 hits and 5th with 82 runs scored.
LIVAN RIPPIN' REINOSO!!!!

The 2nd year Nanner absolutely SMASHES the ball over left field fence, tying the ballgame! pic.twitter.com/oSzB1foLkQ

— Savannah Bananas (@TheSavBananas) July 15, 2022
On June  7, 2022 the NAIA announced the members of the Avista NAIA World Series All-Tournament Team on the last day of play in Lewiston, Idaho. Livan Reinoso  made the team at third base.
Congratulations Parker, Brax, and Livan! NAIA All Tournament Team, as a result of your performance in the 2022 NAIA World Series. So proud of each of you. pic.twitter.com/LhPc7HrNhy

— Danielle Proulx (@dlproductionss) June 4, 2022
Of the third basemen in the tournament, Reinoso led the field with a .375 batting average. He had six hits in the tournament, two of which were doubles and two of which were home runs to give him a .875 slugging percentage.
In a do-or -die game in the NAIA World Series he came up with a a two-strike, two-run home run to right-center field.
"I was looking for a fastball, and obviously I got it later in the count," Reinoso said. "I got two strikes and knew I had to shorten up. That's what I did — got the home run."
Livan Reinoso lives for the game of baseball. During both the 2021 and 2022 seasons, following college ball, he played for the Savannah Bananas of the Coastal Plain League where he continued to hit. Over a combined  54 games with Savannah  he slashed 353/.432/.507.
The Bananas are known for their wild celebrations working to make baseball fun for the fans. Reinoso bought into their celebratory mode after scoring the first run in a game. All sorts of unique celebrations happen and Reinoso came up with his own on June 5, 2021.
In celebration of scoring the first run in that game he crossed home plate and immediately took off down the right-field line refusing to stop along the way. He kept running in a Forrest-Gump-like fashion all the way down the line, sprinting and leaving his teammates behind as he exited into the right-field corner.
https://thesavannahbananas.com/savannah-bananas-game-recap-livan-reinoso-macon-bacon/
There is another side to Livan Reinoso besides being a silent slugger and a very respectful, appreciative young man. He has a fraternal twin brother, Dayan, and both are still chasing their baseball dreams. Dayan signed with the Angels in 2021 and is pitching with the Inland Empire 66ers.
There is still another side to Livan Reinoso. Who knows, maybe a Kenley Jansen or Pedro Baez side.
Reinoso also pitches and has been clocked at 97 mph. Now he hasn't pitched much but what he has done may have caused the Dodgers to take notice. With Tennessee Wesleyan in 2022 he made 14 relief appearances and pitched a total of 15 innings. He posted a 2.40 ERA and a 1.00 WHIP along with 27 strikeouts and 10 walks.
https://nitter.nl/NAIA/status/1551573169613312000
He debuted this year with the ACL Dodgers on August 12 against the ACL Padres. He did so on the mound in the seventh  inning. To date he has made two appearances pitching two innings with no hits or runs while walking two and striking out two.