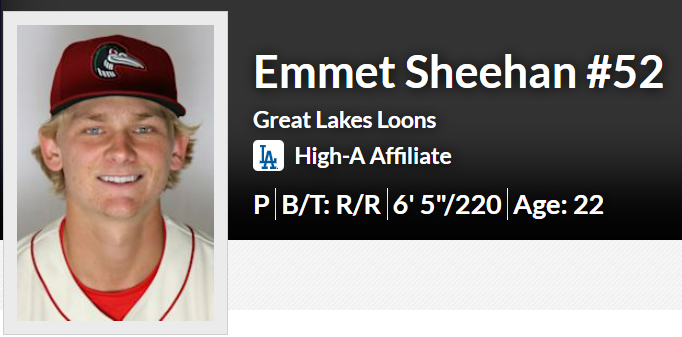 OKC Dodgers 13 vs Sugar Land Space Cowboys (Astros) 5
Bobby Miller breezed through 4.0 innings.  Thanks to a pair of DP, Miller faced the minimum over the first three innings, while allowing a pair of singles.  He gave up 2 singles in a scoreless 4th.  He lost the shutout in the 5th with a one out HR.  That was followed by a double and single for a second run, but got out of the inning without any further runs.  A pair of singles, a BB, and 2 errors cost 2 runs before Miller was pulled for Justin Bruihl.  Bruihl inherited 2 runners and one scored on a single.
Victor Gonzalez pitched his first AAA rehab with 1.0 inning.  He allowed 1 hit, and recorded a strikeout.  Aaron Ochsenbein and Heath Hembree finished up for the Dodgers in a scoreless final 2.0 innings.
Michael Busch led off the game with a double and scored on a Miguel Vargas single.  Jason Martin followed with a 2-run HR (27).
In the 3rd, Vargas led off with a single and stole 2B.  Edwin Rios singled home Vargas.  After Jason Martin reached on a force out, Ryan Noda singled and both came home on Hunter Feduccia's 3-run HR (5).  Jacob Amaya followed Feduccia with his 3rd HR.
The Dodgers scored another crooked number in the 6th. Busch led off with a solo HR (16). Rios followed with his 2nd HR.  Jason Martin singled and Ryan Noda doubled him to 3rd.  Hunter Feduccia brought them both home with a single.
A walk and two singles scored the final run for OKC.
He certainly did not dominate, but Bobby Miller did get his first win at AAA.
Tulsa Drillers 7 vs Wichita Wind Surge (Twins) 10
John Rooney started and got into trouble in the first inning.  HBP, BB, wild pitch and a sac fly gave the Wind Surge their first run and the lead.  Rooney gave up a 3 run HR and a 2 run HR.  Because of two errors in the inning, only 2 of the 5 runs were earned.  Overall in his 2.1 IP he gave up 6 runs (3 earned).
Jake Cantleberry made his Tulsa debut and completed 1.1 scoreless innings.  Tanner Dodson was in his 4th game since returning from the Development List.  While his command still needs work, he is much improved in that area. He completed 1.0 scoreless inning.
Jose Adames and Jose Hernandez followed but surrendered 4 additional runs in their two innings.  Cole Percival was effective and productive pitching a perfect 9th inning.
In the 4th, down 6-0, Abiatal Avelino singled and Brandon Lewis hit a 2-run HR (16).
In the 6th, Andy Pages walked and Ismael Alcantara singled.  After a WP, two runs scored via sac flies.
The Drillers took the lead in the 7th with a 3-run HR by Leonel Valera.  Unfortunately Adames and Hernandez were not able to hold the lead.
Great Lakes Loons 12 vs Lansing Lugnuts (A's) 1
Emmet Sheehan pitched a very good 5.0 innings.  He allowed 1 run on two hits; a single and triple in the 3rd.  But he also recorded 11 Ks in 5.0 IP.  For the year, he is proving to be a big strikeout pitcher.  In 59.2 IP, he has 93 K.  He lowered his ERA to 2.72 for the year.  With Miller and Stone moving up to AAA, isn't there a spot for Sheehan at Tulsa?  Just asking.
Aldry Acosta and Julian Smith each pitched 2.0 scoreless innings.
The Loons broke through in the 5th with 4 runs.  Luis Yanel Diaz singled and Jorbit Vivas walked.  Diego Cartaya then slugged a 3-run HR (13).  Imanol Vargas doubled and Eddys Leonard singled to score the 4th run.
Cartaya singled in another run in the 6th.
In the 7th, after a fielding error and two singles scored one run, Luis Yanel Diaz hit a run scoring double, and Jorbit Vivas hit a 2-run triple.
The Loons scored 2 final runs in the 8th.
Jorbit Vivas, Diego Cartaya, Imanol Vargas, José Ramos, and Luis Yanel Diaz all had 2 hits.  Diego Cartaya had 4 RBIs.
Modesto Nuts (Seattle) 6 vs Rancho Cucamonga Quakes 5
Modesto took a 3-1 lead into the 7th.  Rancho tied the game at 4 in the 8th.  However, Modesto scored 2 in the 9th, while the Quakes could only score 1, and fell 1 run short.
Chris Campos was the opener in his RC debut.  He pitched a  scoreless1st inning, but yielded a double and single in the 2nd, before Orlando Ortiz-Mayr came in. Ortiz-Mayr, Heisell Baro, and Christian Suarez all allowed runs, with Suarez allowing 2 runs in the 9th, one on a Harry Ford HR and an unearned run, before Yamil Castillo came in to close the rally.
Dalton Rushing continued to hit with his 4th double.  And Griffin Lockwood-Powell hit his 5th HR in the 9th.  Kyle Froemke had 2 hits for the Quakes.