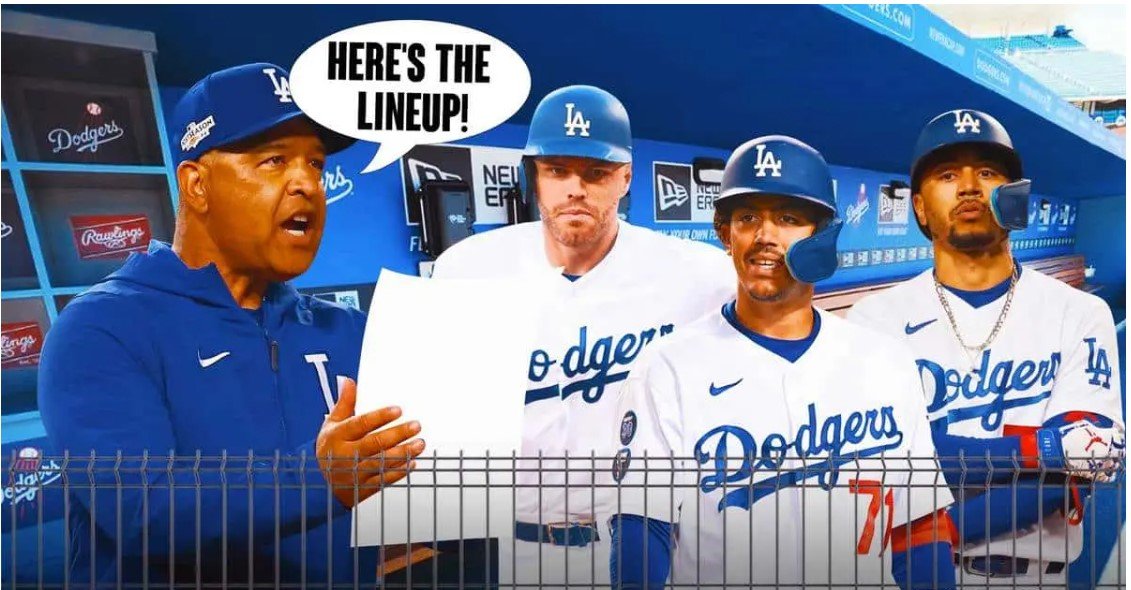 The 2023 season begins at Dodger Stadium in 15 days. March 30th, the Dodgers will face the Diamondbacks at home. So what is in store for the fans and the boys in blue. We already know there will be several changes in what will be the starting lineup. And we know Gavin Lux will not be a part of the team for the entire season.
Estimates by the different services have the Dodgers winning in the 85-92 game range. Most have the Padres finishing ahead of the Dodgers and winning the West. Right now, we are not even sure who will comprise the 26-man opening day roster.
Some fans are even calling for a trade before spring training is over to bring in either a power hitting outfielder, preferably from the left side, or an everyday SS. They are of course not listening to all the chatter or reading some of the daily updates.
The outfield is at this point in time, the biggest mystery with only one position locked up. Right field, where Mookie is ensconced for at least the next couple of years. He will have the occasional start at second since he really enjoys playing there and is more than adequate defensively.
Freeman is going to play first 99.9 percent of the time, his slight hammy pull notwithstanding. Vargas has been pretty good at second. Rojas and Taylor are going to split time at SS with Rojas getting the bulk of the starts. Muncy is settling in at third. Since this is his first full season at the position, I will cut him a little slack until he has enough reps under his belt to make a real evaluation.
We know Peralta is making the team, and even though many fans do not want him, Thompson is pretty much assured a spot on the roster too. Why? Well besides Mookie and Taylor, he is the only other RH bat out there. It also looks like the Dodgers are going to open with Heyward as one of the outfielders. I think he has a short runway though. Maybe 45 games or so to prove he is playing at a higher level than he has been for the last several years.
I really believe James Outman is going to make the team. As a matter of fact, I would be surprised if he does not. He has had a brilliant spring. Barnes will back up Smith. And JD is the DH. SO with five outfielders, Peralta, Betts, Heyward, Outman and Thompson. Two catchers, Barnes and Smith. Then the four starting infielders, Freeman, Vargas, Rojas and Muncy. Taylor as the Swiss Army Knife, that is 12 position players.
JD Martinez is the 13th position player. The only way that Outman does not make the team is if they decide they need another infielder. And the choices are limited. The only infielder besides the starting four is Hernandez. He fits the bill as a versatile infielder although he has never hit much. He is having a pretty good spring with the bat.
Neither of the non-roster infielders has a shot at making the team. I think Heyward is the only non-roster player with any shot at all. Of course, AF could surprise the hell out of all of us and make a last minute trade. Something I have seen him do only last year.
Luke Williams is the most versatile of the non-roster guys, But even though he has two spring homer's, his BA is nothing to write home about.
On the pitching side, the starters would be all set except Gonsolin does not look like he is going to be ready by opening day. Kershaw, Urias, Syndergaard and May have all looked pretty good this spring. Kersh makes his second spring start on Wednesday against the Rockies.
Grove has impressed enough to fill in for Gonsolin for a couple of starts if need be. Gavin Stone has not been built up enough to start yet, so I believe he will be at AAA OKC come opening day. Ryan Pepiot looks pretty good and ready to start some games. Then there is Andre Jackson. He has some nasty stuff and has opened some eyes this spring. He has shown much more control than he did in his short stints.
Without a set closer, the bullpen should still be pretty good. I have to believe that Evan Phillips will get a lot of the closer work. When he is healthy, Daniel Hudson will get the call too. The two lefty's out of the pen figure to be Ferguson and Vesia. Gonzalez showed some improvement his last outing, but is not at the level he was in 2020.
I have not seen Almonte pitch yet, but reports have been that he is almost ready for game action. He has only pitched one inning this spring. That is one of the reasons I think Jackson could sneak onto the staff. They gave Shelby Miller a one year deal, and right now, he is stinking up the joint. His ERA is over 16.
Graterol is a lock, and Phil Bickford has had a good spring. I do not think any of the non-roster pitchers are going to make the team. They do not have to release anybody to get Heyward on the roster, he can be added when Buehler, Lux and Treinen go on the 60-day IL. I also have to believe that Jimmy Nelson has put himself in a great spot to be on the roster. So if I had to go with 8 relievers, one of them being the swing man and spot starter it would be, Phillips, Hudson, Vesia, Ferguson, Graterol, Nelson, Bickford and Jackson. The five starters would be for now anyway, Urias, May, Kershaw, Syndergaard and Pepiot. Grove is on the OKC shuttle.
Miller I believe is in a position where he might be sent to the minors if he agrees, or cut. I think the Dodgers will be a different kind of offensive team than we have seen the past several years. I do feel that they really need to reduce their strikeout rate. If Chris Taylor and Muncy can rebound and come close to their most productive years, the offense will improve a lot.
I can see Vargas as hitting somewhere in the .240-260 range with maybe a dozen homers. If he does better, good for him. I hope Mookie can improve his batting average. He is much too talented a player to be hitting in the .260's. Freddie will be Freddie. And if Rojas hits in the .260's with his defense, that will be just fine. They need improvement from all of the outfielders and James Outman needs to prove he is a big leaguer.
I expect Will Smith to hit more than 20 homers again, and Austin Barnes to surprise once in a while. I believe JD Martinez will do much better than he did last season. He is just too talented not to. I believe the Dodgers will surprise some people and the Padres are not going to just walk away with the division. It is going to be a close race. Maybe even coming down to the last week.
I also think that the balanced schedule, with each team playing all of the other teams is going to end up being huge the last month when rivals normally play each other a lot. The Dodgers last 11 games are all against Western Division rivals, but none against the Padres. They have 7 with the Giants and 4 with the Rockies including a doubleheader at Coors on the 26th of September. They finish up on the road in San Francisco. Their last game against San Diego is September 13th, at Dodger Stadium.
It should be one hell of a ride.