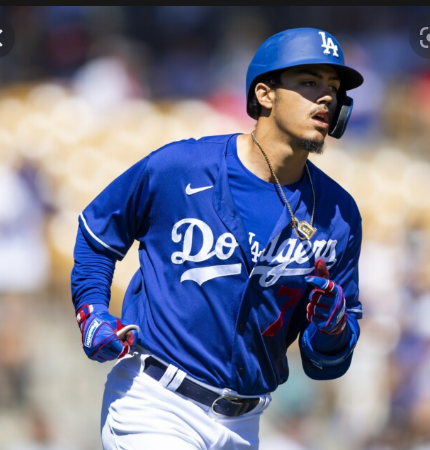 I keep reading that the Dodgers are going to do more than Shelby Miller and Jason Heyward.  But why?  I also keep reading that they can win 90-95 games with the lineup they have.  Okay.  Then let's see what the kids can do.  If they fall on their face, then AF/BG, Kasten, and Walter know they have bigger problems', their uber hyped farm system may not be as good as reported.  If they succeed, then they may have a championship caliber roster.
One of the pending problems with this scenario is that AF prefers veterans to rookies.  But with potential payroll constraints, he may not have a choice but to see what the rookies can do.
But first let's look at some previous players listed in the MLB Pipeline Top 100 from 2016-2021.
Forest Whitley – 5 time top 100; 2 time top 10
Alex Reyes – 4 time top 100
Nick Senzel – 3 time top 100; 2 time top 10
Lewis Brinson – 3 time top 100
Carter Kieboom – 3 time top 100
Cristian Pache – 3 time top 100
Alex Kiriloff – 3 time top 100
Grant Holmes – 3 time top 100
Anderson Espinoza – 3 time top 100
Carson Fulmer – 2 time top 100
Jon Duplantier – 2 time top 100
Sean Newcomb – 2 time top 100
José De León – 2 time top 100
Luis Urías – 2 time top 100
Jackson Frazier – 2 time top 100
Bradley Zimmer – 2 time top 100
Riley Pint – 2 time top 100
Other illustrious top 100 prospects with at least 1 appearance (most were in top 40):
Orlando Arcia
Nomar Mazara
Franklin Barreto
Mickey Moniak
Corey Ray
Blake Rutherford
Scott Kingery
Brendan McKay
JJ Bleday
Taylor Trammell
Jahmai Jones
Josh James
Yadier Álvarez
Willie Calhoun
Adalberto Mondesí
Beau Burrows
And I really just scratched the surface.  Bottom line, being listed in the top 100 is some indication of potential talent, but that talent does not always flourish at the MLB level.  So when fans look at the Dodgers and see 7 players in the MLB Pipeline Top 100 and say they are loaded, that is not always going to be the case.
A quick look at the three LAD position players looking to play significant innings in 2023.
Miguel Vargas will be 23, certainly not the age of a super prospect.  He has mixed scouting reports offensively, but all are consistent that at best he can become an average 3B.   I know Badger says to hit him 1,000 balls a day.  If your feet are not quick enough, it will not matter.  He has a poor defensive record on balls that are in play, but that does not count the balls he cannot get to. Vargas is the second LAD prospect to say that his best position is the batter's box.  Matt Beaty was the first.
Vargas has good hands and a decent arm, but slow feet limit his range and mobility in the infield. Asked this week name Vargas' best position, Friedman said, "Probably third."

Scout Two said he "thinks" Vargas can play third base in the big leagues, and Barbary said Vargas "made a lot of progress at third" in his 113 games at Oklahoma City in 2022.
Not a ringing endorsement, but also not projection of inability to play a MLB average 3B.  
I hope Vargas proves all of the defensive naysayers wrong and he becomes a strong defensive 3B.  But I tend to believe that his ceiling potential is an average 3B.  That will be good enough if he hits like Nolan Arenado even if he does not field like him.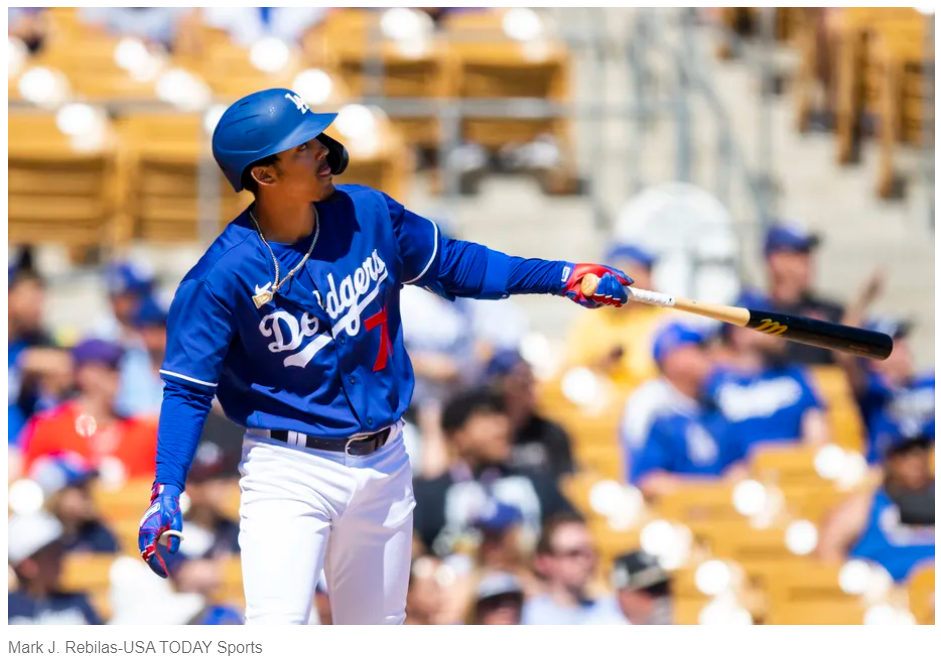 James Outman will be 26 next year.  He burst onto the scene last July with a HR in his first AB and went 3-4 in Game 1.  He then started the next three games against SF.  He ended up going 3-11 in those games, but his last two games he was 1-7 with 6 strikeouts.  So who is James Outman?  The guy in Game 1 or the guy in games 3 & 4?  The Dodgers got Joey Gallo for a reason.  As bad as Gallo was down the stretch, he was on the playoff roster and not Outman.  Gallo did not get an AB against SDP in the playoffs.  Maybe they should have let Outman play himself on or off the roster instead of acquiring Gallo.  We will never know.
But we also do not know how the execs feel about Outman in the long term.  Here is what AF said about Outman when asked during the Q & A on the future CF for LAD.
"He had a really good season," Friedman said of Outman. "He got to experience a little bit of the Major Leagues, went back down and took what he had learned and did really well. Now whether that's Opening Day or at some point over the course of the '23 season, I would imagine he will get opportunities."
AF was not alone.  Mike DiGiovanna spoke with Dave Roberts, OKC Manager Travis Barbary, and two unnamed scouts.  Based on those conversations, DiGiovanna wrote:
"There are concerns about an uppercut in his swing that leaves Outman vulnerable to elevated fastballs and down-and-away breaking balls and contributed to his 152 strikeouts last season."

"When you're striking out that many times in the minor leagues, it's a little concerning to me," Scout One said. "This good of an athlete? He should not strike out 152 times. But I believe he has the hand-eye coordination to flatten his swing out and be a better hitter who is not looking to just drive the ball every at-bat."
Statement 1 – We are confident that Gavin Lux can be a good MLB SS.
Statement 2 – At some point in 2023, Outman may get opportunities.
My point to Badger a couple of weeks back, was not a desire to replace Outman with Jarred Kelenic, but more a question as to why  many consider Outman to become a mainstay when a higher rated prospect (Kelenic) could not.  Nick Senzel?  Alex Kiriloff?  Cristian Pache? That being said, I still would not mind seeing Kelenic come to LAD.
Many are convinced that AF will not go into the season with Lux at SS, but are just as convinced that LAD will go with Outman as the CF.  It sure does not sound that AF and the group that Mike DiGiovanna spoke with believe that Outman is the player he was in his game 1 against Colorado. Maybe he proves that he is a ML CF in ST and the Dodgers have their CF of the future.  I assume he will get that "opportunity" in ST, but so will Trayce Thompson and Jason Heyward.  Based on the above, I think it is more likely that Outman goes back to AAA to start the year to see if he can improve on those strikeouts.  I hope he does prove it, because the Dodgers do not have any CF in the pipeline.  Bottom line, I do think Outman will find a way to succeed at the MLB level.
Michael Busch will be 25 next year.  He will be anything but a young rookie.  He is another without a defensive position to call home.  OKC Manager, Travis Barbary, believes that Michael Busch can be a MLB 2B defensively.  He says Busch has the range and has the arm to turn a good DP.  If Gavin Lux is the SS, then Michael Busch will get his chance to show what he can do at 2B in ST.  At worst, he becomes the 2023 version of Edwin Ríos.  He can also play 1B and LF.  His problem is that he is LH and so is Freddie, Lux, Outman, and Muncy, all players he may be competing with.
I have always been a fan of Michael Busch. While certain others were all in on Kody Hoese, I was on the Michael Busch bandwagon.  I always believed that Busch was a superior offensive player to Hoese.  Neither one was a defensive stalwart.  When in doubt, go with the bat.  Unless, of course, one is Ozzie Smith.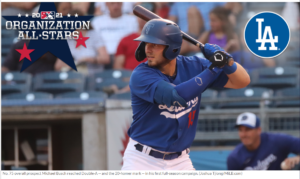 Not all three are going to hit the ground running. Hopefully one of them will establish themselves in the everyday lineup, while the remaining two can become valuable bench role players.  All three have talent, but all three have their issues.  Hopefully the positives outweigh the negatives.  But don't simply bite on the hype and think that all three are going to be difference makers at the MLB level.
Another point:  When was the last time, Andrew Friedman put a roster together with 3 rookie position players expected to make significant impact? And some want to add Pages to that list.  Then add 2-3-4 rookie pitchers during the year.  Why not just see what the OKC team can do at the MLB level.
Thus, perhaps Michael Busch's best value could come in a trade.  He has been a solid, even though not elite, prospect, and one that could translate into a decent return if packaged properly. Of course, the team can continue to hold onto prospects and then release them (Edwin Ríos).  Or they can continue to hold onto them and let them leave via Rule 5 draft.  Ryan Noda was never going to play for LAD. He is a 1B first, and 1B is definitely not a position of need.  After the Rule 5 draft we learned the following:
"The A's were excited to get first baseman Ryan Noda, who hit 25 homers and drove in 90 runs for the Triple-A Oklahoma City Dodgers in 2022. After the draft, GM David Forst said his team asked the Dodgers about Noda in trade discussions several times in recent years and were happy to get him in this draft. He's a perfect fit for an Oakland team in need of a power lefty bat and a solid defensive first baseman."
Seriously, the A's asked for Noda in a trade and the Dodgers did not facilitate one?  Instead they let him go for $100K?  If Oakland wanted him, the Dodgers had to figure that Ryan Noda would be drafted by the A's.  He is a perfect fit for Oakland.
I would imagine that one of the other Rule 5 draftees, Jose Hernandez, would garner interest as well.  He was a solid reliever for the AA Tulsa Drillers. It may be a big jump from AA to MLB, but as a reliever, he should still stick on a Pittsburgh Pirates roster.
During the week, we can visit the rookie pitchers who figure to get strong consideration for the rotation: Ryan Pepiot, Michael Grove, Bobby Miller, and Gavin Stone.  Miller (26), Pepiot (74), and Stone (77) are top 100 prospects.