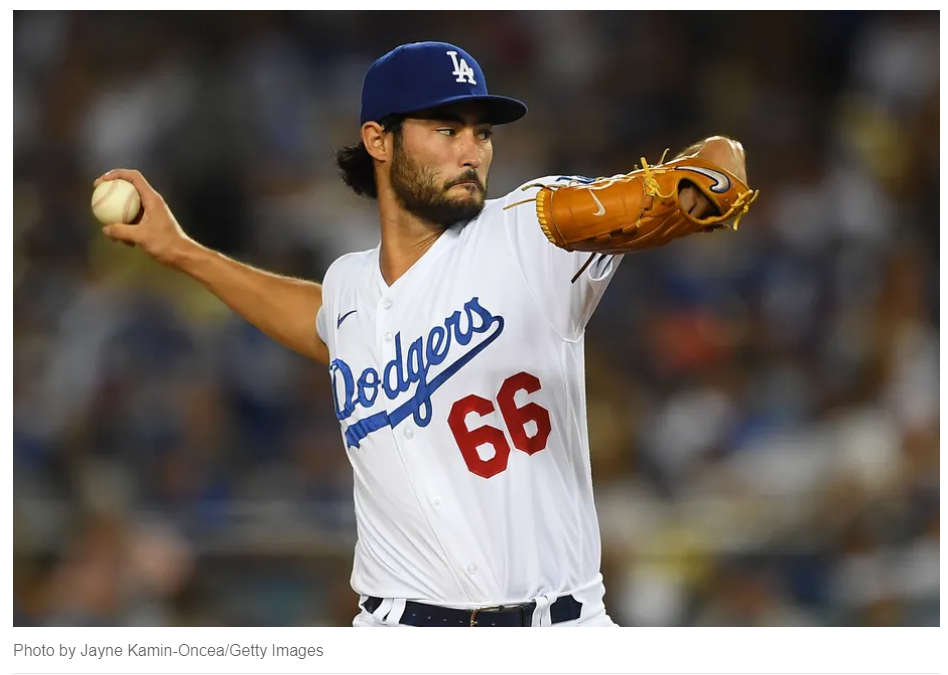 What to do with Mitch White?  His first start of the year was his 2nd game back from a COVID IL, and he faced the Phillies.  Things did not go well as he allowed 3 runs in 2.1 IP.  He got the first out in the 3rd and then gave up a single and a 2-run HR to Alec Bohm on a center cut 93.4 MPH 4-seamer.
But things started to improve in his next start against Arizona.  He came out after 4.0 scoreless IP.  He allowed 2 singles and 2 walks, but was done after 61 pitches.
His third start was against the Pirates and after a rough start he settled down very nicely.  A single, BB, K, single to start the game and the Dodgers were down 1-0.  After the single, White got 13 of the next 14 batters he faced before walking Ke'Bryan Hayes and hanging a curve to Bryan Reynolds who deposited the pitch over the RF wall.  He got the third out.  He threw a total of 78 pitches leaving down 3-2.
In last night's game, White pitched a perfect 4.0 innings.  He did allow 2 singles and hit a batter to load the bases with 1 out in the 5th.  He got Reese McGuire looking for the 2nd out, and struck out Josh Harrison on an 0-2 slider.  Unfortunately for White, the Dodgers could not hit the CWS starter Michael Kopech either, and after 5.0, the score was knotted at 0-0.
White was due to face the White Sox hitters for the third time, and the decision to lift him after 5.0 was made.  As it turns out, the decision did not work for the Dodgers.  Phil Bickford relieved White and gave up an infield single that Freddie Freeman knocked but could not keep it in his glove.  After two out, José Abreu hit a slow roller off the end of the bat single through the hole created by the shift.
Another decision, Bickford did not pitch poorly, but Doc wanted to bring in a lefty, David Price, to face the lefty Gavin Sheets.  Tony LaRussa countered with the RH hitting AJ Pollock who doubled on the first pitch to score two.  Next pitch is a run scoring double by Jake Burger.  Yoan Moncada was intentionally walked to get to Reese McGuire.  On an 0-1 pitch, McGuire singled to score Burger.  Price threw 4 pitches, and the ChiSox scored four 2 out runs.
That is how the score ended and the Dodgers have now lost 3 in a row and 6 out of their last 8.  They have been shut out twice in their last 13 games.
But back to the question penned at the top.  What to do with Mitch White?  Under normal circumstances, White's next scheduled start is due on Sunday against the Giants.  However, it is anticipated that Clayton Kershaw will be activated from the IL to pitch that game.  I would expect that White could be considered as a piggyback option.
Mitch White has progressively improved in his last 4 starts and has done everything he needs to do to prove he can stay in the rotation.  It has been suggested that the Dodgers should consider a 6-man rotation.  Tony Gonsolin's season high in games pitched is 15 (13 starts).  His season high in IP is 55.2.  Currently, Tony G stands at 10 games (all starts) and 51.0 IP, so he is quickly approaching career highs and we are only in the 1st week in June.  I am not that concerned about 100 innings but what happens when he starts approaching 120 IP.  Does he hit a wall like Walker Buehler did last year?  Did the career high in innings pitched impact Julio Urias in the playoffs?  The team will be entering unchartered waters very quickly with Gonsolin.
Tyler Anderson has never been as effective and efficient as he is right now.  Does anyone truly expect Tyler to continue to pitch as well as he has?
Kershaw is due back on Sunday.  Is everyone comfortable that Clayton will be able to finish the season without any additional stays on the IL.  Andrew Heaney found a new pitch in a side session and after two starts, Heaney hit the IL.  He has had one rehab start and is expected to have at least one and maybe two more before he is activated.  Once he is back, is everyone convinced that Heaney's new pitch will stay elite or will he regress to his career norm?
What if Walker Buehler finds himself in his next start or two?  What if he doesn't?
Julio Urias has been solid for most of the year.  He just is not getting any run support this year.  I am not concerned about Urias at this time.
Thus, on paper, the Dodgers will have 6 starters without Mitch White.  Going with 6 starters makes some sense with all of the potential pitfalls indicated above, but it could also pose a potential problem.  Starting pitchers have their routines, and if they are preparing for 5 starters, the 6th starter may have a negative effect.  Then again, maybe not.  I am sure the nerds and their algorithms are reviewing all possibilities.
A potential greater concern right now is the bullpen.  Does White go to the pen or does he go back to OKC to continue to start?  Does Anderson leave the rotation and go to the pen where he was originally penciled? What to do with David Price?  What late inning high leverage relievers can the Dodgers count on until Blake Treinen returns.  Right now, Yency Almonte and Daniel Hudson are the most reliable, and they are not automatic.
The Dodgers just started the second 3rd of their season, and there are a lot of questions.  And one of those questions is what to do with Mitch White.  Stay tuned!
Mitch White's 69th pitch of the game was a nice one.pic.twitter.com/B1ysvgJBza

— Dodger Blue (@DodgerBlue1958) June 8, 2022