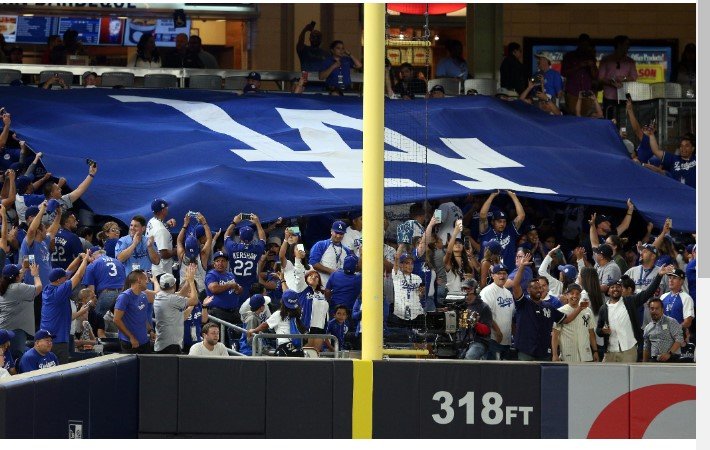 As I walked out of the house to make an appearance at my office at Starbucks, my wife asked if I really wanted to read the nasty things people were going to say about the Dodgers and Clayton Kershaw.  After all, I got enough grief and vitriol from two close buddies (diehard NYY and SFG fans) last week in Utah.  I said of course, I will read all the comments.  Everyone has the right to expound on their beliefs, even if they are wrong. 



I also said that nobody is going to say anything that is out of line about what most of us were thinking anyway.  Even as bad as the team played and #22 pitched, one game does not make for a series.  What will haunt me is the profile of Clayton in the dugout if this is in fact his last game as a Dodger.  The picture says it all, including the 35 pitches, 25 for strikes.  He served them up all night.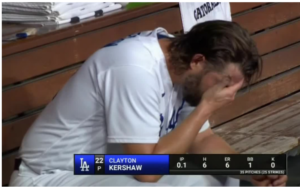 I recognize and heartily acknowledge that the Dodgers were at a distinct disadvantage with the rookie pitchers that were expected to be a major significant contributor to the pitching rotation, either as a starter or as a piggyback.  I am going to give Emmet Sheehan a pass for the 2nd inning in Game 1.  To ask him to come in and quell a team that was tattooing a HOF pitcher IN THE FIRST INNING, might have been a lot to ask of a 23 year old rookie.  He was working on adrenaline in the 1st, but after the adrenaline subsided in the 2nd inning, he was quite pedestrian.  I think his 3rd and 4th innings were more reflective as to what he can contribute.  I expect Sheehan to be available for multiple innings in the third game, and I expect him to be competitive.
I read a comment on another site that Clayton Kershaw should not have pitched Game 1.  Going into the playoffs Kershaw was the best starting pitcher LAD had.  Since returning from the IL, he started 8 games and compiled 36.1 IP.  He had a 2.23 ERA, 1.101 WHIP, 7 HR, and a .686 OPS against.
In Bobby Miller's last 8 games started, he pitched 49.0 IP, 3.20 ERA, 1.000 WHIP, 6 HR, and a .624 OPS against.  Miller's (3.58) FIP was significantly better than Kershaw's (5.40).
Both pitchers pitched against the DBacks in late August at Dodger Stadium.
Kershaw – 08-29-2023 – 5.0 IP, 3 hits, 1 run, 3 BB, 5 K, 1 HR
Miller – 08-28-2023 – 6.0 IP, 7 hits, 4 runs, 2 BB, 4 K, 1 HR
Kershaw beat Merrill Kelly and Miller beat Zac Gallen.  That is how it was set up to go in the playoffs.  Do the Dodgers really start the rookie over the HOF pitcher in Game 1?  The HOFer is arguably pitching better than the rookie down the stretch.  I know that #22 does not have the best track record in the playoffs, but he has pitched well often enough at home in the playoffs to believe he could still dominate the DBacks for 5.0 innings.  Anyone who predicted the beating Kershaw took did not say so before the series.  If they did, I do not remember it.  I certainly never saw that trouncing coming.
I also read elsewhere that Kershaw should have been the #3 pitcher because he does not have the swing and miss capabilities anymore.  Here is a fact supported by metrics.  This year, Kershaw has better Chase, Whiff, and K percentiles than does Miller.
It is still too early for an autopsy of the 2023 season.  But there were a couple of comments that I wanted to react to.
Jordan Montgomery ??
He was really the only deadline starting pitcher that was effective.  A lot of fans were calling for Lucas Giolito (including me), and that turned out to be a disaster.  I have always believed that Jordan Montgomery would have been a plus addition.  I said so last year when St. Louis acquired him from NYY for Harrison Bader.  Really?  The Dodgers could not have done better than Bader?  I said the same last year.
On 07-30-2023 – St. Louis traded Jordan Montgomery and RHRP Chris Stratton to Texas for the meager cost of 29 year old MLB LHRP John King, 21 year old middle infielder Thomas Saggese, and 21 year old RHP Tokiah Roby.  Saggese was Texas' #14 prospect and is now St. Louis' #9 prospect.  Roby was Texas' #11 prospect and is now St. Louis' #5 prospect.  Basically it was Montgomery for prospects Roby and Saggese, and Stratton for King.
Could the Dodgers have beat that cost?  Sure.  How does anyone know they didn't offer a comparable deal?  Maybe St. Louis liked the age of Roby.  Maybe the Cardinals were not as enamored with Maddux Bruns as the Dodgers and many (too many IMO) fans are. I am not saying Bruns was in any discussion, just speculating as to who might have been offered. 22 year old LHP?  Why not?
Landon Knack is 26, Kyle Hurt is 25, River Ryan is 25, Nick Frasso is 24, and Gavin Stone is 24.  The Dodgers have exactly one middle infield prospect…Jorbit Vivas.  Maybe St. Louis values Sagesse over Vivas.  Vivas is at a disadvantage as he is on the 40 man, and St. Louis would have to make room for him, while they did not for Sagesse.  Did the Dodgers overreach on adding Vivas to the 40 man two years ago?  The Dodgers only got cash for Eddys Leonard, another infielder that was added to the 40 man they needed to move to make room.
BTW, Montgomery could only complete 4.0 IP after being staked to a 10-4 lead in Game 2.
You cannot just say that the Dodgers should have traded for Montgomery without knowing whether they tried or not.  Maybe they preferred Eduardo Rodriguez and believed he was in play (until he wasn't), and spent way too much time on trying to consummate that deal.  The Montgomery deal went down before Rodriguez blew off the Dodgers.  I do not know the reason they did not get Montgomery, but I do absolutely believe they tried, and I do believe they preferred Rodriguez.  Some may want to blame AF/BG for that, but I still believe the villains were Rodriguez's agent and/or Scott Harris (Detroit's President of Baseball Operations).
Scott said:
I think a lot of us here have differing opinions on this. Dionysus is not giving up until the last out, (god bless him). Bear dislikes the week off, and thinks it makes a difference (it could affect the pitchers more than the position players), Badger recognized the lousy pitching staff and thinks they need to win by outslugging their opponents (he's not wrong). Norcal and Dave think the injuries played the most part, and it's hard to predict (not with May and Gonsolin). Not sure what Jeff D thinks yet.
 Okay:
I am starting to come around somewhat on the bye scenario.  2 out of the 4 teams with a bye lost last year, including three 100 win teams (one being a wild card team – NYM). It took NYY 5 games to beat a weak Cleveland team, and it took Houston coming from behind in two games to beat Seattle.  The third game was 1-0 Houston in 18 innings.   This year, the three 100 win teams lost the first game in the Divisional Series, and one (Baltimore has already lost the first two).  The 2nd AL bye team split at home.  In 2023, the bye teams have played 6 games, and lost 5 of them.  Or in other words, the favored team lost 5 of 6 games at home.  Does it mean something?  Impossible to say for sure.
I disagree that it is the pitching that is most affected with the bye.  I believe it is the hitting.  Merrill Kelly had the same time off as did Kershaw.  Hitting is far more affected with delays due to timing.  You cannot replicate the timing of top pitching in intrasquad games, or hitting against MiLB pitching.
I also believe that the teams in the Wild Card were fighting for a spot in the playoffs up to the end.  Some until the final day.  That competitive edge was present all the way, and did not disappear after one day before the Wild Card series started.
Atlanta and LAD won their divisions handily and the races were in fact over in early September.  Milwaukee won the Division by 9 games and were effectively in the playoffs mid-September.  While Baltimore did not win the Division early, both Baltimore and Tampa Bay were early playoff entrants.
OTOH, Arizona had to keep winning thru the last weekend to beat out Chicago (1 game behind), Cincinnati (2 games), and San Diego (2 games).  If San Diego had made the Wild Card, they would have been extremely dangerous with how they played the last month (20-7), and 15-3 over the last 18 games.  Texas, Houston, and Seattle fought all the way through the last weekend to make the playoffs.
I also think there is something to playing a team in the same division in the Divisional Series.  I think the Wild Card entrant has an advantage.  I cannot metrically support that theory, but it sure does seem to bear out.
With respect to injuries to the starting pitchers, I voiced my concerns about Tony Gonsolin early and often.  He was not the same pitcher after being diagnosed with forearm strain last year.  With respect to Dustin May, I had no reason to believe he would come down with another elbow surgery.  I am not a doctor, and I have never seen any of the medicals on either pitcher.  Apparently the Dodgers were not as concerned with what the medicals were showing as were the non-doctor fans with no evidence.
One correction, while Gonsolin was hurt often (shoulder inflammation – 2021 and forearm strain – 2022), he did not have any major arm surgery until this year, and Dustin May has only had one. There were no multiple major arm surgeries. If that is a concern, should the Dodgers just trade Walker Buehler this Winter?  Should the Dodgers stay away from any pitcher who has had arm surgery (shoulder or elbow)?  If that is a concern, why do so many fans want Shohei Ohtani?  Still? A $500MM++ DH?
I still want to wait for the season to be over before I provide any autopsy thoughts, but I assume for those who believed the Dodgers should have signed or traded for pitchers to replace Gonsolin and May, that Nathan Eovaldi should not have been a FA consideration with his two TJ surgeries.  They would have been wrong, IMO.
Yes AF/BG are responsible for providing pitchers for the playoffs.  But the last time I checked Gerrit Cole was not available.  Neither was Merrill Kelly, nor Zac Gallen, nor Justin Steele, nor Sonny Gray, nor Kevin Gausman, nor Luis Castillo, nor Pablo López, nor Framber Valdez, nor Blake Snell, nor Spencer Strider, nor Zack Wheeler…What difference making pitcher could the Dodgers have signed?  Traded for?  And BTW, how does anyone really know who the Dodgers tried to trade for?
Again, I still want to wait until the Dodgers win (or lose) the playoffs, but one other consideration is that the Dodgers did not know the outcome of the Trevor Bauer suspension until almost every FA pitcher signed.
One final thought, I agree with Scott and tedraymond that winning the division and 100 win seasons are great, but they cannot be considered a success unless the team is lifting the WS trophy.  Meanwhile, I look forward to Bobby Miller besting Zac Gallen to even the series 1-1.