Well of course it was bound to happen.  But the 10 game win streak came to an screeching and abrupt end.  It is not like the 2022 CY Award winner, Sandy Alcántara, shut down the LAD bats.  The Dodgers had some hard hits against Alcántara including three solo HRs. Just not as many as the Fish had against Tony Gonsolin.
In 3.1 IP, and after 97 pitches, Miami hit 5 HRs against Gonsolin.  Two solo HRs, a  2-run HR, and two 3-run HRs to account for all 10 runs he allowed.  In his last 11 starts, Gonsolin has not been good.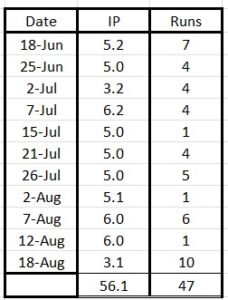 All 47 runs were earned. That is a 7.51 ERA over those 11 games.
In those 56.1 IP, Gonsolin has given up 50 hits, 22 BB, 4HBP.
He has given up 10 HRs for a 1.6 HR/9 innings, well above 1.2 MLB average.
In 8 of the 11 starts, Gonsolin has given up 4 or more runs.
None of that is good.  Has Gonsolin really earned a consideration for a spot  in the playoff rotation?
After the game, Doc hinted that Gonsolin might have an injured arm, and may be placed  on the IL.  Bluster to get the IL stint?  Perhaps.  How injured?   In his post game press conference, Gonsolin did not deny that his arm could be injured.  He said that he, Doc, the trainers, and the front office (AF/BG) would make a decision as to whether an IL stint is the best approach.
If Tony's arm is injured, he is not doing himself or the team any good by going out there and pitching.  Pepiot, Grove, Sheehan, and possible Stone are all ready to come in and be that #5 pitcher for the last 7 weeks.
All indications are that Ryan Pepiot will be the 27th player called to pitch in one of the two DH games on Saturday.  There is no indication as to whether he will start or be a bulk inning pitcher in whichever game he pitches in.  But a good outing after his 6.0 perfect innings in his last start at OKC could catapult Pepiot ahead of Gonsolin on the rotation list.
Regardless, I cannot see how Gonsolin becomes a playoff rotation pitcher with the way he is pitching right now.  If he is injured, and he recovers in time, maybe he can be a bulk inning reliever for the playoffs.  Hopefully he will get the opportunity to pitch meaningful innings before the season ends.
Gus Varland entered and pitched well enough.  He gave up a triple that CT3 actually misplayed.  I am not saying he should have caught the ball, but at most it should have been a double and no run scored.  He still looks like a keeper.
Victor González and Alex Vesia threw three perfect innings with 4 Ks.
The Dodgers outhit the Fish 10 to 9.  If a couple of hard hit balls get through, the game gets a little closer.  The Dodgers did not score late, but they had opportunities.  I do like the fight in this team.
After Michael Lorenzen's no-no in his last outing, many fans were excoriating AF for not trading for Lorenzen.  He was traded for the Phillies #5 prospect, 2B Hao-Yu Lee. How many would be willing to trade 6 years control of Gavin Stone or Andy Pages or Landon Knack or Ryan Pepiot for 11 starts from Michael Lorenzen?
In his last start, Michael Lorenzen gave up 7 runs on 8 hits in 3.1 IP.  His ERA is 3.54 with Philly.  Lucas Giolito has an 8.14 ERA in his 4 LAA starts.  In 3 games, Max Scherzer has a 1.80 ERA for Texas while Jordan Montgomery has a 2.50 ERA in his 3 starts.  Justin Verlander has a 4.50 ERA in his 3 starts for Houston.  Jack Flaherty has a 7.07 ERA in his 3 starts for Baltimore.  Eduardo Rodriguez has a 4.00 ERA in his three starts since he chose to not waive his no trade clause.  Dylan Cease has a 4.32 ERA in his three August starts.  Mitch Keller has a 6.75 ERA in his three August starts.
For contrast, Lance Lynn has started 4 games for the Dodgers and has 1.44 ERA.  At least for four games, the best pitcher at the deadline is the pitcher AF traded for.