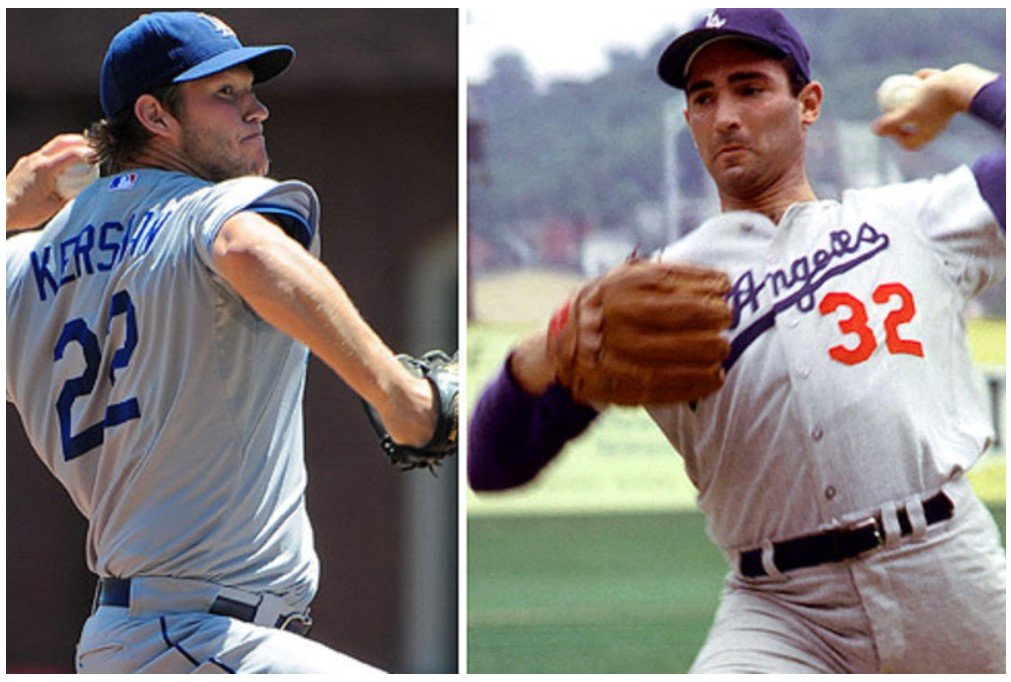 You ask any Dodger fan today who is the best left-handed pitcher in Dodger history and two names usually pop-up, Kershaw and Koufax.
Us older folk who saw Sandy pitch so many times, usually choose Sandy. " The left arm of god." Koufax is almost mythical. It has been so long since he pitched, World Series, 1966 and then retired after the series, that only videos, not very high-quality ones at that, are all that the newer generation sees.
Even when mixed with video, the call by Vin of his perfect game is iconic, even though there are no videos of that game. It was only on the radio.
Kershaw almost every time out comes near or sets another record. It is obvious by now he will never come close to the 4 no-hitters Sandy had, so that one is safe, it is a Dodger record also.
He has passed Sandy in wins, K's, and matched him with three Cy Young awards. So, why do we older folk still think Koufax is the GOAT for the Dodgers????
As successful as Kersh is, the Dodgers, and we understand it is just not that easy to win Championships, have won one with Kersh. Koufax was a part of four such teams. Same with Johnny Podres.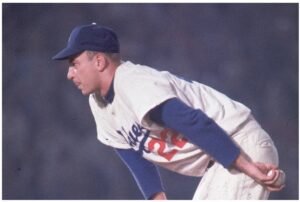 Koufax won clinching games twice, 63-65. Sixty-fives was a game 7 on two-days' rest. And he beat teams with a ton of great hitters. The 63 Yankees and the 65 Twins. Podres won game 7 in 1955 with a shut-out and pitched 8 1/3 innings for the win in 1963.
Kershaw had a great postseason in 2020 when he went 4-1. That is his best postseason record ever. Of course it is not fair to solely judge anyone on simply their performance in the postseason, and Kershaw has pitched in 38 such contests. Koufax pitched in 8.
But for those of us who did see Sandy pitch, you always felt something special could happen every time he took the mound. And the way he dominated was so much different than what Kershaw does.
His curveball was something to see. Kershaw has a good one, but his top pitch now is his backdoor slider. Koufax would drop that curve in after one of his fastballs, and hitters just could not adjust.
Suffice to say, we all, whether we admit it or not, have favorites. Nothing wrong with that. The Dodgers have had so many very good pitchers, and a lot of them were lefties.
You go all the way back to their days in Brooklyn and you had guys like Nap Rucker. Rucker over his career was a .500 pitcher, 134-134. But, he is still in the top 24 players by WAR in Dodger history, 47.2. That number puts him #12 in Dodger history. Ahead of Hershiser, Valenzuela, Jeff Pfiffer, Brickyard Kennedy and Bobby Welch.
Kershaw, Valenzuela and Koufax are the only lefties on that list. Of the 12 Cy Young awards they have won, 7 have been by lefties. Kersh and Koufax 3 each and Valenzuela in 1981.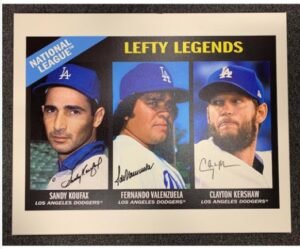 There are five lefties on the Dodgers all-time win list, Kersh, Koufax, Osteen, Valenzuela and Podres. There are four on the career ERA list, Rucker, Kershaw, Perranoski and Brewer.
Other than Ron Perranoski and Jim Brewer, the Dodgers have not really had a left-handed closer. Brewer is fifth and Perranoski sixth on the all-time saves list.
Likewise there are only four lefties in the top 10 all-time strikeout leaders. Kersh, Koufax, Valenzuela and Podres.
But the Dodgers have had some left-handers who had great seasons. Preacher Roe won 22 and lost only 3 in 1951. Tommy John won 20 in 1977. Osteen won 20 twice, 69 and 72.
Reuss and Valenzuela threw no hitters. Reuss had a couple of 18 win seasons. All in all, LA has had some very good southpaws and two of the best ever.