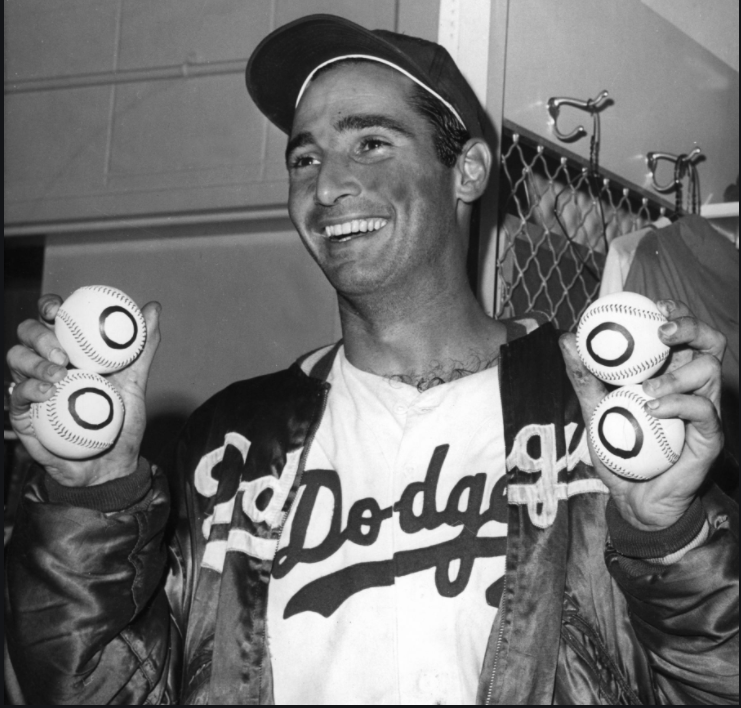 I was wondering just which baseball feats are the rarest. Perfect games are extremely rare. There have been 24 in MLB history, with the latest being recorded by Yankee pitcher Domingo German, he joined David Wells,  David Cone, and Don Larsen, giving the Yankees four of the 24 thrown in history. The Dodgers have had one, Sandy Koufax in 1965.
The Dodgers have been on the losing end of three perfect games, Larsen's perfecto in the 56 World Series, Tom Browning in 1968 and Dennis Martinez's gem at Dodger Stadium in 1992. The Tampa Bay Rays have also had 3 perfect games thrown against them.
I thought triple plays would be on the list, but there have been 734 in MLB history. But unassisted triple plays are very rare with only 15 in history. The last one occurred in 2009. Bill Wambsganss turned one in the 1920 World Series against Brooklyn.
Four homers by a player in a game has happened 18 times. Only Dodgers to do it, Gil Hodges and Shawn Green. However, current Dodger, JD Martinez, hit four against the Dodgers while with Arizona in 2017. He is also the last player to do that.
Only five players have hit HR's in four consecutive at bats in one game, Gehrig was the first and only two NL players, Mike Schmidt.
Side note, in 1995, Henry Rodriguez of the Dodgers hit four homers in a spring training game against the Mets. The only player to accomplish that.
No Dodger has ever hit 50 homers. The most was the 49 hit by Shawn Green in 2001. Adrián Beltré hit 48 in 2004. Cody Bellinger hit 47 in 2019. Snider and Sheffield would record 43 homer seasons. Hodges hit 42 once, Green hit 42 once, Snider did it twice. Campy hit 41 in 53. Snider and Piazza hit 40. Snider had 5 40 homer seasons as a Dodger, all five were consecutive. Green is the only other Dodger with multiple 40 homer years.
Twelve 40 homer seasons in their entire history. Which makes that feat rarer in Dodger land than no-hitters. There have been 26 no-hitters in Dodger history. The last one in 2018 was a combined no-hitter by Buehler, Cingrani, Garcia and Liberatore.
Erskine and Koufax are the only Dodgers with multiple no-hitters, Erskine in 52 and  56. Koufax had no-hitters in four consecutive seasons, 62-63-64 and the last one his perfect game in 1965 which set a record for the lowest number of hits in any game, one.
The Dodgers have turned 18 triple plays since 1901. But only three of those in Los Angeles, and none since 2012. So for the LA Dodgers at least, the triple play is very rare. Any thoughts on other rare feats?
08-16-2023 – MiLB Game Summary Report
Salt Lake City Bees (LAA) 6 – OKC Dodgers 2
Bryan Hudson drew the opener assignment.  He had 4 Ks, but also allowed 4 hits for 2 runs.  Shelby Miller drew a rehab assignment, and it did not go well.  1.0 IP, 3 runs, 2 hits, 1 BB, 2 HR.  Okay he had 2 Ks.
Key Performers:
Drew Avans – 2-4, 1 run, double (23)
Michael Busch – double (23)
Tulsa Drillers 5 – Frisco Roughriders (Texas) 2
Two singles, a passed ball, and a 2-run single put the Drillers on top in the 1st.  Frisco tied the score in the 3rd.  Tulsa scored 1 in the 7th and then got 2 solo HRs from Diego Cartaya (17) and Luis Yanel Diaz his first AA HR since his 08/08/23 promotion.
Key Performers:
Jorbit Vivas – 2-5, 1 run, 1 RBI
Imanol Vargas – 2-5, 2 RBI, double (24)
Diego Cartaya – 2-5, 1 run, 1 RBI, HR (17)
Luis Yanel Diaz – 2-3, 1 run, 1 RBI, HR (1)
Lansing Lugnuts 4 – Great Lakes Loons 3
The Lugnuts scored the go-ahead run in the 8th in a game that had Lansing catch Great Lakes twice, before the got the game winner. Hyun-il Choi went the first 5.0 IP, allowing 2 runs.
Key Performers:
Damon Keith – 2-4, 1 BB, 1 run, 1 RBI
Chris Alleyne – 2-5, 1 run, 2 RBI, HR (5)
Jake Vogel – 2-4, double (20)
Taylor Young – triple (4)
Alex Freeland – double (13)
Visalia Rawhide (Arizona) 3 – Rancho Cucamonga Quakes 2
The Rawhide scored 2 off Christian Romero in the 1st and 3 in total in his 5.0 IP.  The Quakes scored their 2nd in the 8th, but that is as close as they could get.
Key Performers:
Dylan Campbell – 2-4, double (1)
Rayne Doncon – Double (19)