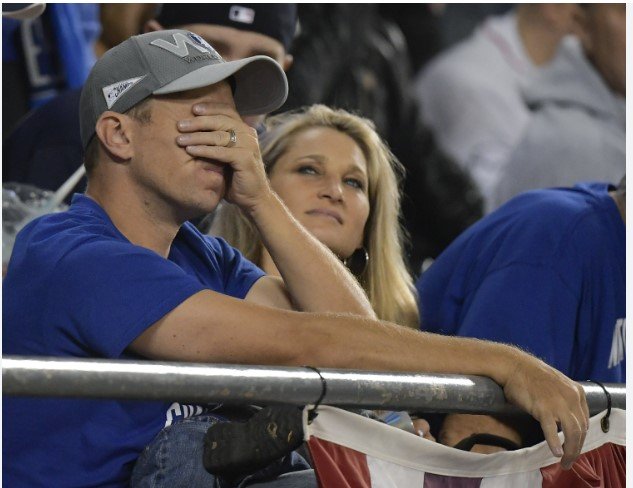 The other day, Gavin Lux tore up his ACL on a routine running play to third. Reminded me so much of when Pedro Guerrero went down at Vero Beach in 1986. Basically that injury ruined the Dodgers season. They would finish in 5th place following their division win in 85, It would carry over, even though he rebounded to hit.338 in 87, and they finished 4th.
Back then, they did not have the depth or prospects they have in the system now. But nonetheless, Dodger fans on multiple blogs and Twitter went bat nuts and bemoaned the pickle their team is in replacing Lux.
The big homer guy on that 86 team was Franklin Stubbs who hit 23. Mike Marshall hit 19. They brought in 35 year old Bill Madlock to replace Guerrero's bat, and he did ok.
Right now the Dodgers have a more than adequate defensive replacement in Miguel Rojas. Dave Roberts stated yesterday that Chris Taylor is going to get from 20 to 25 percent of the starts at SS. He also has been put on a throwing program to get his arm ready for that job. He has to retrain those reflexes because of the difference in throws from the outfield and infield.
Betts is going to get some time at second base this season. In reality, except for Freeman and Smith, and the outfielders, the Dodgers team is made up of multi positional players.
Barnes can play the infield, Muncy plays three spots. Rojas four since he has played some 1st base, Vargas three, Taylor can play all three outfield positions and every infield position except first. Busch plays 1st and 2nd. Hernandez, who is to me this year's Tyler White, can play 3 infield positions.
All of their outfielders can play multiple outfield spots. This is desirable to management since except for Betts and Freeman, there are no other bona-fide stars on this team. Will Smith is getting there.
But fans cannot see the overall plan. They have gut reactions. When I was a lot younger, I did pretty much the same thing. But with as much information that is available to fans, plus all the social media chatter, it is a little bit weird to me to see them go so completely bat nuts so fast.
Some trades have the same effect in both the positive and negative reactions. Example: Twice, AF has made a mid-season or what we call, deadline trade to bring in major talent. Both times fans were ready to print World Series tickets.
They made it once, in 2018 when they brought Machado in, and flamed out the second, Turner, Scherzer. Trouble is, Machado was not even close to the player he was prior to the trade, and Scherzer and Turner were outstanding.
So, why did they not make the series in 2021???? Simple, they ran into a very hot team. They also got very little production out of Scherzer, or either of the Turner's. Scherzer's best pitched game in the playoffs they lost 1-0 on a blustery night at Dodger Stadium. After the NLDS, he was basically useless with a tired arm.
Trea on the other hand continued his mediocre postseason hitting. Their own Justin Turner had three unproductive series in a row. Very uncharacteristic for him.
Over this winter, the Dodger fans chafed at the bit for Freidman to make a huge deal. It never happened. The only free agent of note he signed was his own, Kershaw. No one else got a huge contract. The Dodgers were content not going after any big ticket free agent SS and just turned the job over to Lux.
Now Gavin is down for the count after 4 spring games and the panic is on. I have seen more uninformed rants in the last two days than I saw all winter. Relax people. They need to see what they have before they even think about a trade.
A lot of people on many sites are saying they should trade for Willy Adames. Ok, take a huge breath. Adames hit 31 homers last season. He made 14 errors at SS. 2 less than Turner. What he doesn't do is make consistent contact. His OBP was .298. His OPS plus wasn't all that great either. He also struck out 166 times. If you are counting, that is more than Muncy, Bellinger, or Taylor had.
And sorry, the Dodgers do not need another swinging door at the plate. If I was going outside of the organization to get a SS, it would be Tim Anderson. Decent power, great glove and he has speed. Plus when healthy, he is a .300 plus hitter.
But right now, I think they are more than content to go with what they have and if needed, AF has shown no hesitation in bringing in a star player at the deadline.
Pitching is this team's strength. And pitching wins championships. Just ask the Phillies who had to deal with the Astro's bevy of young talented arms and also got no-hit in the World Series.