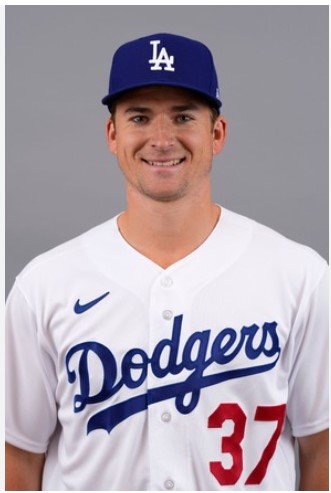 Yesterday, SandyIsTheGreatest, wrote that it is time for that vaunted depth to help out.  I would agree, except outside of RHP, I am not sure what depth the Dodgers have.  Certainly not in the form of regulars.
If you review FanGraphs' Roster Resource – Depth Chart – It starts to get quite thin at the upper levels.  Depending as to how they may develop, also at the lower levels.  Since the AF era, the Dodgers have always found platoon/role AAAA players who can play MLB, but just not as a regular, with the exception of Will Smith and Gavin Lux.
Who are some of that depth from 2017?
Home grown players on the roster considered depth:
2017 – Andre Ethier (22 games) , Andrew Toles (31), Alex Verdugo (15), Kyle Farmer (20), O'Koyea Dickson (7)
2018 – Alex Verdugo (37), Kyle Farmer (39)
2019 – Matt Beaty (99), Edwin Rios (28), Will Smith (54), Gavin Lux (23), Alex Verdugo (106), Kyle Garlick (30)
2020 – Edwin Ríos (32), Gavin Lux (19), Matt Beaty (21), Keibert Ruiz (2), Zach McKinstry (4)
2021 – Gavin Lux (102), Matt Beatty (120), Zach McKinstry (60), Luke Raley (33), Edwin Ríos (25), DJ Peters (18), Zach Reks (6), Keibert Ruiz (6)
2022 – Edwin Ríos (27), Miguel Vargas (18), James Outman (4), Zach McKinstry (10)
Of that group, Will Smith and Gavin Lux have gone on to become regulars with LAD, while Alex Verdugo, Kyle Farmer, and Keibert Ruiz are starters on their new teams.  However most of the other players have gone on to become bench/platoon/role players for their new teams.  So yes, the Dodgers do produce multiple MLB players, just not regulars.
The Dodgers did have three regular position players from the Ned Colletti era: Joc Pederson, Corey Seager, Cody Bellinger.
That has been the Dodgers MiLB depth since 2017.  They have had to supplement that with the likes of:
Franklin Gutierrez
Curtis Granderson/Terrance Gore
Trayce Thompson/Scott Van Slyke/Brett Eibner
Rob Segedin/Charlie Culberson/Tim Locastro
Billy McKinney/Steven Souza
Kevin Pillar/Jake Lamb
Hanser Alberto
Eddy Alvarez/Kevin Pillar
Russell Martin
David Freese
Kris Negrón
Tyler White/Jedd Gyorko (Bear's favorites)
Yoshi Tsutsugo
Andy Burns
Rocky Gale
Joey Gallo
Sheldon Neuse
Tony Wolters
Not much of the above is much to build a WS championship team without a strong pitching staff, and players added via free agency and trade (Betts, Freeman, Taylor, Muncy, Turner, Turner, Barnes, Grandal, Machado).
The most glaring lack of depth in the organization is at SS.  Below is the LAD depth chart at SS.

Yes, Yonny Hernández can play SS, but he is more of a 3B/2B.  While he did play more SS in MiLB, it was still secondary to 2B. The LAD depth chart on their site lists Hernández as a 3B, his only position.
Now let's look at the MiLB depth.  Note, not a single AAA SS on the depth chart, and the sole AA SS (Eddys Leonard) is more inclined to be a utility player, another Dodger depth strength.  Although the Dodgers just acquired infielder Bryson Brigman who will undoubtedly get the bulk of the SS responsibilities at OKC.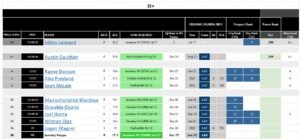 Staying up the middle defensively, the LAD 2B depth chart is:
Miguel Vargas
Miguel Rojas
Chris Taylor
MiLB Depth Chart at AAA:
Michael Busch
Devin Mann
Jahmai Jones
Bryson Brigman (will probably play SS at OKC)
The only other ranked prospect is Jorbit Vivas who is slated to begin at Tulsa (AA).
It doesn't get any better at 3B where the Dodgers depth chart on the 40 man is:
Max Muncy
Yonny Hernandez
Miguel Rojas
The AAA 3B is currently Luke Williams (pictured), with Kody Hoese at AA.  The Dodgers do not have a ranked 3B in their system. While Luke Williams is not on the 40 man roster, he is listed as the 4th option at 3B.  Although because he can play 1B, SS, and corner OF, he is being considered as an option for the opening day roster.  On the LAD depth chart, he is listed as 1B (#2), SS (#4), 3B (#4), LF (#5), RF (#4).  Looks like a favorite AF player.
The Dodgers OF depth chart is chock-full of players signed to MiLB contracts:  Dodger OF on the 40 man:
Mookie Betts
Chris Taylor
David Peralta
Trayce Thompson
The depth?
Jason Heyward
Bradley Zimmer
Miguel Rojas (LF)
Luke Williams (LF and RF).
Two OF not listed were James Outman and Andy Pages.  Pages does not figure to be an option at the outset.  However, he sure is showing a lot in ST, and now figures to be in the discussion for a mid-season promotion.  He is looking a lot more svelte, and is hitting 2-4.  Last year in the AFL, Pages showed far more discipline at the plate.  That discipline seems to have carried over to ST.  He has laid off multiple pitches that he  whiffed at last year.  It certainly appears that a light has gone off for young Andy.
Outman figures to get a lot of consideration for the 26th man.  Outman certainly helped himself when he was able to stroke an RBI single, when the team was 0-5 WRISP at the time of Outman's single.  In his next AB he got the sac fly on a ball hit to the warning track in left-center.  Outman barreled up three times in three ABs.
Outside of Outman and Pages, the depth at AAA figures to be Jason Heyward, Bradley Zimmer, Steven Duggar, Ryan Ward, Drew Avans, and Yusniel Diaz.  Although I believe that Heyward will be on the 26-man out of ST.
Thus, the vaunted depth figures to be:
Yonny Hernández
Luke Williams
Michael Busch
Jason Heyward
Bradley Zimmer
Steven Duggar
James Outman
Andy Pages
The 13th position player figures to be one of Yonny Hernández, James Outman, or Luke Williams.  Looking at the history of bench/role players, AF has almost exclusively gone with the veteran and let the younger players play full time at AAA. While I believe that Outman deserves the spot, I do not get a vote.  Unless AF/Doc plans on playing Outman as a regular, I think he will start out in OKC.  Thus I would think that Yonny Hernández will get the nod out of ST.  But there will be plenty of changes throughout the campaign.
Of course, some of that youth is reaching the age where prospects turn into the prior years' home grown organizational depth.
James Outman (baseball age 26) – 2 options remaining
Michael Busch (baseball age 25) – 3 options remaining
Luke Williams (baseball age 26) – 2 options remaining
Jonny DeLuca (baseball age 24 in AA) – 3 options remaining
Yonny Hernández (baseball age 24) – 2 options remaining
Luke Williams and Yonny Hernández have arguably passed over that threshold.
The Dodgers have multiple prospect position players that will reach MLB, but most of them will be platoon/role players, as in previous years.  Some will mention that the Dodgers are ranked #3 by Baseball America.  I will remind those that the Dodgers have been ranked #1 in the not so distant past of the AF era, and it did not produce elite regulars.
Bottom line they may be quality, I am just not sure that the Dodgers current depth qualifies as vaunted.