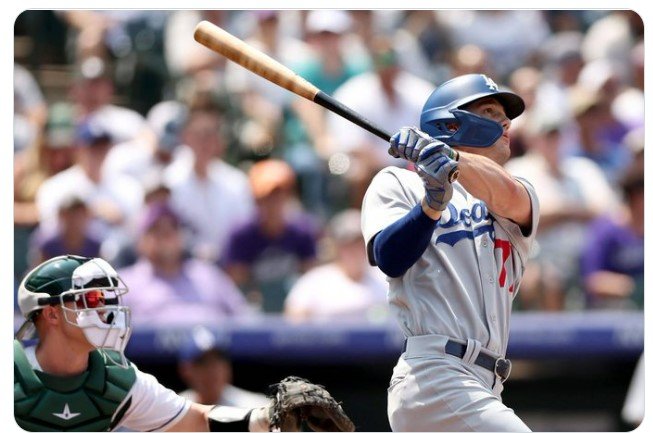 I know Miguel Vargas is the prized position player prospect the Dodgers are counting on for next year.  But I sure would have like to have seen what James Outman could have done down the stretch.  James Outman has come out of nowhere to be a bonafide top prospect.  He was not considered a top 30 prospect in 2020 or before, a #27 in 2021, and a #13 in 2022.  Sometimes willingness and desire to excel can make up for perceived diminished tools.  Pete Rose never had the tools to make it, but hard work and a desire to succeed is what propelled him.  I do not see James Outman as another Pete Rose, but I do see that extra gear to succeed.
Prospect rankings are based on tool grades…hit, hit with power, running, arm, and field.   Outman has MLB Pipeline grades of 45/55/60/60/60 with an overall grade of 50.  Why 50?  Probably due to his age, too many strikeouts, and lack of a college pedigree.  Sacramento State?  Not a baseball factory or from a baseball factory conference (WAC). He did not put up elite numbers against lesser competition.
But there is no measure of hard work or heart and desire in those scores.  Admittedly they are near impossible to grade.  But James Outman certainly seems to possess them.
Who was the last player you have heard of to completely tear down his swing once he hits professional baseball, and build it back up through a lost pandemic season to all of a sudden break onto the scene in 2021 and thoroughly shine in 2022.  I do not think he is at the level of Corbin Carroll, but I would sure like to see what he can do over the same length of time that Alek Thomas and Jake McCarthy are getting.  McCarthy was the DBacks #23 prospect in 2021.  He got his chance to the Show because the team wanted both Thomas and Carroll to get more MiLB ABs.
McCarthy was the right player at the right time.  The DBacks wanted Ketel Marte at 2B, and needed an OF.  He broke camp with the ML team while Thomas went to AAA and Carroll to AA.  The DBacks needed a pure CF and purchased the contract of Thomas on May 8.  Thomas got off to a hot start while McCarthy was slumping and was optioned in June.  Jake was brought back up in July and has not looked back since.  Carroll lost a year to the pandemic and was hurt almost all of last year.  It was just a matter of time before he was brought up.
The Dodgers do not have that luxury.  Not one rookie broke with the ML team this year.
Outman is 2.5 months older than McCarthy.  McCarthy had an overall grade of 40 and he is having a good start to his ML career.  McCarthy has better bat to ball skills, but Outman has better power.  Right now power is the kingpin.  McCarthy might have a touch more speed, but Outman is considered the superior defensive OF with a much better arm.
The difference?  Arizona is a second tier team that can bring up multiple prospects with very little pennant stress, while the Dodgers are playing for a championship every game.  The stress to succeed with LAD is far greater than it is with Arizona.  I love the Arizona OF prospects…Corbin Carroll, Alek Thomas, and Jake McCarthy.  But not one of them would have broke with the Dodgers.  And nobody is going to get any of the three or Daulton Varsho.
The top three LAD OF prospects (not including Miguel Vargas who is not an outfielder) are Andy Pages (5), José Ramos (8), and James Outman (13).  MAYBE Pages and Ramos have a higher ceiling, but Outman clearly has a higher floor.
I need to see what Ramos can do at AA.  His numbers went from .329/.396/.576/.972 at Rookie/Low A, to .249/.339/.479/.818 Low A/High A. He was a sub.800 OPS while at AA. Can we expect a similar decrease in offensive production once he hits AA? His power increased significantly from 11 HRs in 2021 to 25 HRs in 2022, including 19 in the more pitcher friendly A+ Midwest League.
Pages had a similar decrease in offensive production from Great Lakes in 2021 (.265/.394/.539/.933 – 31 HRs) to AA Tulsa in 2022 (.236/.336/.468/.804 – 26 HRs).  Both Ramos and Pages possess double plus arms with fringe speed which make them more suited for RF.  Outman's arm is simply single plus, but seems to be more instinctive in the OF and has the speed to be able to play all three OF positions.  All three OFers strike out too much, but Outman shows more power at the upper level.  His power is also superior to Vargas'.
I do not believe that Pages' or Ramos' ceiling is anywhere near the level of the DBack OFers, so for me, I prefer the higher floor (the surer thing???), and prefer Outman over the other two.  For me, Outman is the keeper.  I would also prefer that he be a RH hitter, but I can live without that.  I would have zero objection if Outman started for LAD in CF in 2023, especially if the Dodgers could unload the entire salary of Bellinger (highly doubtful without a top prospect included).  And I still believe that Belli will have a good October/November.  But $17MM for a 1.0 bWAR player is a little steep when salaries probably should start to come down.
Would the Dodgers dare to start two rookies in 2023, Outman and Vargas?  They just might.
MiLB Game Summary
OKC Dodgers 8 vs El Paso Chihuahuas (San Diego) 9
El Paso came from a 7-1 deficit to beat OKC and reclaim 1st place in the PCL East.  The Dodgers came into the game with a 5 game win streak, but have not been able to make it 6 since July 2019.  El Paso scored a total of 8 runs in the 4th and 5th innings to take a 9-7 lead.  Beau Burrows and Keone Kela were punished for 7 of those runs in a combined 2.0 IP.  Daniel Zamora and Justin Hagenman got control of the game and shut down the Chihuahuas with 1 walk and 3 Ks over the final 2.1 IP.
Bobby Miller started, but would only last 2.2 IP before he threw pitch 51.  He only had 25 strikes in those pitches.  He last started September 1 so as to limit his IP.  He now has 112.1 IP for the year.
#Dodgers no. 2 prospect Bobby Miller today for OKC: 2.2 IP, 1 H, 1 ER, 3 BB, 4 K, 22 CSW%. Just 25 of his 51 pitches were strikes. This was his first outing since Sept. 1st, so that probably explains the low pitch count. Miller's Triple-A ERA now stands at 3.38. #AlwaysLA

— Bruce Kuntz (@Bnicklaus7) September 21, 2022
Bobby Miller threw 2.2 innings for OKC and gave up 1 on a home run and struck out 4. Miller hit 100 twice with his 4-seam and was throwing his slider 90-91 and pairing that with an 89 mph changeup and an 80-83 mph curveball. #dodgers pic.twitter.com/mmNLDXDna9

— Dodgers Daily (@dodger_daily) September 22, 2022
Offensively, the Dodgers outhit the Chihuahuas 11-8.  Drew Avans continued to stay hot.  He recorded his third straight multi-hit game, going 2-for-4 with a walk, two RBI, two runs and two stolen bases. Over the last three games, Avans is 8-for-15 with two extra-base hits and seven RBI.
Edwin Rios crushed his 8th HR of the OKC season off the scoreboard in right center field.  It was his 58th of his OKC career breaking a tie with Scott Sheldon (1998-1999 – Texas) for 2nd most, 2 shy of 60 set by Jason Hart (2002-2003, 2006 with Texas).  Rios went 2-5 with 3 RBIs.
Ryan Noda drew another 3 walks.  He leads the PCL with 87 and now has the OKC record (in the Bricktown era) eclipsing the previous record of Cliff Brumbaugh (2000 – Texas).  Over the last three games, Noda is 5-for-10 with two home runs, a double and five RBI while reaching base in 11 of 16 plate appearances.
Jake Amaya doubled, and has now hit safely in 19 of his last 21 games, going 31-for-79 (.392).  He has a 6 game hitting streak.
Kevin Pillar went 1-4 in his first rehab assignment, and played 7 innings in left field.
Michael Busch collected his 30th double of the season for OKC (36th for the season).  He now has 67 XBH for the season (no triples).  He has a 7 game hitting streak going 11-for-33 with four doubles, three homers, nine RBI and 11 runs scored.
Tony Wolters also had 2 hits on the night.
The two teams meet for the 3rd time in the 6 game series on Thursday in a battle for the PCL East championship and the right to play a one game playoff against the PCL West Champion, Reno Aces (Arizona).  El Paso has a 1.0 game lead.