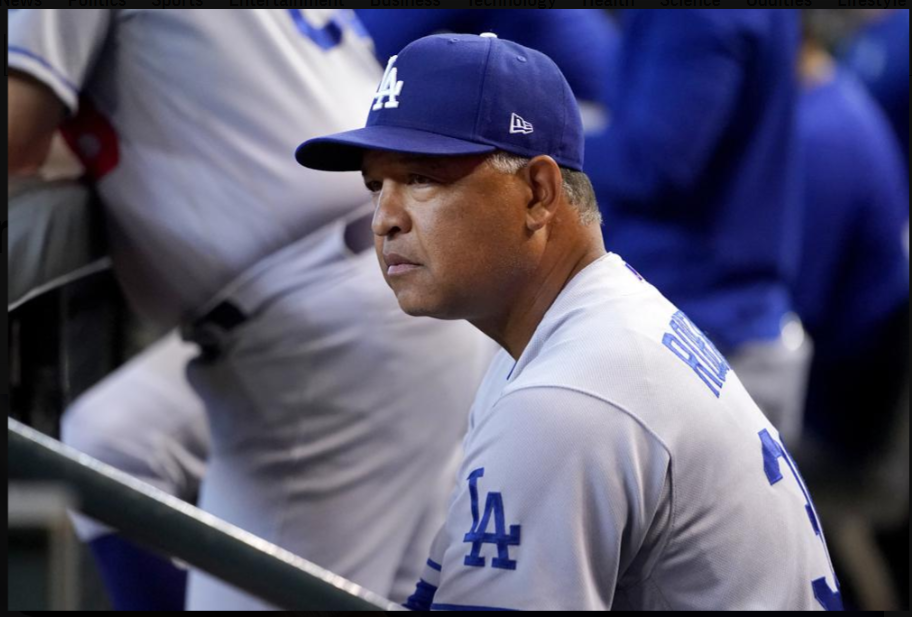 0-19.  That is where the Dodgers are for the last 19 times they had runners in scoring position.  On Friday they were 0-9, although they did get a ONE sac fly.
1st Inning – Runner on 2nd – 1 out – 0-2
Freddie Freeman – Called out on strikes
Will Smith – Strike out swinging
3rd Inning – Runners on 1st and 2nd – nobody out – 0-3
Mookie – line out 3B
Trea Turner – Called out on strikes
Freddie Freeman – Walk
Will Smith – Pop out
5th Inning – Runners on 2nd and 3rd  – nobody out – 0-2
Mookie – Sacrifice Fly, runner moves up to 3rd
Trea Turner – Pop out
Freddie Freeman – Ground out 5-3
6th Inning – Runner on 2nd – 1 out – 0-2
Justin Turner – Strike out swinging
CT3 – Ground out 1-3
That is Freddie 0-2, Trea Turner 0-2, and Will Smith 0-2.  Smith was 0-2 WRISP in Game 2 as well.  This is from a team that was #1 in MLB hitting WRISP.
Tony Gonsolin is not ready to pitch in the regular season much less the playoffs.  It took 42 pitches (25 strikes – 59%) to get 4 outs.  In his 1.1 IP he allowed 4 hits and 1 BB.  He got all of 1 K.
Andrew Heaney did what he normally does.  He grinds it out working through traffic, but gives up a line drive HR by Trent Grisham, which turns out to be the game decider.  Yes, Trent Grisham who was one of the worst hitters in MLB during the season, but somehow some way clutches up for the playoffs.  The Dodgers good field no hit CF (?)…not so much.  Yesterday I asked who is the Dodgers Yordan Álvarez.  Okay, there is only one Yordan Álvarez.  Well, who is the Dodgers Trent Grisham?
Yency Almonte and Tommy Kahnle proved their mettle again.  Yency is putting his name out front and center for the 2023 closer.  Kahnle seems like a prime candidate to be re-signed.
Alex Vesia got the LHH's out, but walked the RHH's.  However, with 2 runners on and Manny Machado coming up, Doc went to Evan Phillips.  Phillips struck out Machado to end the threat and keep the score within reason.
Phillips got the side retired in order in the 7th, with a strikeout and two ground ball outs.
Hindsight is always 20-20, but I thought that Tyler Anderson had a better chance to go deep into the game. Watching Tony Gonsolin sputter out there, reminds many of us that wouldn't it have been terrific if the Dodgers traded for Luis Castillo.  No Castillo okay, but the Dodgers are sending out a pitcher who was hurt with a forearm strain the last month plus of the season.
One can argue the depth of the Dodgers pitching, and that is helpful during the 162 game season.  But the playoffs?  I admit I had my hopes up, but I am not paid to make these kind of decisions.
But again, it is not the pitching that has kept the Dodgers from sweeping the Padres.  The pitching has been excellent.  The Padres pitching has been better, especially when it counted.
Saturday, the Dodgers will run out Tyler Anderson against Joe Musgrove who is coming off one of the best pitched games in postseason history.  The Dodgers need to win on Saturday and then throw Julio Urías in Dodger Stadium on Sunday to advance.  If not,…well you know.
Mookie Betts – 2 for 11, 1 BB, 2 K
Trea Turner – 4 for 13, 0 BB, 4 K, 2 HR
Freddie Freeman – 2 for 10, 1 BB, 3 K, 1 HR
Will Smith – 3 for 13, 0 BB, 1 K
Max Muncy – 4 for 11, 1 BB, 4K, 1 HR
JT – 1 for 10, 2 BB, 3 K
Gavin Lux – 3 for 9, 0 BB, 3 K
Trayce Thompson – 1 for 9, 3 BB, 5 K,
Cody Bellinger – 1 for 6, 0 BB, 4 K
CT3 – 0 for 4, 0 BB, 2 K
Austin Barnes – 2 for 3, 0 BB, 0 K
Joey Gallo and Miguel Vargas have not played.
Got to win #2 before looking to win #11.