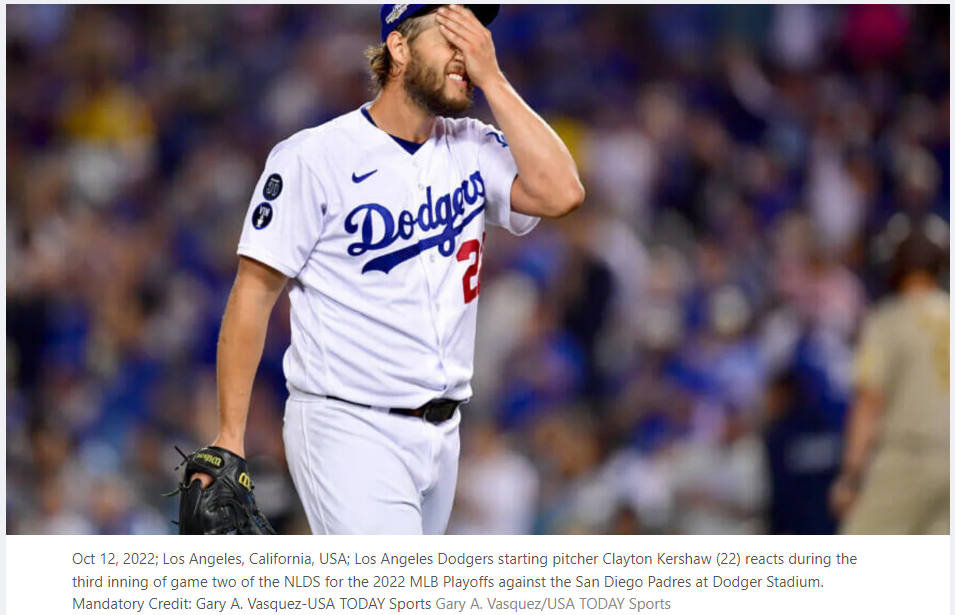 The migration over to a cloud server has been completed, and I have been advised that the migration was successful.  Hopefully the issues we were experiencing will not reemerge.
LA Dodger Chronicles crashes again on the night that the Dodger bats and gloves (and eyesight?) also crash?  Coincidence?  When I mentioned that to a friend and regular commenter here, he blamed it on Machado.  Seems like a reasonable explanation.
Now to last night's debacle.  Clayton Kershaw could have stuck a fork in a lot of the talk with his inability to seize the moment in playoff games.  Instead he could not control Manny Machado, and pitched in and out of traffic in the 1st 3 innings, ending his night after allowing 3 runs in 5 IP (80 pitches).  I have no idea why they are saving him.  He could have gone back out in the 6th.  He retired the last 9 batters he faced, and only threw 20 pitches in innings 4 and 5.  He had already gotten through Juan Soto and Machado.  I like his chances on Brandon Drury, Jake Cronenworth, and Wil Myers on less than 20 pitches.
I am not about to fault Brusdar Graterol, but maybe Blake Treinen does not have to be used in this game.  Regardless, this loss falls completely on the offense.
Runners on 1st and 2nd and 2 outs…cannot score.
          Austin Barnes flies out to CF.
Runner on 2nd and two outs…cannot score.
          Will Smith flies out to RF.
8 batters came to the plate to make a difference, and everyone of them failed.
Bellinger hits a bloop single into CF off the end of his bat WITH NOBODY ON.  WRISP he strikes out.
With nobody on base, Will Smith singles on a hard hit ball up the middle that is knocked down by Jake Cronenworth.  WRISP, he flies out for out #3 and RF to end the game.
Justin Turner singles into RF with nobody on.  JT Strikes out with runner on 3rd and nobody out.
Gavin Lux has two hard hit singles into RF.  One with nobody on base, and one with a runner on 1B.  WRISP he hits into a tailor made 4-6-3 DP.
I am not absolving Lux, but is there anyone out there that does not believe that both Walter Alston and Tommy Lasorda would have had Lux squeeze on that play.  As annoying as A.J. Pierzynski is to listen to, he was right as rain that a bunt down 1B easily scores the runner from 3rd.  TAKE WHAT THEY GIVE YOU.
I also disagree with Houston Mitchell.  I understand that Trea Turner is a 100 RBI guy, but this is the playoffs.  You have to work for every run.  Turner bunts it down 1B in the 7th and a run scores.  There is no way that either Lux or Turner are doubled up on a bunt down 1B.
Houston Mitchell points out that the small ball crowd was shown why there is such an effort by organizations to stay away from SB attempts and bunts.  Amazing.  It took a perfect throw from Austin Nola to get Mookie Betts on an attempted steal.  How many times out of 100 will Nola make that throw?  Even with that throw, I am not sure that Betts was out.  It could not be overturned by the replay, but it sure wasn't clear that he was out.
On the failed squeeze by Trent Grisham, it took a herculean play by Graterol to barehand the bunt and throw a strike to Smith to get Wil Myers.  Again, how many times out of 100 does Graterol make that play?  It was not the play that was bad or wrong…it was that the defense was outstanding on both plays.  At least 90 percent of the time, both those plays as executed would have succeeded.
Everyone will remember the great catch by Belli on Nola's line drive over his head.  And I have no doubt that it was a great defensive play.  But it did not need to come to that had he made a better effort on a ball hit in front of him by Brandon Drury in the same inning.  Again, this is the playoffs.  Make the play or at least give it an all out effort.  Dive for the ball.  The ball is not hit hard enough to go to the wall.  Trent Grisham catches that ball.  Heck, Trent Grisham should have caught Mookie's ball.  He was certainly there.
If there is a CF that I want to go back on a ball, Bellinger is at the top of the list.  Anything hit in front of him, the ball generally drops in.  I do not know if he does not see balls hit in front of him well, or if his first instinct is to go back and is then late to the ball.  Where was that Bellinger that laid out in the NLCS game against Milwaukee in 2018, saving a run and perhaps game and series.  I know there are those (I am guilty as well) that justify Belli in the lineup because of his GG.  His GG went away with his MVP.  He is not even close to being considered a GG candidate this year.  In Fangraphs' DRS (Defensive Runs Saved), there are 48 CF with more DRS than Belli.  In the Statcast's OOA (Outs Above Average), he is not in the top ten in any category.  He is -1 on balls hit in front of him, which gives credence to what I mentioned above.  If he is in the top 3 at the end of the year GG, then it is on reputation and not what he did this year.
On the positive side,
I am going with the lengthy delay as to why it took Kershaw three innings to become effective.
Despite the loss, Brusdar Graterol should have gotten out of the inning unscathed. Until someone can convince me otherwise, I am going with the misplay by Bellinger on Drury's bloop hit.  The Trea Turner error.  How many outs does he need to get.  He does needs a strikeout pitch.
Blake Treinen made a big mistake to Jake Cronenworth, but his ball moved (except the one to Cronenworth).  Hopefully he comes out of this healthy, and will be ready to battle beginning Game 3.
Max Muncy is crushing the ball.  Trea Turner looks to be dialed in.  Gavin Lux looks to have his neck ache behind him.  Now if they can only do this WRISP.
Mookie and JT need to wake up.  And the bottom of the order needs to start producing.  Trayce Thompson – 8 PA, 0 hits, 2 BB, 3 K.  Cody Bellinger – 6 PA, 1 hit, 4K.
The Dodgers will be facing Blake Snell in Game 3.  They have had mild success against Snell.  He will have the San Diego crowd going wild, so the Dodgers are going to have to strike quick against him.  HRs will not come easy in SD, so LAD is going to have to make runs.  Can they?
The Dodgers will counter with Tony Gonsolin.  It really is a Gonsolin/Andrew Heaney or Dustin May game.  If they have their command, they will be tough to hit.  The defense has to tighten up, but I like the Dodgers in Game 3.