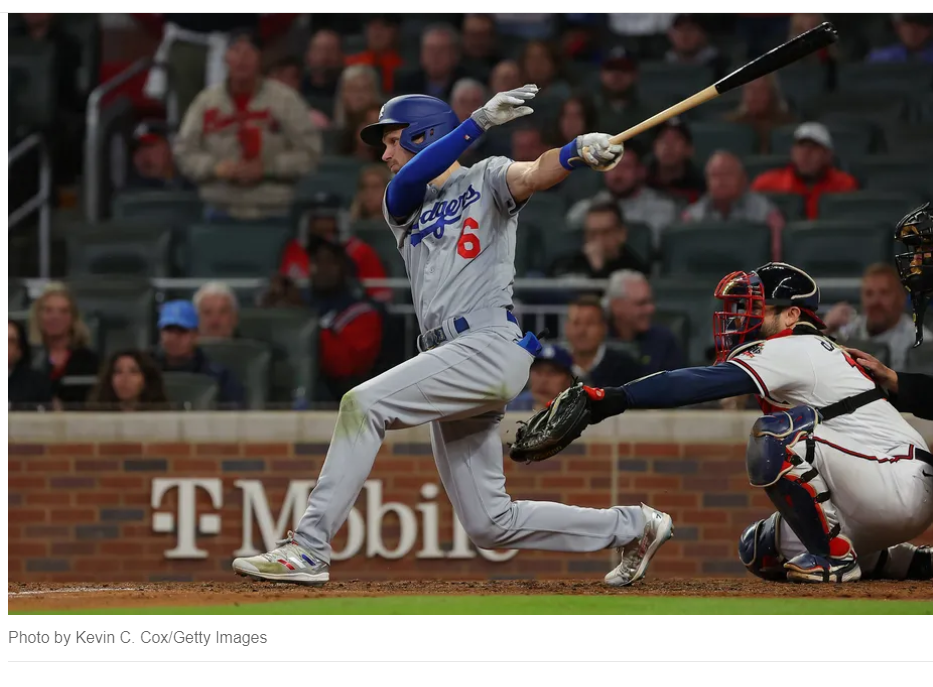 Mike Clevinger has never been much of a challenge for Dodger hitters, and they weren't again in Game 1.  Julio Urías set down the Padres 1-2-3.  In the bottom of the 1st, Mookie hits a 98.4 MPH shot down the 3rd base line that Machado gobbled up and threw him out.  Trea Turner then slugged a solo HR.  After Freddie struck out, Will Smith doubled and scored on a Max Muncy single.  JT drew a base on balls and Gavin Lux hit the ball on a line but right to Trent Grisham.
The Padres finally got a hit off Urías in the 3rd, a 2-out double by Austin Nola.  He then struck out Jurickson Profar to end the inning.  In the bottom of the 3rd, Trea Turner led off with a double and scored on a 1 out double by Will Smith.  Max Muncy walked, and Gavin Lux hit a run scoring double.  After Trayce Thompson drew a walk, Cody Bellinger hit a ground ball that 1B Wil Myers botched and Muncy scored, making it 5-0.  This was verified as Dieter Ruehle played the Hawaii 5-0 theme song.
But then Urías seemed to hit a wall.  Wil Myers hit a high fly that Trayce Thompson could have caught (not should have) but didn't.  He jumped into the wall instead of straight up at the wall.  There was some drama that perhaps a fan reached over to interfere with he ball, but it was ruled he did not.  Maybe that play unnerved Julio because he gave up a single, double, fielder's choice (3u), and sac fly to close the gap to 5-3.
As he has done throughout his managerial career in the postseason, Dave Roberts pulled Urías after 79 pitches.  Can Urías get Machado a 3rd time?  Machado has owned Urías over the years.  Evan Phillips' job is to come in and face the heart of the order of the Padres, Juan Soto, Machado, and Brandon Drury (Josh Bell).  Unfortunately he had a 7 pitch walk to Soto which was followed by a Machado dribbler down the 3rd base line that stayed fair.  Phillips would then get an 8 pitch strikeout of Josh Bell for the 1st out.  With Wil Myers up and runners on 1st and 2nd, Phillips hung a pair of sliders that Myers fouled off.  Phillips then threw his sinker and Myers hit the ball hard, but right to Gavin Lux who fed it to Trea Turner who turned the DP (even with a double clutch).  That was the KEY AB of the game.
Alex Vesia got 5 outs including Soto in the 8th.  He was left in the 8th specifically to face the LH Juan Soto to fly out to Trayce Thompson.  Doc then went with Bazooka to face Manny Machado.  One pitch, one high fly to Thompson and the inning is over.
While the Padres relievers were just shutting the Dodgers hitters down, Chris Martin came in to close.  He did allow for some drama with allowing a 2-out Jake Cronenworth single bringing up Ha-Seong Kim as the tying run.  On the 1st pitch, Kim flew out to LF Thompson, and CMart got his 1st career playoff save.
It might be tough to ask Phillips to come back on Wednesday, but Vesia, Graterol, and Martin should be able to come back.
The Dodgers were able to score 5 runs without anything from Mookie, Freddie, or JT.  The Dodgers were 3-8 WRISP, and the Padres were 0-4.  Padres relievers, Steven Wilson and Pierce Johnson, might be hard pressed to come back on Wednesday.
Clayton Kershaw will face Yu Darvish for Game 2.  Both managers will be looking for both starters to go at least 6.0 innings.
Finally, here is what Badger wrote on Tuesday before the game…Dodgers favored -222, 7 runs O/U. I'll take the Dodgers and the over – 5-3.  How are you going to follow that up Badger?
Philadelphia Phillies 7 vs Atlanta Braves 6
Philadelphia started their #3 SP, Ranger Suárez, while Atlanta was starting their Ace, Max Fried.  This was supposed to be the advantage of the bye team.  However, Fried allowed 6 runs in his 3.1 IP, on 8 hits (including 3 doubles).  He allowed 2 runs in the 1st, 3rd, and 4th.  He also had a throwing error making the 2 runs in the 3rd unearned.
Ranger Suárez only allowed a run, but could only get through 3.1 IP on 86 pitches.  This caused Philly to have to go to their bullpen, which is their wink link.
The Phillies scored another run in the 5th making the score 7-1 going into the bottom of the 5th.  The Braves answered with a walk and a pair of doubles in the 5th to make the score 7-3.
The score remained the same when Matt Olson hit a 3-run HR with one out in the 9th off Zach Eflin.  But Eflin got the final two outs to give Philadelphia the win.
Now the Phillies have Zack Wheeler and Aaron Nola to go in Games 2 and 3, and that could change the outlook of that series.
Houston Astros 8 vs Seattle Mariners 7
The first ALDS game also had the road team (Mariners) come in and jump on the Astros and Justin Verlander early.  Verlander gave up 6 runs on 10 hits in his 4.0 IP.
Down 4-0, Yordan Álvarez hit a 2-run double off Mariners starter Logan Gilbert in the 3rd.  But that was just the beginning of the Álvarez heroics.
Yuli Gurriel hit a solo HR in the 4th to close the score to 6-3.  JP Crawford hit a solo HR for the Mariners in the 7th for a 7-3 lead, and the M's were coasting.
Alex Bregman made it a game with a 2-run HR in the 8th.  But in the 9th, with closer Paul Sewald on the bump, with one out, he hit a batter.  He then struck out Jose Altuve for the second out, and got 2 strike on Jeremy Peña before he singled.  With 2 on and 2 out, manager Scott Servais brought in Robbie Ray to face Yordan Álvarez.  On an 0-1 pitch, Álvarez crushed a walk off 3-run HR.
New York Yankees 4 vs Cleveland Guardians
The 2nd ALDS game went as expected.  NYY's Gerrit Cole was masterful for 6.1 IP allowing only a Steven Kwan solo HR.  Aaron Judge went 0-3 but Harrison Bader hit a solo HR and Anthony Rizzo belted a 2-run long fly.  A misplay of a single into a single and 2 base error leaving a runner on 3rd with no outs.  The run scored on a sac fly.  All 4 runs were scored on Guardians' starting pitcher, Cal Quantrill.