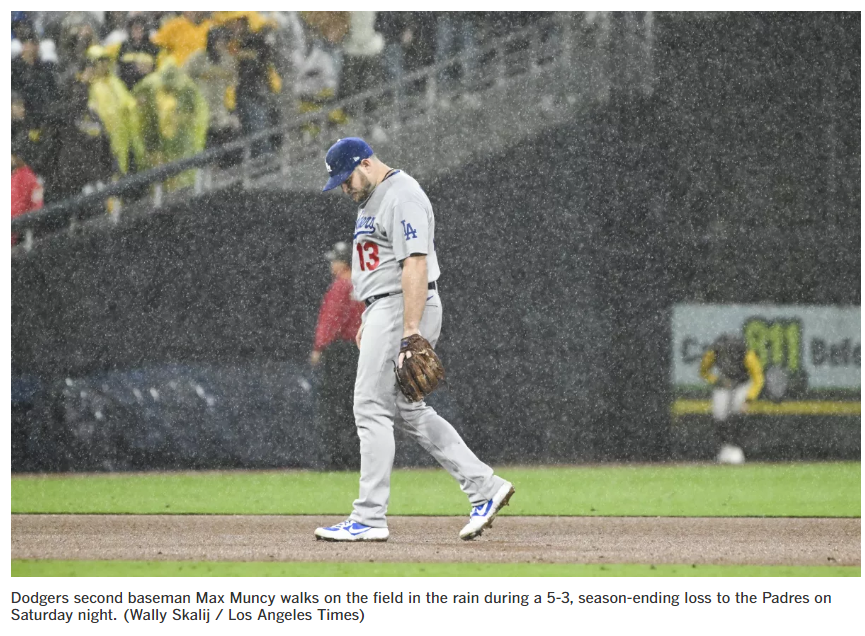 The Dodgers limped into the game with a 0 for last 19 WRISP.  In the first inning, Freddie hit a 2 out double for yet another run scoring opportunity.  The Padres have been using Will Smith as a their out of trouble batter the last 2 games.  Will was not successful for the 5th time WRISP when he flew out to CF.
But It finally happened.  Freddie Freeman broke the 0-20 WRISP streak with a 2 run double in the 3rd.  The top three got the Dodgers back into the series with a Mookie BB, and a Trea Turner double, setting up the Freddie for the double. Unfortunately Will Smith failed again to get a hit WRISP with a 4-3 ground out.
I am going to cut Will some slack here.  He and his wife Cara had a baby girl this AM.  This was their first child, so Games 2 and 3 had to be nerve-wracking.  He would not be human if his mind was not with his wife a bit.  He drove to the hospital last night after the game in time for the delivery.  And then he got a helicopter ride back to San Diego for Game 4.
But maybe Barnes should have started, and then let Miguel Vargas have a shot.  He certainly could not have done worse that CT3 who was 0-7 with 5Ks.  Or Trayce Thompson who was 2-13 with 5 Ks.  Smith did not have a good series (3-16), but his mind was elsewhere.
Tyler Anderson pitched an effective 5.0 innings, although not as efficient as he would have liked.  He threw 86 pitches, and he was not going to pitch again in this series.  He probably had another inning in him, but it would appear that the Dodgers went back to their book of no third time thru the lineup.  Starter goes 5.0, and then they turn it over to the bullpen.  It did not work.
Chris Martin was 1st up as he had the strength of the Padres lineup.  He allowed a couple of singles, but got Wil Myers to chase a 95.2 MPH 4-seam fastball up out of the zone.
With Steven Wilson relieving Joe Musgrove, the Dodgers struck for another in the 7th, but missed a golden opportunity to ice the game.  Mookie drew a BB and moved to 2nd on a WP.  Trea got a bunt single and Mookie moved to 3B.  Freddie was HBP to get on base for the 4th time.  Bases loaded, nobody out and Will Smith has another chance.  This time he got the run home on a sac fly to LF.  The Padres brough in RHRP Tim Hill to face Max Muncy.  Trea and Freddie pulled off a double steal and the Dodgers were in business again.  However, Max struck out, and JT grounded out 6-3.
Tommy Kahnle has been so good, but on this night he walked the first batter and followed that up with 2 singles for a run, and his night was done.  Yency Almonte was next man up on the bump.  First batter, Ha-Seong Kim doubles in a run and now the Padres have runners on 2nd and 3rd nobody out.  Soto got the game tying single and with runners on 1st and 3rd, a promise of more.
Almonte struck out Machado and got Brandon Drury to foul out to Freddie on a very good defensive play.  After throwing a ball to Jake Cronenworth, Roberts brought in Alex Vesia, and he allowed a 2-run double.  He then walked Wil Myers before striking out Jurickson Profar.
A great effort by Tyler Anderson goes down the drain.
This is why you want your pitchers to go deeper in the game.  It puts too much on the bullpen to keep going out there when these hitters have seen them all.  Musgrove is down 2-0 and he goes back out in the 6th, and threw 101.
Kahnle, Almonte, and Vesia all pitched on Friday.  Where was Graterol, May, and Treinen.  If May is not going to pitch, why is he on the roster.  If Treinen is only going to pitch 1 inning, why is he on the roster?
Evan Phillips also pitched Friday, but he came out for the 8th.  If they were going to use Phillips, why didn't he come in the 7th?  We will never know.  He struck out the side.  The same batters that torched Kahnle and Almonte.  That is like shutting the barn door after the horses have escaped.
So again the computer nerds and Dave Roberts mismanage the pitching, as they did in 2017, 2019, and 2021.  AF did not go out and get that needed SP at the deadline.  Although Chris Martin was a great acquisition.
But it wasn't just the pitching in Game 4.  It was the inept offense WRISP.  In the last three games they were 2-26 WRISP.  The San Diego Padres pitching, especially their relief pitching, just shut down this supposed great offense.  As it turned out, it was inept and anemic, again at the wrong time of the year.  Without Trea Turner and Freddie Freeman, this offense was non-existent.
Final count of WRISP (2-26) for Games 2-4:
Mookie – 0-1
Freddie – 1-3
Trea – 1-4
Smith – 0-6
Max – 0-1
JT – 0-4
CT3 – 0-2
Trayce – 0-1
Lux – 0-2
Barnes – 0-1
Belli – 0-1
And all those that laughed at SD for trading for Josh Hader, I guess he was worth it. At least against the Dodgers he was.
I will get into some post season autopsy analysis as this pain subsides, but I expect that this team will look a whole lot different next year.  I cannot believe the owners will be happy with a $300MM payroll and bounced in the NLDS in 4 games.
This concludes one of the worst sports days that I can remember.  At least USC can control their own destiny if they win out in the PAC 12.  I never expected SC to go undefeated.  But they had this game, and just like the Dodgers, they let it slip through their fingers.