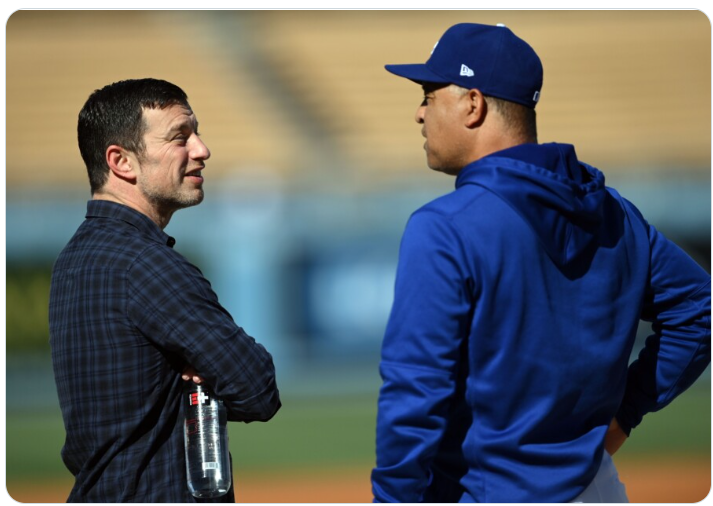 I have said it before and written about it.  There is no better architect of a 40 man (46 man) roster for the regular season than Andrew Friedman.  But no matter what he does, he cannot get the team to cross the finish line, except for one 60 game season.  Why?
Houston Mitchell said it very well.
There's not a huge difference between the regular season and the postseason, but there is a difference, and the Dodgers' push-button job of management hasn't figured it out. 

—The other disappointing thing: No passion on this team whatsoever. To be clear, I can't read minds and don't know what anyone is thinking, but the vibe constantly given off is one of "We can turn it on whenever we want. No worries."
I am not trying to discount the 2020 WS, but outside of Caleb Ferguson, who got hurt?  The team seems to lose players throughout the season.  Are they fragile to start with?  We know Andrew Heaney was.  We knew Clayton Kershaw was.  Walker Buehler went out early and in fact was never replaced.  Tony Gonsolin was asked to go longer than he ever had before, not surprisingly to some of us, suffered a forearm strain, and was on the IL for several weeks late in the season. He came back, probably too early, but certainly not enough to be considered a viable starter in a playoff game.  And yet he was.
Dustin May came back and had a great first game against the lowly Marlins.  He quickly reverted to someone who had lost his command sitting out nearly two full seasons.  Does it take a genius to figure out that it would take time for him to get his command back?  He did not pitch in the playoffs.  Why was he even on the roster.
Blake Treinen was out most of the year, but was deemed ready for the playoffs?  He pitched 1.0 inning and surrendered a big HR.
Of the 13 pitchers on the NLDS roster, 3 were undoubtedly injured sufficiently to be certain risks in the playoffs.  If that was the best they could pull from, whose fault is that?  Perhaps they read the press clippings about how they were going to rout the Padres, and hopefully the three would be ready to fully participate in the NLCS.  The strategy did not work.  Four pitchers pitched in 3 of the 4 games, and not surprisingly three of them were hit very hard, and all in one inning.
Would Caleb Ferguson have been a difference maker?  How about David Price?  Michael Grove?  Ryan Pepiot?  Victor Gonzalez?  We will never know because the team decided that the seemingly recovered players were better options.  As we found out, their best was not good enough. Again, did the Dodgers take the Padres too lightly as they did the 2019 Washington Nationals?
The regular season is just fine as designed.
2017 – LAD won 104 and lost to Houston in the WS.  Yes I know the Asterisks cheated, but they did not in Game 2 when Rich Hill was surprisingly removed from the game after 4.0 innings and 60 pitches. The reason, Doc did not want Hill to face the Asterisks a third time thru the lineup.  They lost the game because the relievers could not deliver.  There was no cheating in Game 7, when Roberts trotted out Yu Darvish when it made a lot more sense to piggyback Alex Wood and Clayton Kershaw.  Alex Wood dominated Game 4 IN HOUSTON.  He was smart enough to change the signals far more often than usual.
2019 – LAD won 106 games and lost to the 93-69 Nationals.  Who can forget how bad Roberts botched Game 5 with the mismanagement of the bullpen once again.  Ironically that team also blew a 3-0 lead with two in the 8th.  Walker Buehler's great effort was wasted in that game just as Tyler Anderson's was in 2022 Game 4.
2021 – LAD won 106 games and lost to the 88-73 Braves.  When Max Scherzer was not able to start, Walker Buehler was forced to start Game 6.  Walker won Game 4 on October 19, but after 207.2 IP during the season was expected to come back 4 days later.
2022 – LAD won 111 games and lost to the 89-72 San Diego Padres in the NLDS.
The one constant was Dave Roberts and the nerds determining when pitchers should come out, whether they were pitching well or not.  The lineup that has a chance to recover in the regular season, does not have the luxury of
Who remembers the 116 win by Seattle in 2001?  When I think back to 2001, I remember the great WS win by Arizona over NYY with a Luis Gonzalez walk off single in Game 7 off Mariano Rivera.  I never think of that Seattle team as being great.
Great teams finish.  A team that wins 111 games and loses in the 1st round, may have won the regular season, but cannot be considered the best MLB team in 2022 because just like in 2017, 2019, and 2021, they could not finish.  The Dodgers remind me of a Marathoner who jumps out to a HUGE lead for 25 miles, but collapses in the last mile.  Yes they were great for 25 miles, but they could not finish.
There was a complete lack of urgency with this team.  Yes the players are supposed to be the professionals, but Roberts took the foot off the gas when the regular season was won.  It was great they had home field throughout the playoffs, but they forgot they had to at least show up for the NLDS.  They didn't and Roberts could not figure out a way to motivate the troops.  Isn't that also his job?  Why no bunting?  Why no stealing?  Why bat an obviously worn out physically and emotionally spent Will Smith 4th when he had already gone 0-4 WRISP in Games 2 and 3.
I blame both Andrew Friedman and Dave Roberts.  AF did not address relief pitching in the past at the deadline, did not address the bench at last year's deadline, did not address pitching outside of Chris Martin this year.  Many LAD fans and baseball journalists whispered that the LAD depth was good for the regular season, but they did not have the requisite pitching for the playoffs.  They didn't.  Why were Dustin May, Blake Treinen, and Tony Gonsolin even on the roster.? They really were not used, and May was not used at all.
But the pitching was not the real problem in this year's NLDS.  It is just a recurring issue for LAD in the playoffs.  It was the lack of hitting with WRISP.  Outside of Trea Turner, Freddie Freeman, and Max Muncy, who else showed up?  What was the point of putting Grip It and Rip It CT3 on the roster after his injury?  Why wasn't Miguel Vargas, the hitting machine (DR's words), in the lineup?  The Padres trotted out 3 RHSP, and yet Joey Gallo, who was acquired just for this purpose, not in the lineup.  Why was Will Smith playing in Game 4 when he was up all night for the birth of his FIRST child, and had to be helicoptered to San Diego to make the game on time?  Who makes these decisions?  We here collaborative, but just how collaborative?  Who continues to miss the mark in the playoffs?  The playoffs are different.  Throw away the sabermetrics and watch the game.  Let your eyes tell you whether a change needs to be made, and not a computer printout.
At some point, you have to look at the leader and say maybe we need a change to get this team over the top.  AF is not going anywhere, and he may have a tougher job next year because, if I am the owners, there is no way I give carte blanche to a $300MM payroll without the finish.
But it is unlikely that Dave Roberts is going anywhere either.  It may be sacrilegious, but I would love to see Bruce Bochy in the Dodger dugout.  He is 7 years younger than Dusty Baker, and he knows how to finish.
So if AF and Doc are undoubtedly staying so what change on the staff would I make?  RVS should be shown the door.  There is no change considered when things are not going well with the bat.  Mookie took advise and direction from Trea and Freddie to be more aggressive. An approach contrary to what RVS desires…work the count up.  How did that work in the playoffs?  Freddie has not changed his approach since coming to the Dodgers. Cody Bellinger looks lost.  CT3 needs to adjust his approach because the Grip It and Rip It approach did not work this year.
Gavin Lux changed his approach from when he was in MiLB to overswinging for that power that RVS thrives on, and he regressed.  Earlier in the season, he learned under the tutelage of Freddie Freeman and got his average above .300. He was consistently taking the ball into Left-Center on line drives. But then when he got off the IL, he went back to the swing as hard as he can, and he stopped going into Left-Center and started to pull everything or hit lazy fly balls to left field.
Yes I can hear the RVS supporters.  The Dodgers had the best offense in MLB.  Yes they did.  But it went away in the playoffs just as it did in previous years.  Take what the pitcher gives you. 2 strikes, choke up and make contact. Bunt when you continue to flounder to drive in runs or make contact. Drive the ball up the middle…make contact.  In other words, make adjustments.  Pitchers need to make adjustments and hitters need to make adjustments.  Why not coaches?
Will a change in a hitting coach get the Dodgers over the finish line? Of and by itself, of course not.  But you cannot ignore the consistent flop in the playoffs.  The roster will be different next year. Maybe they need a different approach to go along with the roster change.  A wise person once said… "Insanity is doing the same thing over and over again and expecting different results."
I know many will disagree with me.  Let me hear what changes in staff that you might want to consider.  We can visit the roster another day.
Let's mix it up for 2023.