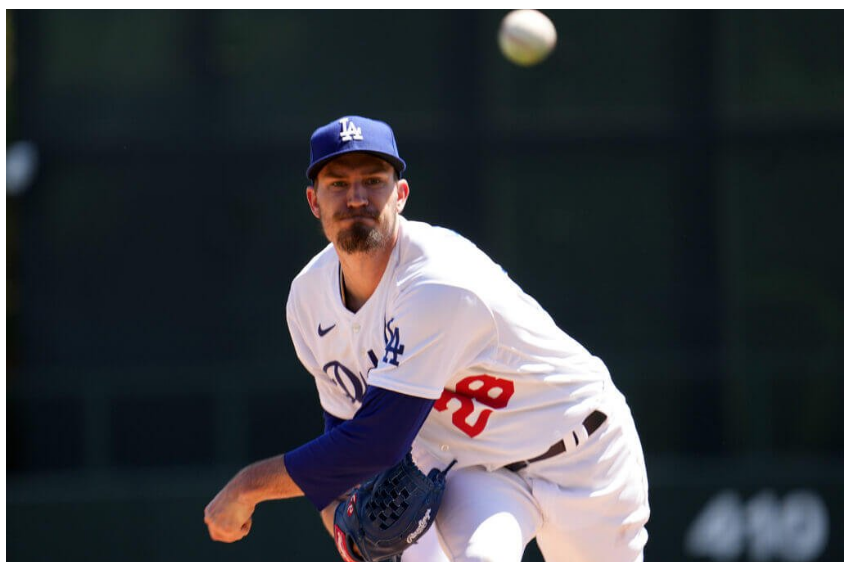 OKC Dodgers 2 vs. Round Rock Express (Texas) 5
On the Mound
Andrew Heaney started a rehab assignment game.  Heaney retired the first seven batters he faced but then allowed a double with one out in the 3rd.  With two outs Zack Reks singled home the runner to give the Express a 1-0 lead. Heaney completed 3.0 IP. On 39 pitches (29 strikes).  In addition to the run, he allowed 2 hits, with no free passes and 5 Ks. It was a promising rehab start for Heaney.
Sam Gaviglio followed and pitched 4.0 innings allowing 3 runs on 7 hits and 2 walks.  He also registered 4 Ks.
Phil Bickford entered the 8th and surrendered a lead off triple to Nick Solak and a sac fly by Willie Calhoun.
At the Plate
Max Muncy also made a rehab assignment start.  He went 0-3 but did get one of his patented BBs.
The offense was supplied by a pair of solo HRs; Andy Burns in the 5th and Drew Avans in the 7th.
Besides the HR, Drew Avans also connected on 2 singles to have a 3 hit night.
Player of the Game
As much as I would like to name Andrew Heaney, I have to go with Drew Avans and his three-hit night.
Andrew Heaney's rehab outing w/ OKC:

3 IP
1 ER
2 H
0 BB
5 K pic.twitter.com/Hu0m5bma9y

— Blake Harris (@BlakeHHarris) June 5, 2022
Drew Avans has had quite a weekend so far. Last night he had 2 hits, including a double, an RBI a couple stolen bases, and 2 Total bases. Tonight he is 3-3 with a homerun, an RBI and 6 total bases. Have a weekend @AvansDrew #dodgers #dodgersprospects #drewavans #okcdodgers pic.twitter.com/vz2k6yBAyP

— Dodgers Daily (@dodger_daily) June 5, 2022
Tulsa Drillers vs. San Antonio Missions (San Diego)
Saturday night's game between the Tulsa Drillers and the San Antonio Missions was postponed in adherence to Minor League Baseball's health and safety protocols due to health issues within the San Antonio roster.
A decision on the status of Sunday's game will be announced later.
Fort Wayne TinCaps (San Diego) 8 vs. Great Lakes Loon 7
On the Mound
Emmett Sheehan started for the Loons, and the start was not a good one.  He hit the first batter, and then with one out, walked the next two.  Then Lucas Dunn hit a grand slam to give the TinCaps a 4-0 lead.
Sheehan came out for the 2nd and issued a walk and single to the first two batters, putting runners on 1st and 3rd.  Lael Lockhart relieved Sheehan and with a sac fly and single, both inherited runners scored for a 6-0 lead.
After the Loons cut the lead in half, Lockhart surrendered a 4th inning leadoff homerun to Olivier Basabe to make it a 7-3 lead.  Lockhart completed 5.0 innings.  He allowed both inherited runs to score, and allowed one of his own.  He gave up three hits and 1 BB to go with 4Ks.
After the Loons cut the lead to 1, Ryan Sublette relieved Lockhart.  Not wanting to feel left out, Sublette also allowed a HR to push the lead to 8-6.
Kevin Malisheski pitched a scoreless 9th.
At the Plate
In the 3rd, Great Lakes cut the lead in half, 6-3.  Edwin Mateo led off with a double and moved to 3rd on a ground out.  Eddys Leonard drove home Mateo with a double, and came home to score on Diego Cartaya's first GL HR.
José Ramos hit a solo HR in the 4th.  Ramos followed the solo HR with a 2-run HR in the 5th to bring the Loons to within 1.
Down by 2 in the 9th, the Loons had a good look.  Jonny DeLuca walked to open the 9th and with one out, Diego Cartaya also walked.  DeLuca scored on a fielder's choice/throwing error and put runners on 1st and 3rd with one out.  Alex De Jesus struck out and José Ramos with a chance to be the hero again, grounded out 6-3.
Player of the Game
José Ramos with his two HRs is the consensus choice.
Jose Ramos hit his 3rd homer for Great Lakes, his 9th of the season overall, 104 mph off the bat, 413' pic.twitter.com/YqdcnmqiTB

— Josh Thomas (@jokeylocomotive) June 5, 2022
Jose Ramos just hit his 2nd Homer of the night for the Loons and 10th of the year. His OPS is approaching .850! #dodgers #dodgersprospects #joseramos pic.twitter.com/KarOB98jJN

— Dodgers Daily (@dodger_daily) June 5, 2022
Lake Elsinore Storm (San Diego) 3 vs. Rancho Cucamonga Quakes 2
On the Mound
River Ryan was the pitcher the Dodgers received in return for Matt Beaty.  He pitched a scoreless 1st inning. In the 2nd, Ryan walked the leadoff batter.  With two out, and the runner on 2nd, a two out single and double scored a pair.
In the 3rd, a walk, stolen base, and fielding error led to an unearned run and a 3-1 lead.  After the error, 20 year old (05/08/2002) RHP Jerming Rosario relieved Ryan and got the 3rd out.  Rosario proceeded to pitch 4.2 scoreless and hitless innings.  He continues to struggle with his control as he walked 4 more batters.  He did have three Ks.
With a runner on 1st via a walk, Ben Harris relieved Rosario and gave up a single to the first batter he faced, but struck out the next two to end the inning.  Harris walked a batter in the 9th and recorded the first out.  Carlos De Los Santos followed Harris and got the final two out of the inning.
At the Plate
The Quakes scored solo runs in the 1st and 3rd innings.  In the first, Austin Gauthier and Damon Keith walked.  Luis Rodriguez doubled home Gauthier to give the Quakes a short lived 1-0 lead.
In the 3rd, Austin Gauthier and Jake Vogel both singled.  After a DP, Rodriguez doubled home Gauthier again to cut the lead 3-2.  But that is as close as the Quakes would get.
Player of the Game
Luis Rodriguez and his 8th and 9th doubles gets the salute, but so does Jerming Rosario and his 4.2 scoreless and hitless innings in relief to keep the Quakes in the game.
Luis Rodriguez doubles on a fly ball to left field bringing Austin Gauthier across home plate !!!
Quakes up 1-0 pic.twitter.com/yzDDuWbaTK

— Rancho Cucamonga Quakes (@RCQuakes) June 5, 2022
Luis Rodriguez with his second RBI today!!!🔥
The Quakes now trail 3-2
Top 4🔝➡️ pic.twitter.com/pAjYonmyNO

— Rancho Cucamonga Quakes (@RCQuakes) June 5, 2022
Jerming Rosario threw 5 scoreless innings last outing and didn't give up a hit or a walk. @j_rosario_8 struck out 6 featuring a 4 seam & 3 different shaped breaking balls, a tight 3-9 slider, a 2-7 slurve, then also more of a 12-6ish. #dodgers #dodgersprospects #jermingrosario pic.twitter.com/fXKRvshAOD

— Dodgers Daily (@dodger_daily) May 10, 2022