A better day for the Dodger minor league clubs yesterday, win or lose.  
OKC beat the Round Rock Express (Texas):   10-4.   
Journeyman Robbie Erlin started for the Dodgers and pitched 4.0 innings.  He allowed 2 runs on 4 hits and 2 walks.  He struck out 3.  In the 5th inning Justin Hagenman came on to pitch.  He labored through his one inning of work, throwing 31 pitches, which included two walks, one hit (which happened to be a two-run homerun).  He was able to get out of the inning with a strike-em out, throw em out double play.  In the anomaly of baseball statistics, Hagenman was credited with the victory in this game.   He was followed to the mound by Marshall Kasowski, Garrett Cleavinger and Dakota Chalmers who, combined, allowed but one hit and 2 walks (all by Kasowski) in the final 4 innings.  Chalmers struck out 3 in his 2 innings of work.    
The OKC offense had 12 hits and 8 walks to go along with their 10 runs.  They were led by Tony Wolters (Pictured) who was 3-3 with 2 runs scored and 3 RBI; Jake Lamb who was 2-3, with a double and a home run and one RBI; Drew Avens who was 2-4, with 3 runs scored and a RBI; Michael Busch who was 2-6, with 2 RBI; and Miguel Vargas who hit his 8th homerun of the season.  The starter for the Express was old friend and former Dodger prospect, A.J. Alexy who was a piece in the Yu Darvish trade with the Rangers.   
My vote for player of the game goes to Tony Wolters for both his offense and defense.  
Plenty of clutch hitting to go around tonight, as the Dodgers struck for 8 runs with 2 outs in a 10-4 win in Round Rock!

Tony Wolters led the way with 3 hits and 3 RBI and Miguel Vargas and Jake Lamb hit back-to-back homers.

Recap: https://t.co/UbqbVuDFKG pic.twitter.com/76vGD915KO

— Oklahoma City Dodgers (@okc_dodgers) June 4, 2022
Tulsa Drillers beat the San Antonio Missions (San Diego):  8-4.  
Bobby Miller started for the Drillers.  Miller pitched really well for the first 4 innings facing just 13 hitters and allowing only a harmless single.  In the 5th inning, Miller ran into some trouble as he allowed 2 doubles and a single for two runs.  He was only able to escape the inning when with two outs and two runners on, Connor Hollis singled on a sharp line drive to Andy Pages who then threw to catcher Chris Betts, who in turn threw to Jacob Amaya to catch the runner at second.  Miller finished the game allowing two runs on five hits, two walks, and four strikeouts.  After issuing a walk in the 6th inning, Miller was replaced by Jose Adames.  Adames pitched 1.1 innings, issuing one walk and striking out 2.  He was followed by Guillermo Zuniga, who was fortunate to escape with as few runs as he did.  He allowed 2 earned runs on 4 hits and like Miller escaped the inning on a fly ball to Pages, who then proceeded to double the runner off first.  Jordan Leasure pitched the final inning, allowing 2 hits, no runs and notching 2 strikeouts.   
Offensively, the Drillers were led by James Outman who was 2-3, with two walks.  One of his hits was his 13th homerun of the year, a two run shot.  He finished with 3 RBI on the night.  Leonel Valera also had two hits and Jacob Amaya had 2 RBI.    
Player of the game honors go to James Outman.  John Rooney is on the hill for the Drillers tonight, hoping to right his ship after his last less than stellar outing.  
James Outman hit his 13th bomb for Tulsa, moving him into a tie for the system lead for homers, and he has gone deep in back to back games pic.twitter.com/dwU1mf1GWZ

— Josh Thomas (@jokeylocomotive) June 4, 2022
Great Lake Loons lost to the Fort Wayne TinCaps (San Diego): 7-5  
Nick Nastrini started for the Loons.  He continued with his on again, off again performances.   A walk and a double led to a run off him in the first inning.  Nastrini cruised in the second inning, with two strike outs and a fly out.  In the third, the wheels began to come off.  First hitter reached on a throwing error by Jorbit Vivas.  He hit the next hitter, which was followed by a single to load the bases, a sacrifice fly brought in a run, and that was followed by a 3-run bomb.  He struck out 5 in his four innings, but matched that with 5 runs allowed.  Nastrini was followed by Antonio Knowles, who allowed one run on 3 hits and a walk in his 2 innings of work.  He did strikeout 3.  Then came Julian Smith for two innings, in which he allowed one hit (a homerun) and struck out 3.  Adam Scoggins would pitch the last inning, allowing a hit and walking 2, but not allowing a run.  Of course, he was helped out by a unique 8-6-2-4-5-8 triple play, started and ended by centerfielder Ismael Alcantara.  It was the first triple play in the minors this year.  You have to see the video to believe it.     
Offensively, the Loons scored 4 of their 5 runs in the bottom of the 9th inning.  Their first run scored on a 5th inning Ismael Alcantara single.   In the 9th 2 runs scored on Edwin Mateo's single.  The third was brought in on a Max Hewitt double, and the 4th scored on a Jose Ramos groundout.  The game ended with a Jorbit Vivas flyout, with the tying runs on base.  Alex De Jesus had two hits and scored a run.  
My player of the game award goes to Ismael Alcantara.  Emmet Sheehan toes the rubber for the Loons today.   
Edit – I just happen to have that video (Jeff):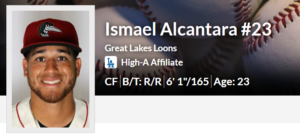 RC Quakes beat the Lake Elsinore Storm (San Diego):   5-4  
Adolfo Ramirez, started for the Quakes and pitched a perfect 3 innings, striking out 7 of the 9 batters he faced.  He threw 37 pitches, 29 of which were strikes.  He was followed by Heisell Baro, who pitched 2 innings, allowing one run on 2 hits and a walk.  He struck out 2.  Christian Suarez who allowed 2 runs on 5 hits and a walk in his 2 innings.  Kelvin Bautista followed for an inning in which he gave up a hit and two walks, a wild pitch, Osvanni Gutierrez came on in the 9th to close it out, and promptly gave up a homerun to the first batter.  He settled down and retired the next three hitters for the save.  
Rancho added RHPs Osvanni Gutierrez, 21, and Heisell Baro, 20, to the roster today from the ACL, both making their first move above rookie ball.

RHP Edgardo Henriquez was placed on the injured list, while LHP Benony Robles was moved to the temporary inactive list to make room.

— Future Dodgers (@FutureDodgers) June 4, 2022
Offensively, the Quakes were led by catcher Marco Hernandez who hit his first home run of the year.  No Quake hitter had more than one hit.  Damon Keith, Luis Yanel Diaz, and Kenneth Betancourt had an RBI each.     
I'm giving the player of the game award to Adolfo Ramirez.  River Ryan is scheduled to start for the Quakes tonight.   
Adolfo Ramirez warming up ahead of game-time ⚾️ pic.twitter.com/kafIpvA11t

— Rancho Cucamonga Quakes (@RCQuakes) June 4, 2022